When I started my career, my employer paid 100% of my healthcare costs, contributed to a defined benefit pension plan, and stopped just short of promising me a career for life. The company also required that I wear a suit and tie every day, allowed smoking in the office, and only hired women for non-executive roles. To get a glimpse of what that was like, watch reruns of Mad Men.
The workplace evolution from then to what we experienced as recently as 2019 occurred over several decades. The pandemic brought about evolutionary workplace change as well, but in just a few months. The way we work has changed permanently. Future generations of workers will be dismayed when we describe fighting rush hour traffic to work in an office five days a week. "Why in the world would employers require that when remote work is so much more efficient?" they will ask. Good question.
COVID's impact on culture and engagement
While the permanent shift to remote work seems inevitable to many, not all agree. Leaders of Netflix and JP Morgan Chase stated publicly they want workers back in the office ASAP while leaders at Facebook and Citi made public statements on the opposite end of the spectrum.
COVID's impact on the workplace and workers is also all over the board. Some organizations adapted quickly and relatively seamlessly to remote work. Others were devastated and struggled to survive. Similarly, many workers became more satisfied and productive in their work. Others lost their livelihoods or battled loneliness and insecurities while working remotely.
Corporate culture and employee engagement changes have also varied widely. A Quartz study found more people said their workplace culture had improved in the pandemic than said it had deteriorated, but the views were starkly different between men and women. Men were 40% more likely to say company culture improved. A recent Gallup survey reported a historic high in employee engagement in 2020 but also the lowest levels of thriving Americans since the Great Recession.
Realigning talent strategy with business strategy
Given the wide range of impact remote work has had within organizations, how should leaders move forward? Clearly, from a solution perspective, one size does not fit all. Instead, a highly customizable process is required.
At eSearch Talent Solutions, we recommend a four-step approach adapted from the talent optimization framework. Talent optimization empowers leadership teams to gain agreement on business strategy and determine if they have the right teams in place to execute that strategy. The four steps are outlined below:
Conduct a strategic review.
Evaluate leadership alignment.
Explore actions to support execution.
Focus on people.
For each step, here are some specific suggestions: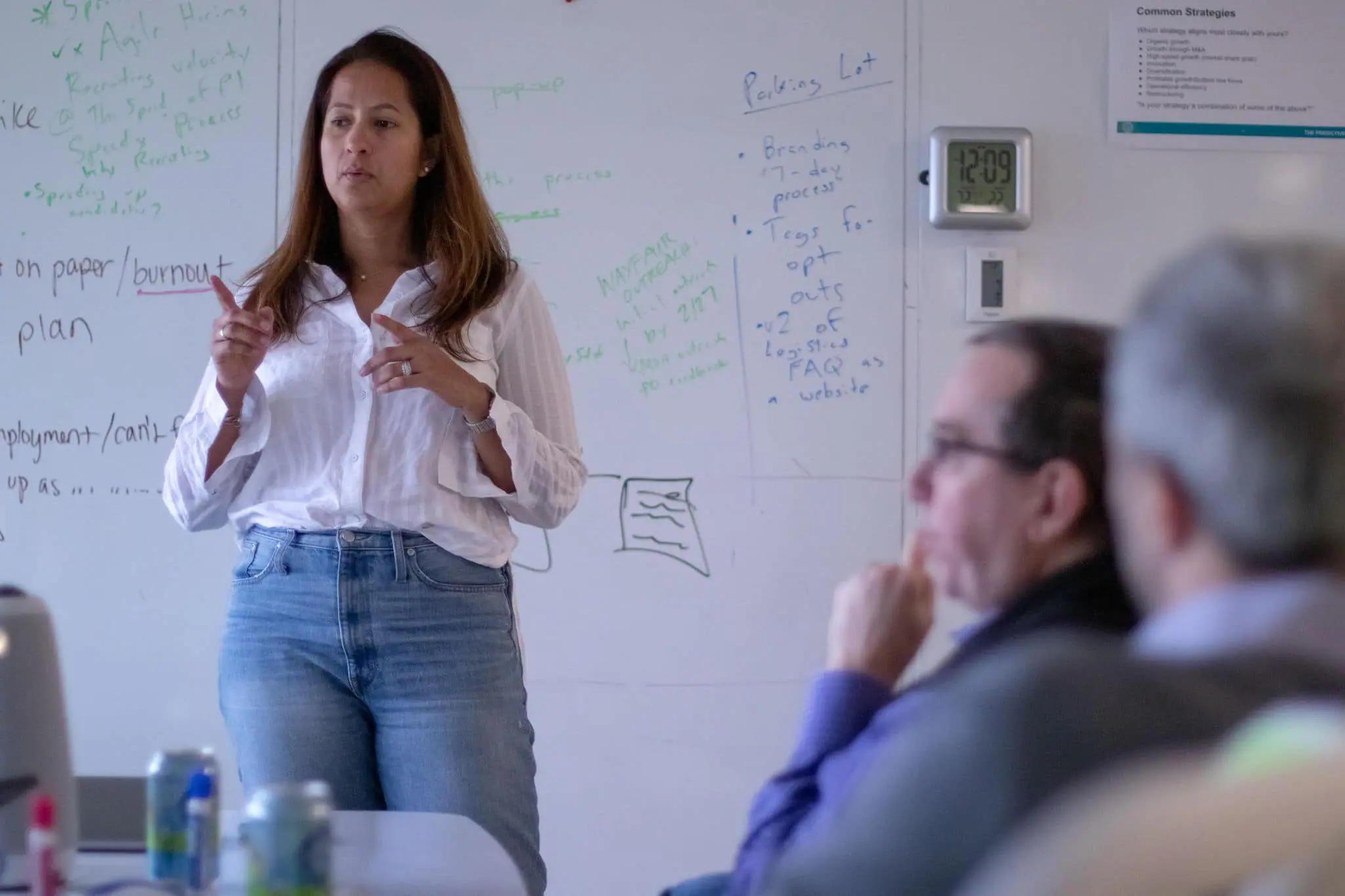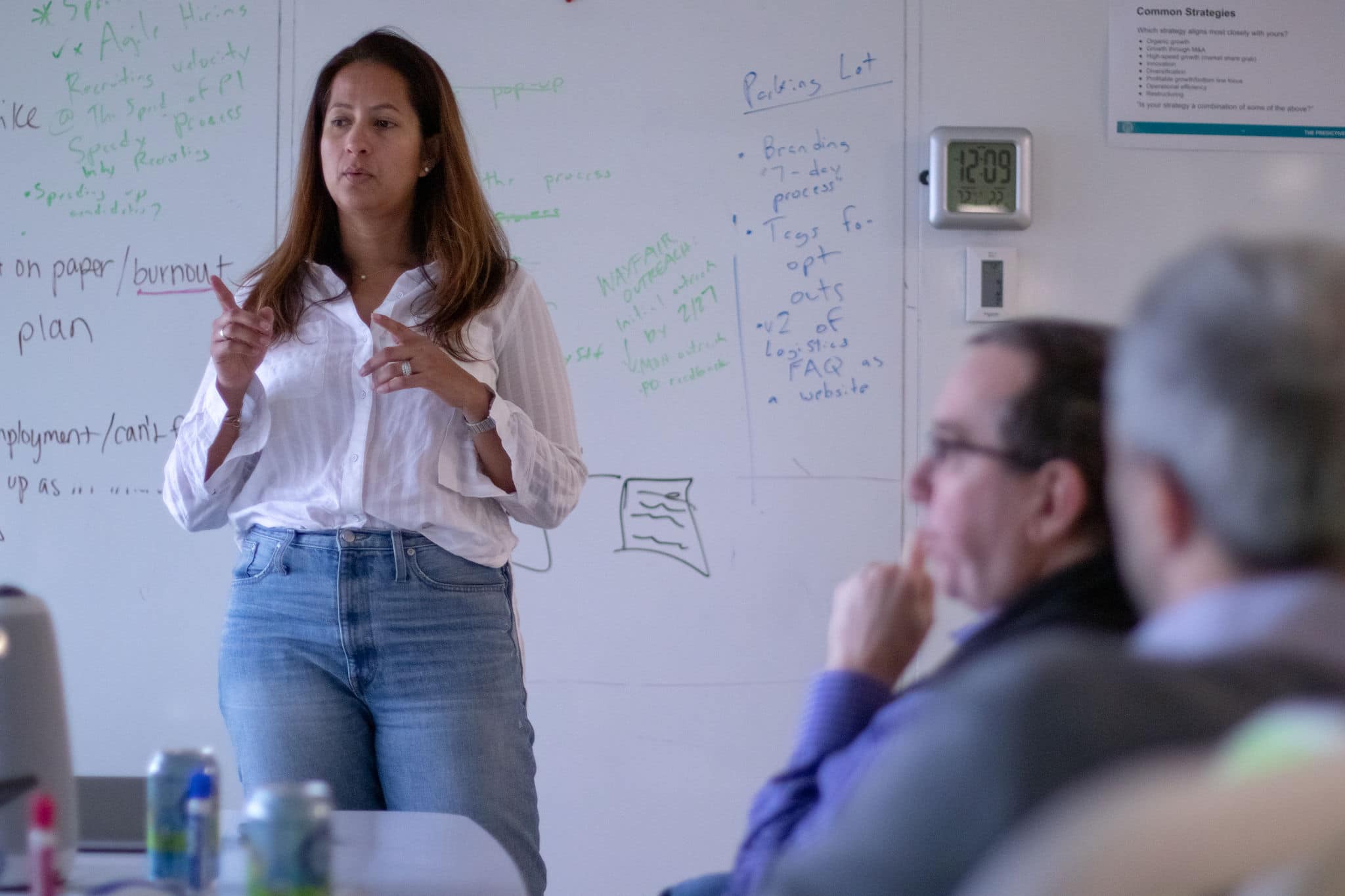 Conduct a strategic review.
A. Review mission, vision, purpose, and values. Then adjust (if needed) and reinforce. These will be important guideposts in turbulent times.
B. Identify and address disruptions and opportunities brought about by COVID-19. Evaluate near and long-term possibilities for each. Pay extra attention to people and cultural impact.
C. Revise strategic goals, milestones, and timeframe expectations.
D. Confirm leadership agreement on revised plans and create a comprehensive communication plan.
Evaluate leadership alignment.
A. Determine the ideal culture and leadership style for the revised strategy. For example, if an organization shifts from a conserve-and-stabilize strategy to a rapid growth strategy, then a similar shift in culture should be pursued.
B. Consider organizational and leadership adjustments. Shifts in product or service mix, creation of new products or services, and discontinuation of others will require reallocation of resources and people.
C. For new leadership roles and those with a new strategic direction, consider the natural strengths and agility of the leaders. Will an exploring and innovative leader be able to adjust to a conservative and careful strategy, or will the organization be better served with a naturally conservative leader? Sudden leadership changes are tricky. But like the Corleone Family in The Godfather, sometimes you need a wartime consigliere.
Join 10,000 companies solving the most complex people problems with PI.
Hire the right people, inspire their best work, design dream teams, and sustain engagement for the long haul.
Explore action to support execution.
A. Identify potential gaps in the leadership team's ability to execute. Will a strategy shift require skills and abilities not present with the current team?
B. Address and close leadership gaps. Consider one or more of four adjusting options—take advantage of the team's natural strengths; have team members flex and stretch around their natural behaviors; leverage bench strength deeper in the organization; create guardrails and processes as support.
C. Measure each leadership team member's confidence in strategy execution. Look for buy-in, or lack thereof, and develop communication and feedback tools to address concerns.
D. Adopt a culture to support the strategy. Identify and reinforce behaviors to support the new culture and communicate the links between culture, behaviors, and strategic goal achievement.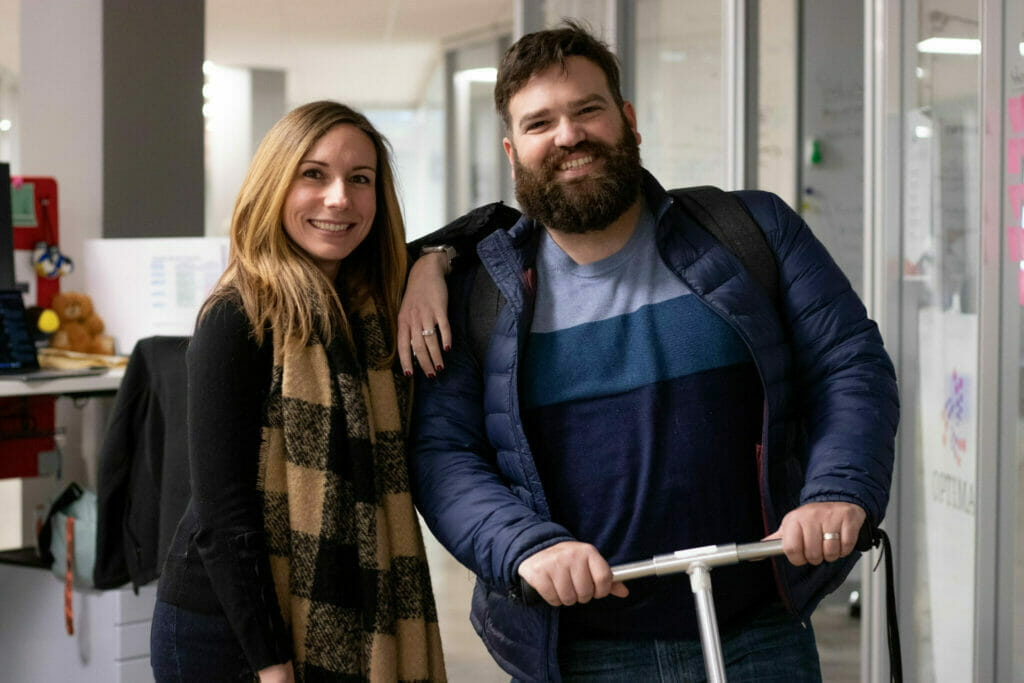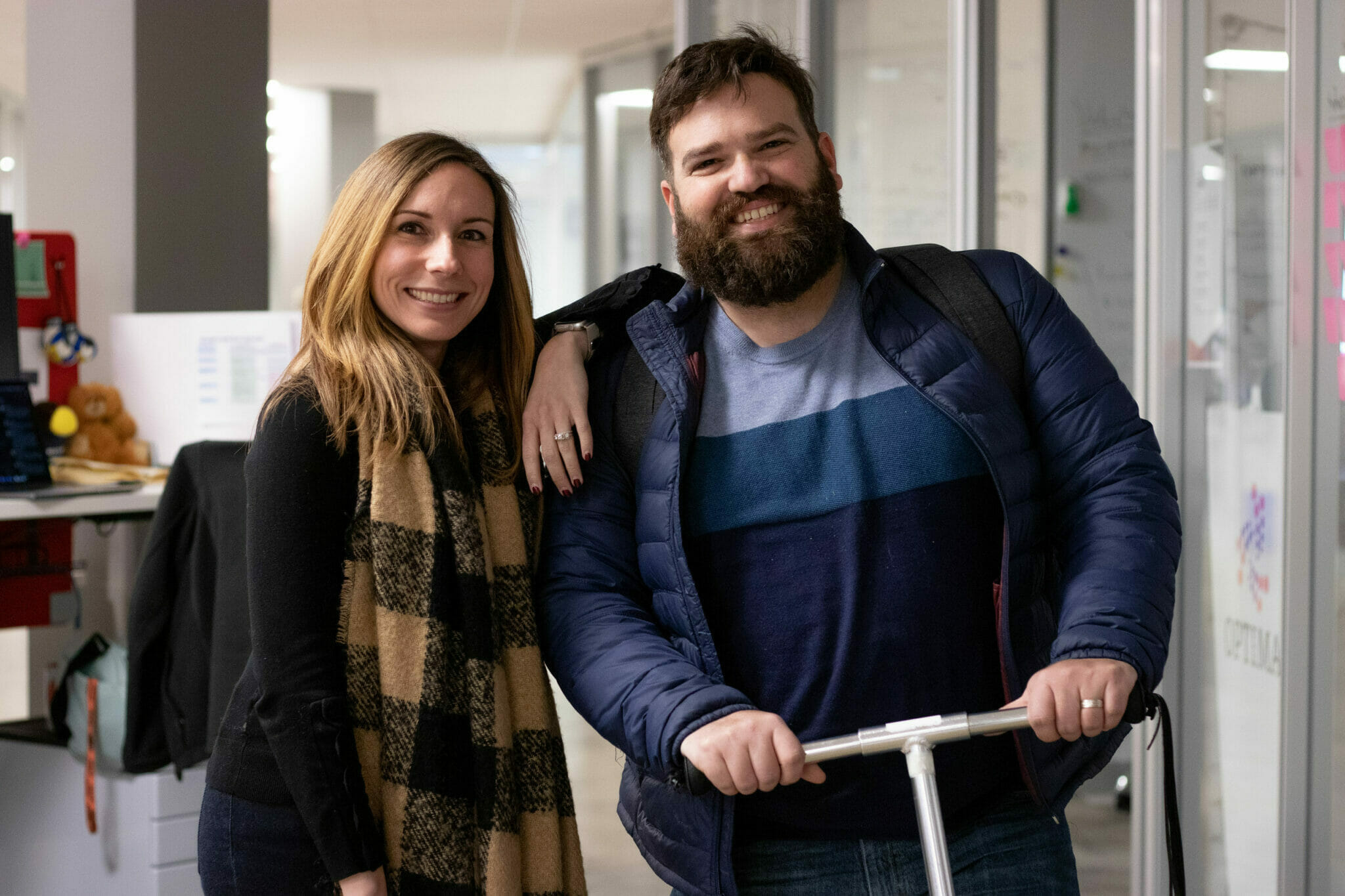 Focus on people.
A. Communicate with employees frequently and transparently. Listen to understand, not to respond. Recognize individual needs and, if possible, find ways to accommodate them. Encourage open communication from others as well. Be on the lookout for signs of anxiety and stress. Let employees know you care.
B. Proactively reinforce inclusiveness with remote and hybrid teams. Encourage team leaders to solicit input from everyone in each meeting. Recognize and reward teams and individuals for innovative and inclusive actions.
C. Discuss changes, if any, to corporate strategic guidance. Continually communicate and discuss corporate purpose and values. Provide examples of actions and decisions that support purpose and demonstrate values.
D. In all interactions with stakeholders, be confident and positive in the future of the organization. Help everyone understand the importance of their contribution to the success of the organization. Say, "Thank you, I appreciate you and your contributions," as often as possible.
Leading with a people-first mindset
Nearly all organizations experienced major change stemming from the pandemic, and will continue to evolve. This four-step process is appropriate for organizations in transition, undergoing leadership changes, or experiencing business challenges, and will be helpful to leaders for creating sustainable success. Linking business strategy with talent strategy and focusing on people are key.
In a recent conversation with a global HR leader, I asked her perspective on the best way for leaders to move forward. She said the main lesson her company learned in the pandemic is that human capital is the most critical part of the organization, and also the most vulnerable.
Her company is exploring many options to improve the lives of employees and their families, including remote, flexible, and hybrid work arrangements as well as on-site daycare facilities, workout centers, and concierge services. She indicated that the additional costs to the company would be more than offset by increased employee productivity, wellness, and engagement.
Based on her comments, I am optimistic about the continued success of her company. If only Don Draper had the same foresight.
Hybrid work is here to stay. Overcome the challenges with the resources in the Hybrid Work Toolkit.
---
Randy Samsel is a Predictive Index Certified Partner, and CEO of eSearch Talent Solutions in Cleveland, Ohio. Randy is also a Certified Human Capital Strategist and provides consulting and executive search services to a wide range of clients using talent optimization and PI tools and techniques. His purpose is to help people lead better lives through better livelihoods. He bears no resemblance to Don Draper.