In the 2020 State of Talent Optimization Report, our researchers surveyed 600 CEOs and VPs. Those polled included 94 executives from the tech and telecom industry. The goal: to understand how talent strategy impacts business results.
The findings were clear: Talent strategy can be a differentiator for your business. But only if you actually have one.
Here were seven key findings from the tech sector:
1. 69% of total costs are labor (people) costs.
Researchers asked executives to assign a percentage of their total company costs to employee-related/labor costs.
The results of the question were telling. The average company in the tech industry spends 69% of their costs on employees (line items such as salary and benefits). That's 5% higher than the average across all industries surveyed.
Technology is a skills-based industry—and a highly competitive one at that. Salaries tend to be higher, as employees look to attract and retain quality employees. This is especially true of engineers and developers.
2. 72% of company value is attributed to employees.
Tech execs also shared what percentage of their company's value they directly attribute to employees: 72%.
In other words, nearly three-quarters of a company's value comes from the people who work there. This means people are a company's most expensive and most valuable asset.
In the tech world, timing is everything. If you're constantly dealing with poor hires or turnover among top performers, you waste time that could be used to get your product to market faster. If left unchecked, a competitor will beat you out of the space.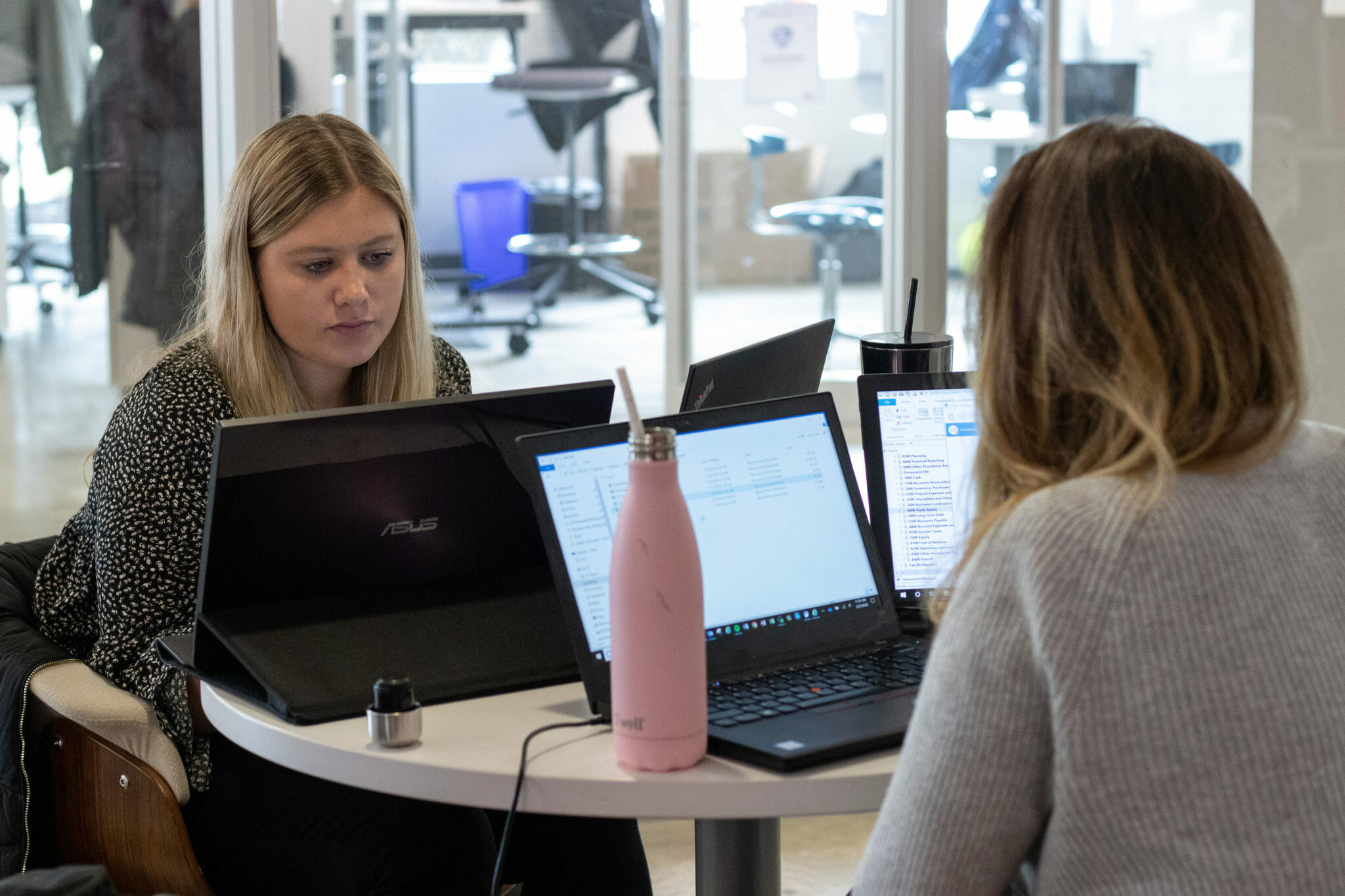 3. 37% of tech companies have a talent strategy.
People are your most expensive and most valuable assets. Yet only 37% of technology companies have a talent strategy.
We presented executives with a list of 14 statements and asked them to check all that were true for their company. Most companies had a business strategy, and slightly more than half had a financial plan. But only about one in 3 technology companies had a talent strategy in place.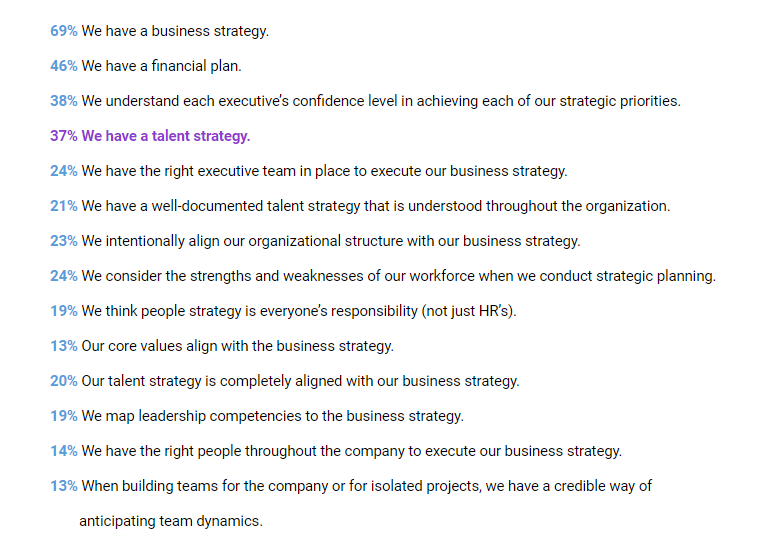 What's more, only 14% of tech companies said they have the right talent in place to achieve their goals. Imagine having a soccer team (or a football team, for those outside the U.S.) where only 14% of players are the right fit. Of the 11 people that take the field, less than two would be prepared to play! That hardly sets you up for success—especially when competing teams are raring to go.
4. Tech executives say strategy development is their top priority.
Despite the scarcity of talent strategy in the tech industry, 35% of the execs polled say it's their No. 1 priority for 2020.
When asked to share their top priority for 2020, the panel of tech executives chose one priority from a list of six options. The most common answer was Strategy development: Building the right business strategy year after year (36%) followed by Talent strategy: How you hire, organize, and manage your people (35%).
As the data shows, tech companies lean slightly more toward developing an existing business strategy than crafting a talent one. In a product-led industry, it's easy to see how and why business strategy reigns supreme. But this is dangerous thinking.
Business strategy is crucial to business success. Major companies like Apple or Google don't plow ahead without a proper gameplan: That'd be cause for alarm. But talent—those who ultimately design and deliver your products—plays an even bigger role.
To be successful, tech companies must hire employees fit for a constantly-changing industry. That means hiring those with the right behavioral traits and cognitive ability for the job.
Tech companies must also provide clear career growth opportunities if they're to avoid turnover and retain top performers. And they must craft an employee engagement plan so designers and engineers don't jump ship for a company with better benefits.
Product is key in tech. But talent will always be your first—and most valuable—differentiator. Think Steve Jobs—or, nowadays, Eric Yuan. A former developer at WebEx, Yuan left to create a competing video conferencing platform: Zoom. The company is now considered by users to be the top web conferencing platform—beating out even WebEx.
5. 21% of tech companies have a well-documented talent strategy that is understood by everyone.
Whereas 35% of technology execs said their company has a talent strategy, just 21% said We have a well-documented talent strategy that is understood throughout the organization.
Part of the issue stems from the sheer pace of the tech industry. With technology constantly changing, hardware becomes obsolete within a matter of years. Software must also continue to evolve to keep up.
When dealing in a hypergrowth industry that experiences rapid change, it can be challenging to communicate decisions at the rate at which they're made. Add in the reality that more and more tech employees work from home or with remote team members, and communication becomes increasingly critical.
A strategy must be well-documented to be actionable. If it's not articulated on paper, it can't be shared with employees, partners, or customers. Ironically, as technology allows for greater communication, it becomes increasingly important that all messages employees send get "read."
Join 10,000 companies solving the most complex people problems with PI.
Hire the right people, inspire their best work, design dream teams, and sustain engagement for the long haul.
6. 9% of tech companies align business strategy with talent strategy.
Only eight of the 94 technology executives surveyed selected all three of the following statements:
We have a talent strategy.

We have a business strategy.

Our talent strategy is completely aligned with our business strategy.
The discipline of talent optimization argues that companies must define both a business strategy and a talent strategy and align them to be mutually beneficial.
Employing these practices doesn't guarantee results. But doing so certainly increases your odds of success.
7. Only 19% of tech execs consider talent strategy a shared responsibility.
Too often, it's HR that's tasked with creating and implementing a talent strategy. HR certainly can—and should—play a role. But you'll need to hear from voices across the company to form a healthy, lasting talent strategy.
Only 19% of technology executives surveyed said We think people strategy is everyone's responsibility (not just HR's). That's 3% below the average of industries polled.
Why the disconnect? In tech, where speed and agility is a necessity, it's easy for senior leaders to have their hands full with business operations. HR can become a common crutch for handling any and all things people. Unfortunately, this can cause an unintentional breakdown in communication between the two groups. And when communication fails, it becomes exceedingly hard to map the talent strategy back to the business.
Share these statistics with a co-worker at your company.
The only way to affect change is to get the conversation started. Share these stats during your next company all-hands. Work them into a slide deck for a weekly team meeting. Or bring them up during a 1 on 1 with your manager.
The 2020 State of Talent Optimization Report polled respondents from over 20 industries, including technology, professional services, health care, education, and energy. Explore the full 60-page report here.