For many, 2020 was the year the world turned upside down. It was a year marred not just by a pandemic and social isolation, but by violence, discrimination, and injustice. For others, however, the world's always been lopsided. Most people just didn't see it clearly before.
Over the past 18 months, more companies have listened to their people, their clients, and their communities. They're pledging to make meaningful change in the workplace, from enacting inclusive hiring practices to building more diverse teams. Yet there's still much work to be done.
With 2022, leaders will be able to take their efforts to a whole new stage—literally. OPTIMA22 returns to Boston April 12–14, and we're thrilled to announce the newest addition to the keynote lineup: Aiko Bethea.
Learn more about Aiko, and how she's taking center stage to help businesses create more equitable workplaces:
Who is Aiko Bethea?
Aiko Bethea is a renowned equity consultant and executive coach. Her consultancy, RARE Coaching & Consulting, helps Fortune 100 companies create equitable workplaces by breaking down barriers to inclusion, and building up awareness and emotional intelligence.
The road to a fairer, more just workplace starts with an environment where everyone feels seen, heard, and valued. Yet, as Aiko can attest to, fighting for inclusion is often an uphill battle. As an attorney working for the City of Atlanta, she reported to Stacey Abrams, the now-household name who has dedicated much of her career to enfranchising Black voters and giving them a voice.
While Aiko would go on to work for several other administrations in her time as a lawyer, she looks back most fondly on her time with Abrams. Last year, in a Medium post, she described that relationship as if it began yesterday:
"Only once in my life have I reported to someone who I felt believed in me, championed me, and pushed me—despite the often contentious ecosystem we worked within. I never believed she hid the ball. As brilliant as she was, I never felt like an outsider or less-than when I was around her. I never felt that she exercised power over me, or that she ever even tried to or had any desire to do that."
Those feelings stuck with her, and today, Aiko continues to strive for a future where no one feels like an outsider. She's consulted with some of the biggest brands on the planet, from Starbucks to Uber and Gap. She also heads diversity, equity, and inclusion for the Brené Brown Education and Research Group, and contributed to the New York Times best-selling anthology You Are Your Best Thing.
Aiko has been recognized by Forbes as one of the top seven anti-racism educators for companies, and by CultureAMP as a leading DEI influencer.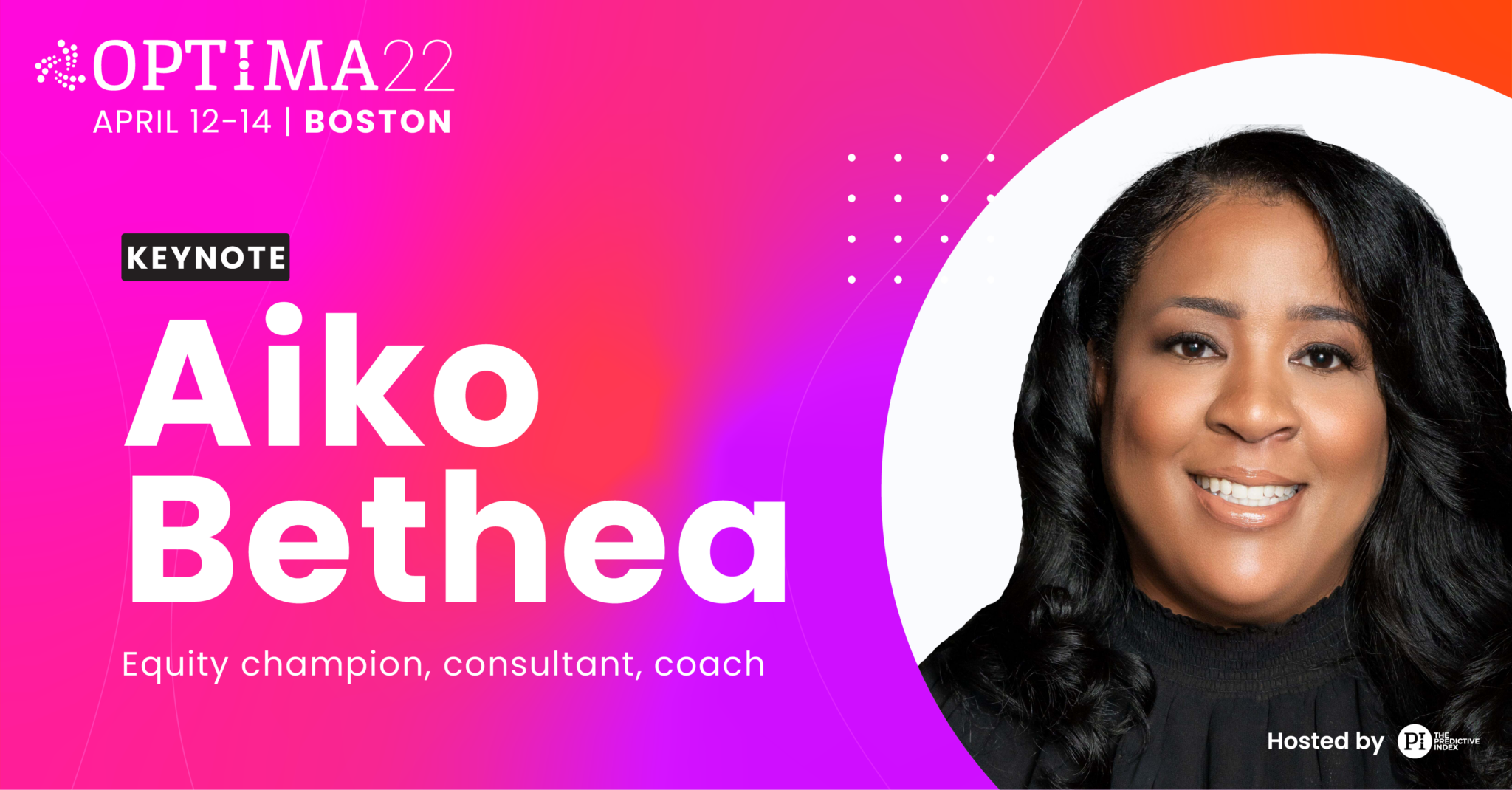 What Aiko has in store for OPTIMA22
OPTIMA22 is the world's premier talent optimization conference. Held annually in Boston, MA, the event brings together business leaders, people managers, HR professionals, and consultants to explore the intersection between talent and business. Across three days, attendees will learn how to hire top talent, build winning teams, pinpoint disengagement, and lead their people to greatness. It's an event chock-full of can't-miss material, and Aiko is elevating it to even loftier heights.
Aiko's no stranger to the notion of living your best life. As a Black and Asian-American woman, a mother to two sons, and an accomplished business leader, she knows first-hand what it takes to overcome obstacles and thrive in a white, male-dominated world. And she's bringing that perspective in full force to OPTIMA22.
Expect to learn more about her story, and the significance of being a woman in leadership at a time when bias remains rampant, and empathy is at a premium. Come to her talk looking to effect meaningful change in your organization and community, and come away with the tools to do so.
Explore the world of OPTIMA22.
Aiko's story is just one of many elevating women at OPTIMA22. We're proud to extend the spotlight to other incredible panels taking the stage at this year's show, including:
Rise of the Machines – How AI Can Make Your Hiring More Human: Dr. Ali Siminovsky, Ph.D. Director of Product at The Predictive Index, discusses the future of HR and hiring with AI, and how people data can help you hire and inspire high-performing teams.
HR Redefined… AGAIN: Tracie Sponenberg, Chief Executive Officer of The Granite Group, sits down with author Lars Schmidt to take down the past perceptions of HR.
How This $7B Company Builds Dream Teams: Michelle Kozin, Founder & President at Predictive Advisors, talks with Rockwell Automation leadership about how they align team strengths with the work to be done to ensure success.
Your Team's Secret Weapon: The Rebels & Eccentrics: Carmen Medina, Former Deputy Direct of Intel at the CIA, explores why homogenous teams often stifle innovation, and how to embrace your Rebels at Work to achieve excellence.
Get access to these discussions and more by reserving your seat to OPTIMA. Get your ticket here, and we'll see you there!