In my mind, The Glassdoor Employees' Choice Best Places to Work list is the holy grail of human capital type awards. There's no application process; there are no fees; there's no gaming the system; it is crowdsourcing at its finest. And there's more competition to get on this list than any other list out there—by many orders of magnitude. It would be like winning Yelp's Best Restaurant award for the whole freaking country.
Every year, Glassdoor combs through the more than 830,000+ companies with employee reviews on its platform. They see which organizations have the highest ratings and create two lists: top 50 small and medium companies (fewer than 1,000 employees) and top 100 large companies (1,000+ employees).


At The Predictive Index, we've been proud of our Glassdoor ratings for a while now, and we're absolutely thrilled to learn that we made the 2019 list for small and medium-sized companies. Given our mission of better work, better world, the award takes on special meaning for us, and we're humbled.
We also wanted to take the opportunity to share with others our philosophy of making PI a great place to work.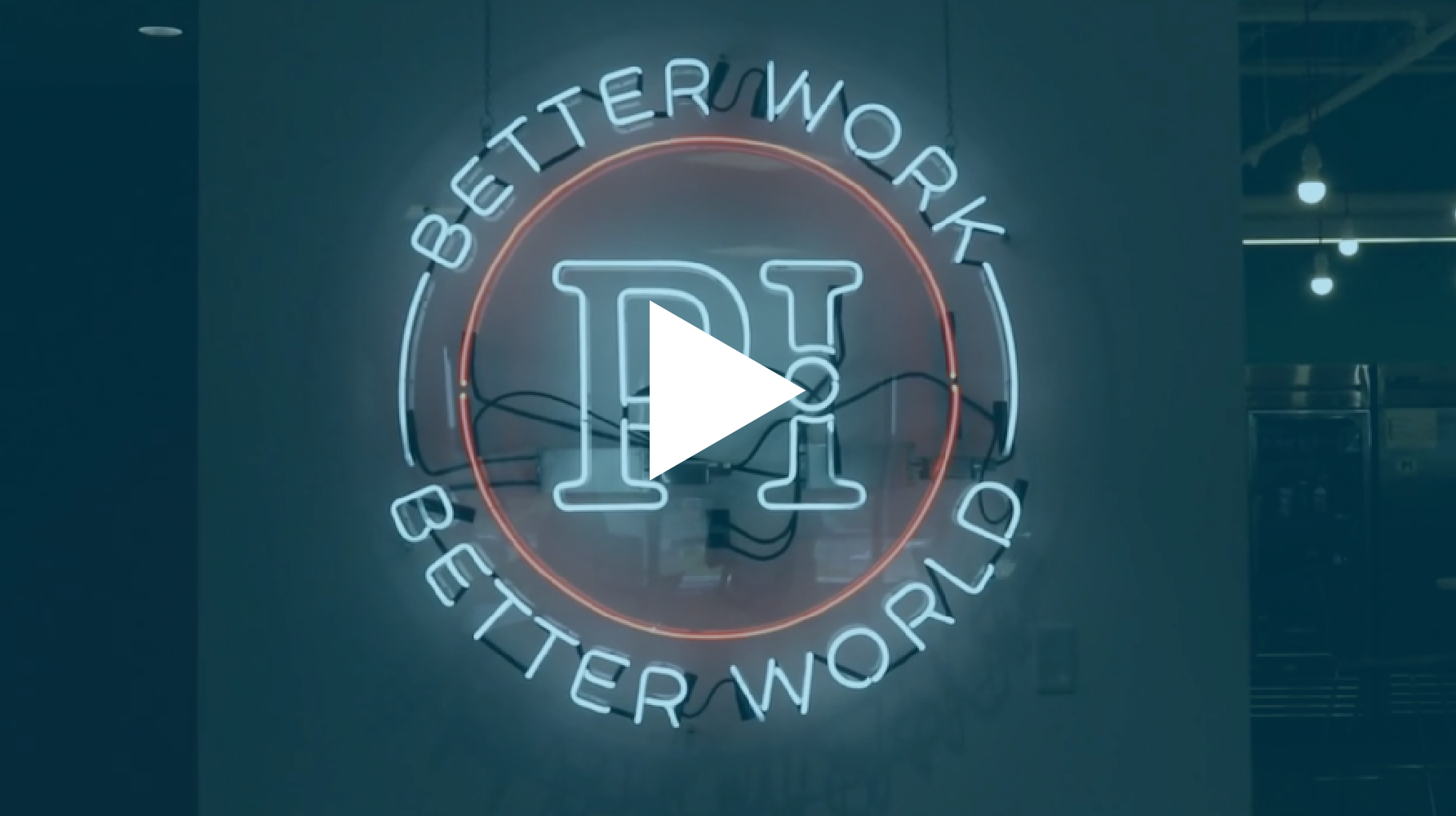 Here's a list of five areas we really focus on that help us create a great working environment. (Our hope is that you think some of the ideas are good enough that you steal them and make them your own.)
1. Intentionality and clarity around mission and culture
We've gone to great lengths to be thoughtful about our mission and culture. Our mission is better work, better world. Now if you're a cynic, you might think that mission statement sounds a bit syrupy. Fair enough. But here's the thing: We all buy into it and believe it to be true. Every person at PI buys into this notion that we're making the world a bit better by making our work worlds a lot better. And when you're driven by that kind of mission, it puts everything else into perspective.
We've also been intentional about our culture. We have cultural values that we talk about incessantly. We call them THREADS (teamwork, honesty, reliability, energy, action, drive, scope).
Again, these values could be hollow—if they were just posted on the walls. But they're alive and woven into the language you hear around the office day in and day out. We also have a dedicated channel on Slack (our internal messaging platform) in which people point out examples of coworkers exhibiting those THREADS values. Here's a snapshot: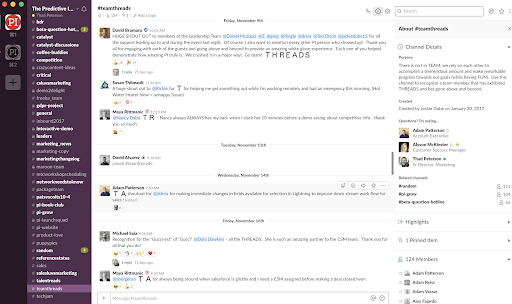 We try to instill our mission and cultural values from day one, and we share a "Working at PI" document with all new hires.
2. Healthy hiring
Hiring decisions are the most highly-leveraged decisions we make. Our director of product says that when he hires people, he's hiring someone he expects to be making 50 decisions a day. That means the people he's hiring will be making thousands of decisions over the course of a year. So, needless to say, the decisions about who we hire are mission critical and treated as such. A few things worth sharing about our hiring process:

We try to make our careers page on our website stand out. We've taken to weaving more and more videos into that page. We have a culture video, which many companies have on their site. But something else we have—something that most companies don't have—is a video with our lead recruiter that simply outlines the recruitment process. Here's a look: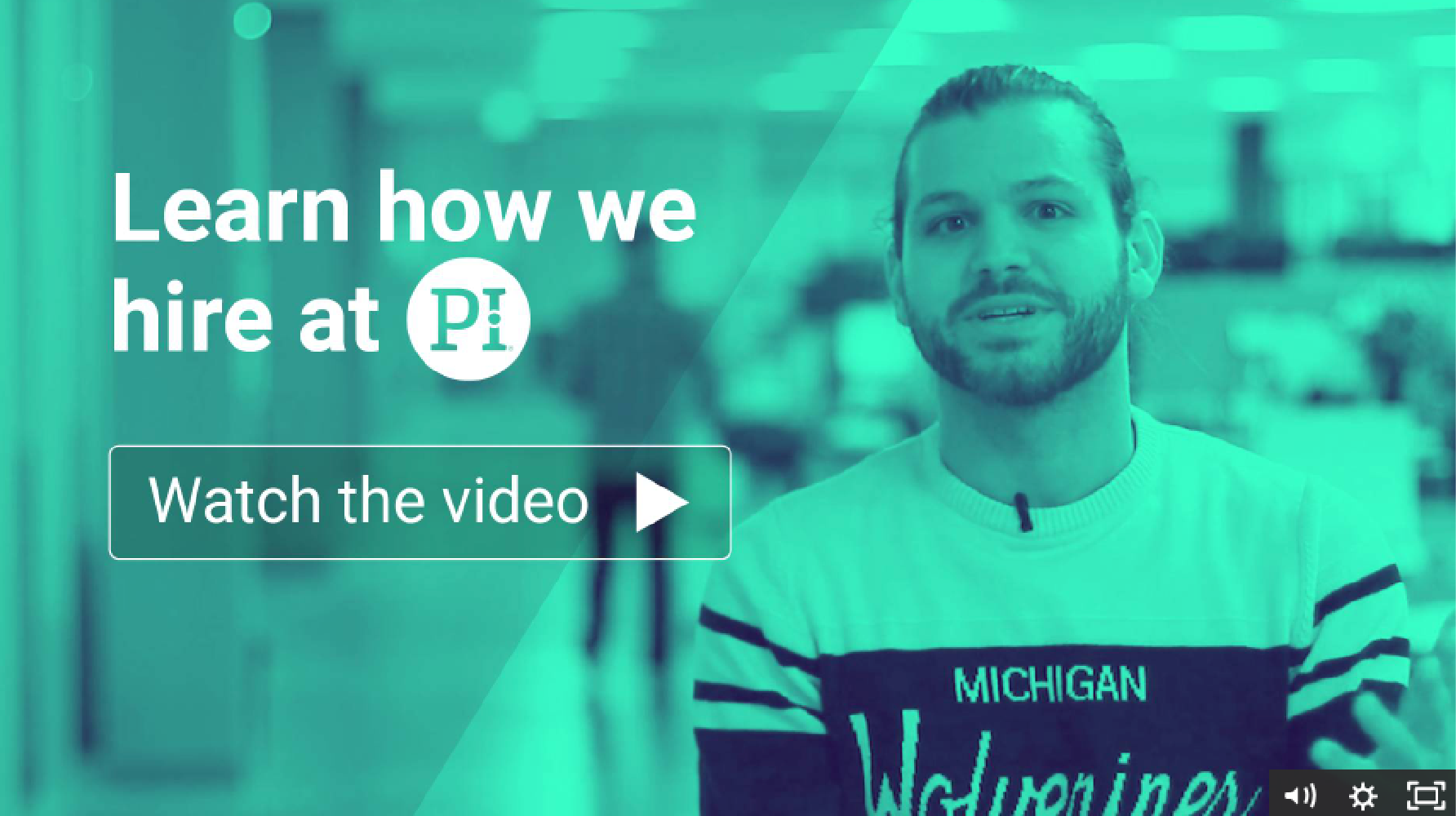 The candidate experience is a point of pride for us. While we're rigorous about our vetting process, we feel the right thing to do is treat every candidate like a real person—and treat them with respect. Sounds like an obvious thing, but it's also something that so many companies miss. A white glove experience certainly gets the relationship off on the right foot.
We do the legwork up front to make sure we really know what we want when we're hiring. We eat our own spinach and create a Job Target for each position we hire for. We have multiple stakeholders assess the job, and that forces a healthy discussion about what everyone thinks is required of the future employee. It seems obvious that getting people on the same page about what you're looking for is critical for success, but companies screw this up all the time!
We hire for "brains, attitude, and experience." And guess what? Of those three things, the only one we'll compromise on is experience. We find that if candidates have high general cognitive ability, as well as the right attitude and behavioral patterns, they can make up for gaps in their experience. However, if they have the experience, but they're missing the cognitive ability or the attitude, it's exceedingly hard to right the ship.
3. Outstanding onboarding
A few philosophical and practical notes on onboarding:
It begins the instant someone accepts a job (not when they walk in the door on day one of the job). To help them—and their significant others—feel good about the major life decision they've made, we send all new hires a gift basket.

We encourage the new employee's team to send LinkedIn invites and welcome the new person to the PI team.

On day one, we put them through a formalized PI onboarding program, where we introduce them to people throughout the company. This gives them a good flavor of the great personalities we have, and it paints the big picture of PI. I hope that subliminally it tells them that we want them thinking about the big picture.

All PI customers go through an in-person, two-day workshop called

Becoming a PI Practitioner

.

We've decided to put all of our employees through the training as well.

Our managers take great pride in crafting customized department-specific onboarding plans. These can take different forms, but here's a screenshot of a Trello board our director of sales uses to onboard new account executives: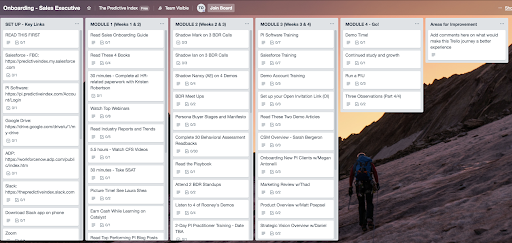 4. Total transparency
Everyone should know how we feel and think. We shine a light on our business by adopting an open-book management style and we're as open as possible about how we run our business. Here are three examples of specifics:
We share the financials with everyone. We regularly share revenue, gross margins, earnings, and all the other key financial metrics. The only financial information we keep close to the vest is employee compensation. Our CFO gets up and talks about all of these numbers at each of our monthly company meetings.

Daniel Muzquiz (PI's president) or I get up at every company meeting for a talk we call "Right/Night." This is our slang for "what is going right" and "what keeps us up at night." This ritual helps the company see and feel the company through the eyes of the C-suite.

In addition to sharing our financials, most teams here at PI have extensive metrics and reporting that they do, and they readily share results with the rest of the company. Here's a slide from the monthly sales and marketing metrics meeting, which gets sent out to the entire company every month: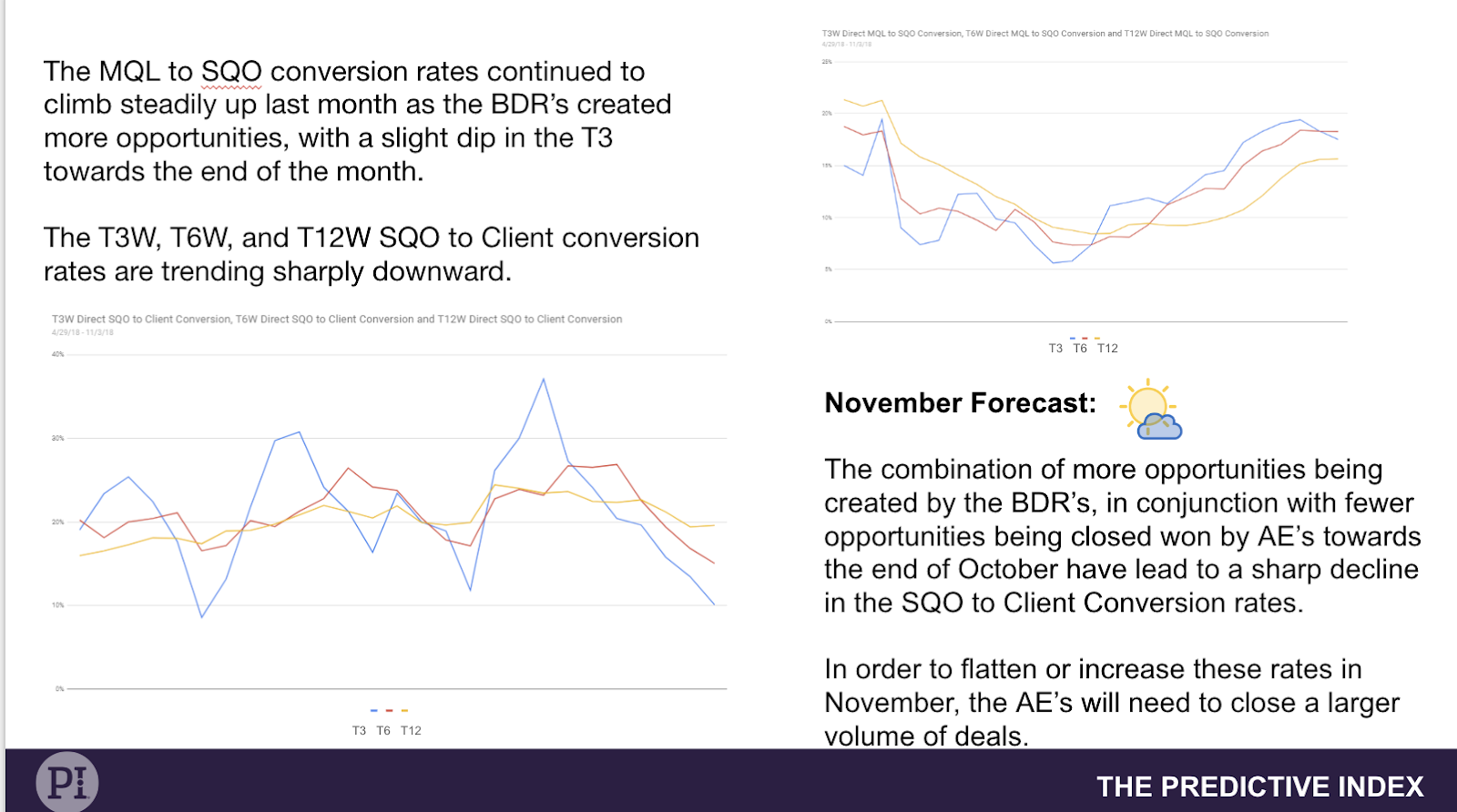 We share our executive management team notes with the entire company. The executive management team meets weekly, and we alternate between strategic discussions and tactical updates. The team submits updates for the tactical updates meeting every other week, and we then compile those notes (and scrub them for highly sensitive information) then share those notes with the entire company. This helps every single person stay aligned and on top of our fast-changing organization. Here's an excerpt of what one executive's update looked like in the last set of notes:

5. Personal development prioritization
We put a huge focus on personal and career development. It benefits our people, and it benefits us. And here's a little secret we learned from extensive research about people management issues: caring about employees' career and personal development is one of the top three things that separate great managers from good managers.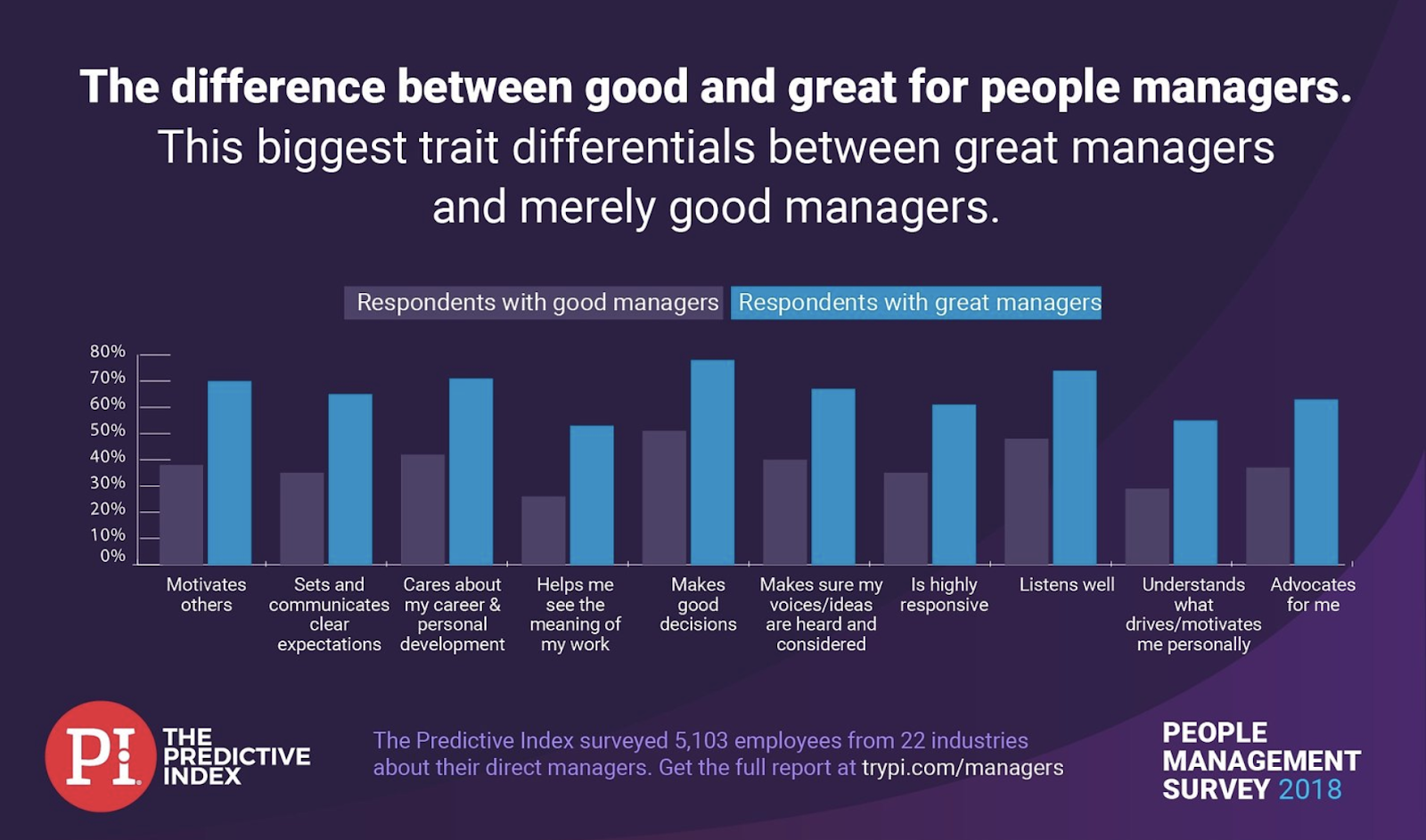 So what do we do to promote a culture of personal and career development? Here's a starting point:
We talk about it a lot, in company meetings, in department meetings, and in 1-on-1s. Personal development and career development is out in the open at PI.

We do 360-degree reviews annually for every employee. These are completely anonymous and go into great depth. And because we've created expectations that reviewers will put thought and time into their responses, the person being reviewed gets a ton of feedback from lots of people. It's a powerful exercise in understanding how others perceive you.

We create personal development plan templates to facilitate employees taking ownership of their own personal development. And in some departments, there are mandatory monthly personal development meetings.

We pay for people to go to conferences, training, and workshops. In some limited situations, we even pay for development coaches.

Most importantly, we create a culture of feedback. This starts at the top; we're very open and transparent about our own shortcomings, and we ask for help from our peers. I won't say we're completely ego-free, but we try to keep our ego in check. And we try to be vulnerable. As CEO, I've shared my weaknesses (and it is a list), and my hope is that sets the tenor for everybody else.
At the end of the day, we strive to create workplace our people want to be at. And this award shows us that we're getting it right. Making the Glassdoor Best Places to Work list is truly special and meaningful—to each and every one of us.