You've seen it happen too many times. A business has the right product, for the right audience, at the right time, but it ultimately fails because no one knows it exists. What could've been a business boon becomes a stale, slow drag all because the branding is bland.
In moments like this the need for a graphic designer shines through. Hiring managers and recruiters know it, that's why you'll need to move quickly to snag the top design talent available.
Use these tips to hire the right graphic designer for your business.
Join 10,000 companies solving the most complex people problems with PI.
Hire the right people, inspire their best work, design dream teams, and sustain engagement for the long haul.
1. Define the skills and qualities the graphic design role requires.
A skilled graphic designer is a must-have for just about every type of business in today's digital age. They help establish the look and feel of your brand, and play a vital role in attracting new eyes, hearts, and minds to your product or service.
Graphic designers live at the intersection of art and technology, and as a result both creative and technical skills are essential for the role.
Design software and tools that graphic designers might use on their day-to-day include:
Adobe InDesign
Illustrator
Adobe Photoshop
AfterEffects
Sketch
Experienced designers will have a deep knowledge of design principles, using the rules of alignment, balance, contrast, color, and space to create eye-catching designs. They'll also tout creative skills such as ideation, branding, typography and fonts, logo design and app design.
Considering the specifics of your company's graphic design needs can go a long way in finding the right hire. Some graphic designers have a specialty or area of focus, and the designer's portfolio will put it on full display. So whether you're looking for a designer with digital marketing skills, or you're simply seeking a freelance graphic designer to create a quick batch of business cards, reviewing their folios will help you narrow down your prospects.
2. Put the focus on behavioral traits.
If you want a graphic designer who can make an immediate impact, you'll need to understand the underlying traits they need to get the job done. Some candidates look perfect on paper, but crumble once the pressure's on. If you want a designer who'll keep their cool when the revision requests start flying, you'll need to look beyond resumes and credentials.
When hiring a graphic designer, many teams look for someone who's:
Creative
Empathetic
Meticulous
Patient
Perceptive
Open to change
At PI, we recommend that companies create a job target for open positions. A behavioral assessment can help you uncover the behavioral traits and competencies needed for success in the role. A cognitive assessment offers another data point to guide your evaluation. Armed with this data, you can use the Job Target as a guide for interviewing and evaluating candidates.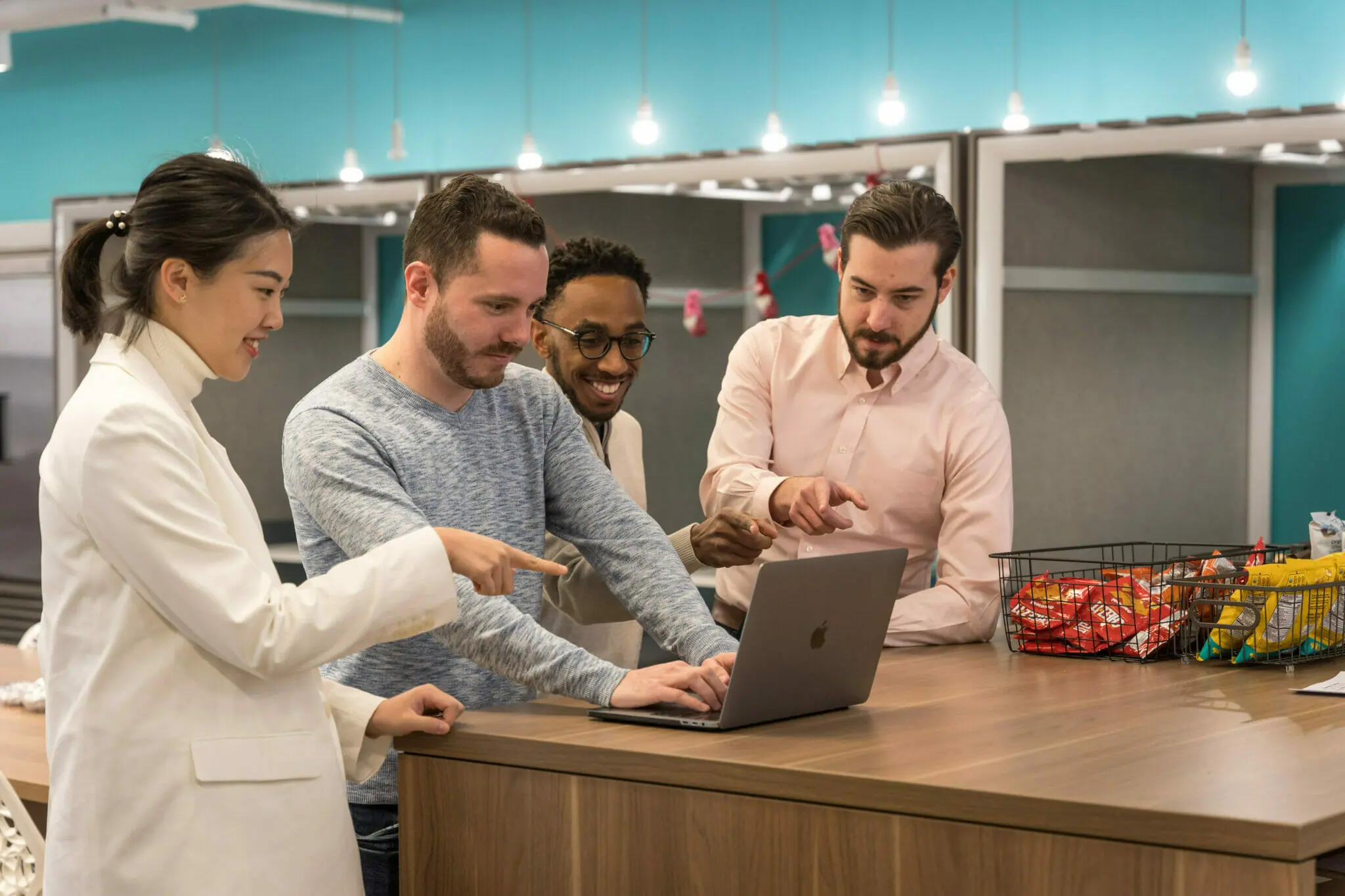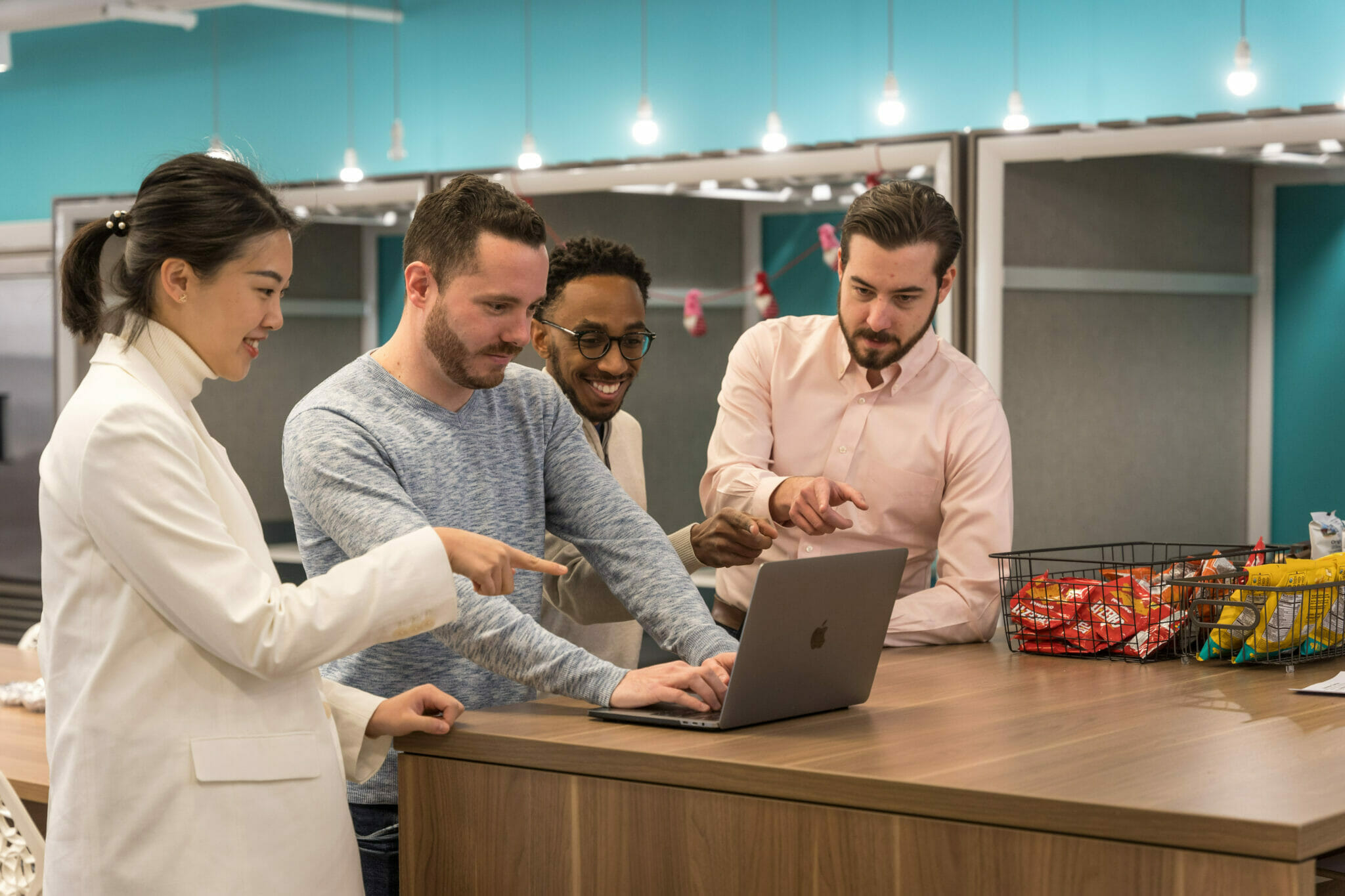 3. Use behavioral science and smart hiring practices.
Finding and retaining top talent is tough. The best candidates are fielding interest from multiple companies before they've even thought about leaving their current one. The Great Resignation has created a level of candidate scarcity that puts qualified people at a particular premium.
The upshot? If you want to snag the best graphic designer for your role, you'll need to move at the speed of science.
The PI Behavioral Assessment™ identifies individuals' innate behavioral drives. Based on the results of their assessment, we assign them one of 17 Reference Profiles. These give you a greater understanding of the candidate's strengths and how they impact potential job fit.
The PI Cognitive Assessment measures a candidate's ability to learn. Creating a Job Target allows you to set a cognitive score range, and feel confident that candidates who reach that range have the problem-solving skills to succeed in the role.
Including scientifically validated assessments in your application process allows you to add more context to each candidate in less time.
4. Identify and remove hiring biases.
Assumptions may help you rule out potential graphic design candidates more quickly, but they won't guarantee you hire the right one for your design work. As much of the human resources world works to become more inclusive in its hiring practices, unconscious bias still slips through the cracks.
One of the most powerful ways to reduce hiring bias is by trying to evaluate the whole person. At PI, we talk about a person's head, heart, and briefcase, and we use the power of people data to assess candidates fairly.
Hard skills make an impact, but so do the soft ones, and a person's true motivations are too deeply rooted to be ignored. Assessing talent is a nuanced task, but broadening your interview process can help you get a clearer picture of each candidate. With a wide, diverse interview team you can account for a candidate's head, their heart, and the tangible abilities they'll bring to work every day. After comparing notes your team will have a more holistic view of each person, and a much clearer vision of how they might fit.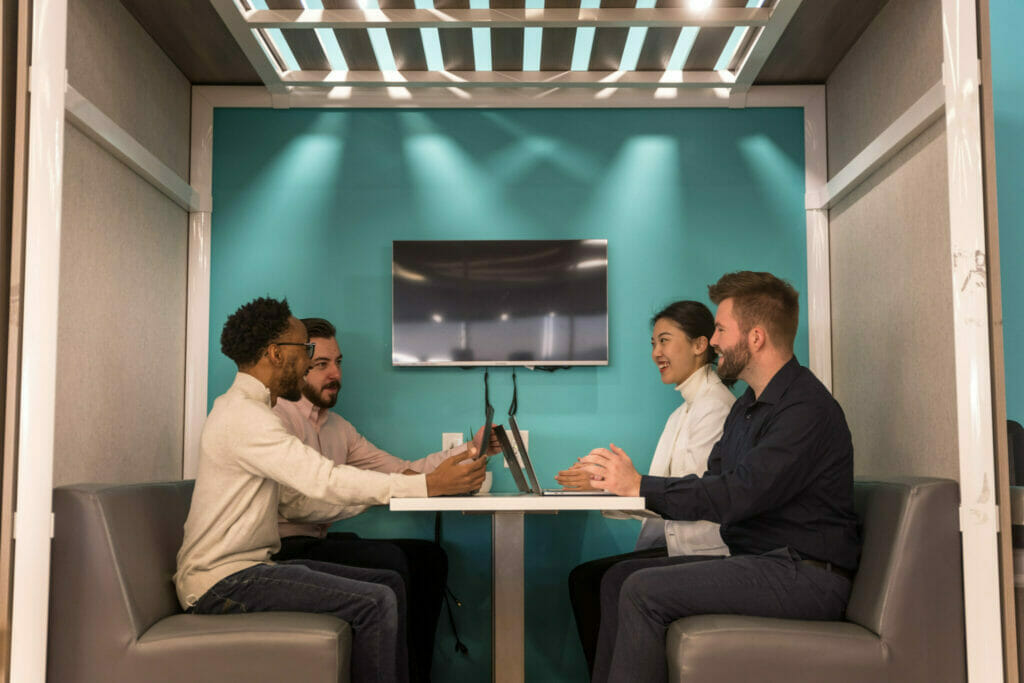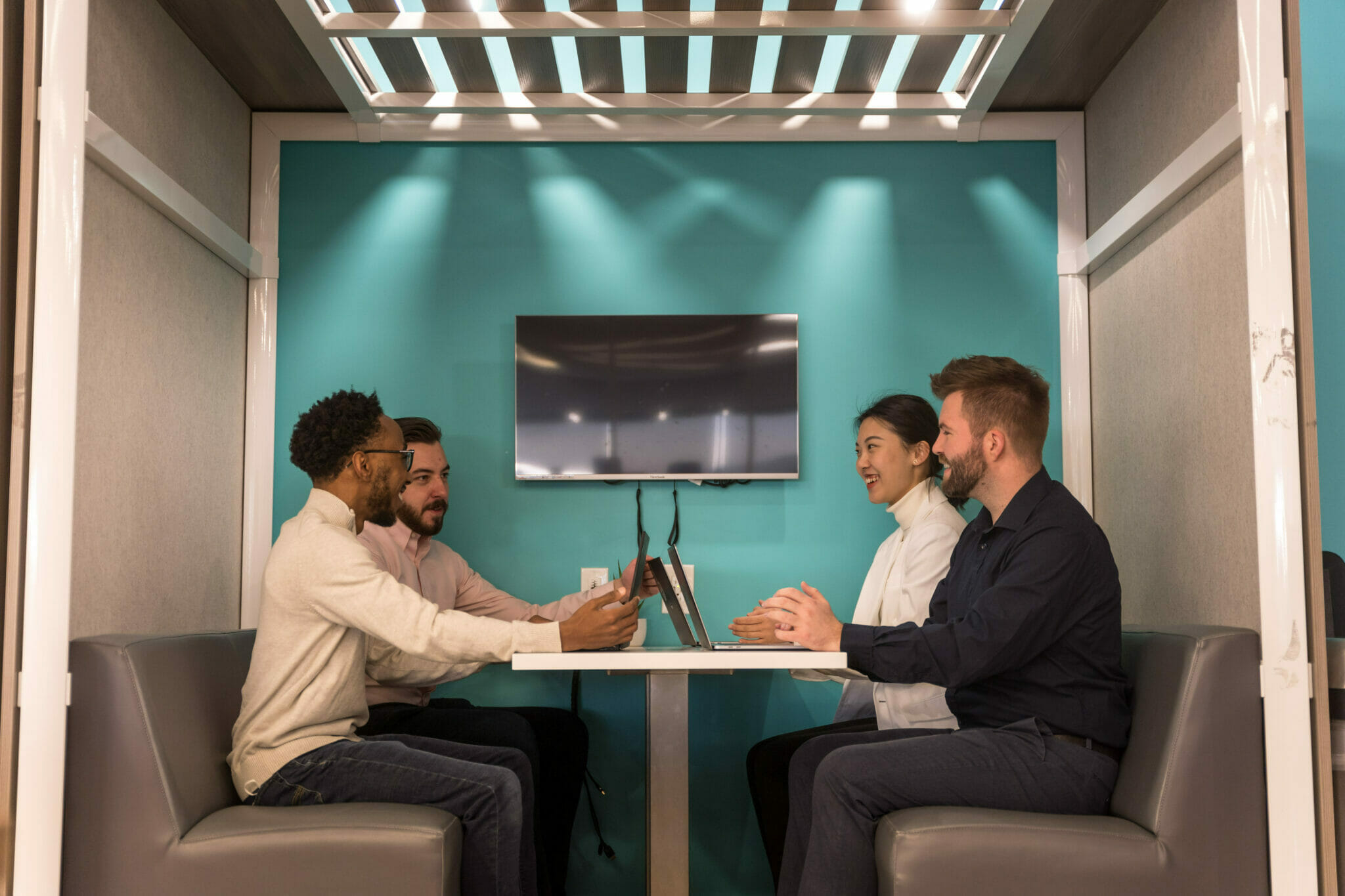 Sample interview questions to ask a graphic design candidate
Hiring creatives can be tricky, even if you're a creative yourself. Plenty of candidates will have design folios that wow, and skills that match the job description.
When all else seems equal, the interview is your opportunity to see a designer's behavioral traits and soft skills come to life. A well-executed interview can give you a clearer vision of how each candidate might flourish in the role, and ultimately spot the right graphic designer for your business needs. Strategic interview questions narrow your interview focus even further.
Here are seven interview questions that can get the design conversation started:
Can you walk me through your creative process as a graphic designer?
Which portfolio piece are you most proud of? Why?
Describe a time when you received harsh criticism from a client. How did you respond?
Describe how color theory impacts your design process.
How do you determine the success of your designs? What key metrics do you consider?
The best practices for graphic design are ever-evolving. How do you keep up with the latest changes and trends?
Walk me through your task management process. How do you balance multiple deadlines and deliverables at the same time?
3 most common Reference Profiles for graphic designers
With over 60 years of people data to pull from, we've gathered data points galore on hiring for the graphic designer role. Eager hiring managers around the globe identify the traits they seek in a graphic designer.
Once key stakeholders are aligned on the behavioral and cognitive requirements of the role, they use PI Hire to create a job target that's both unbiased and consistent. Here are the Reference Profiles that often rise to the top for graphic designers:
Artisan
Thoughtful, deliberate, and precise, Artisans thrive in work environments that prioritize structure and direction. Their sharp eye for managing detailed work will help them flourish in the graphic designer role, where they'll catch microscopic mistakes and ensure each graphic fits the brand style guide. Give an Artisan a clear creative brief, plainly stated deliverables, and the space to unleash their skill-set, and they'll follow through with high-quality work.
Adapter
With a name that fits their traits, Adapters are versatile and able to adjust their style to meet the needs of your team. This flexibility makes them an attractive fit for the graphic designer role, as they may need to shift from web design to social media graphics to t-shirts in a span of hours. Take the time to learn an Adapter's motivations and preferences, and they might be the glue that holds your team together.
Specialist
Specialists naturally excel at highly skilled work, and thrive solving problems that require exactness and efficiency. These traits help Specialists succeed as graphic designers, where they'll need to complete a variety of design projects with speed and precision. They won't hold up design revisions trying to get their way, but they will obsess over making sure each line on the graphic is pin-point accurate.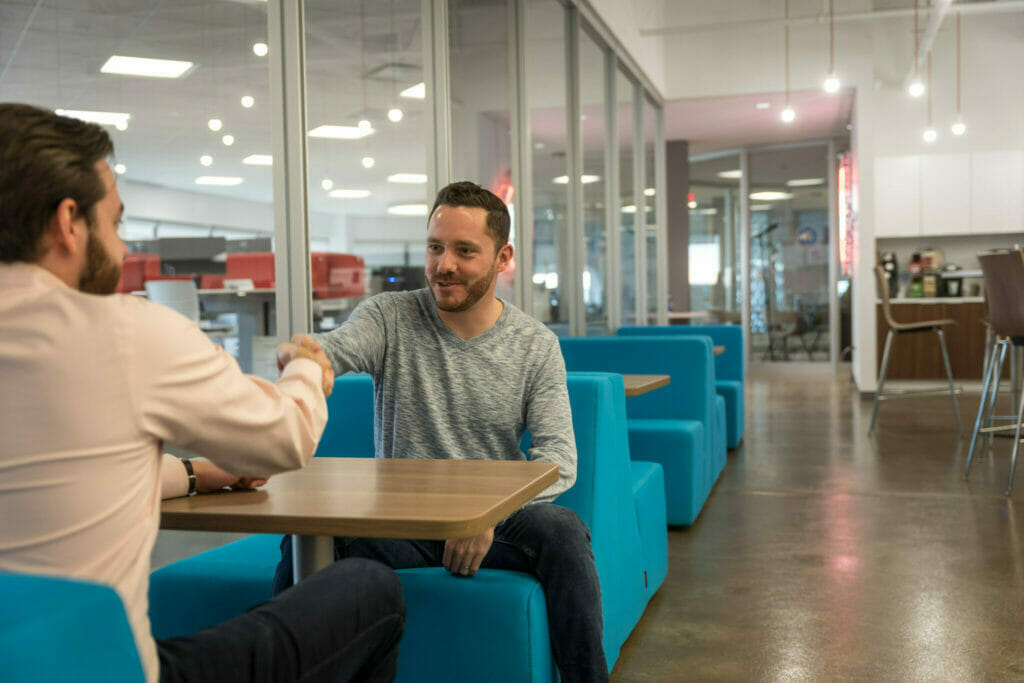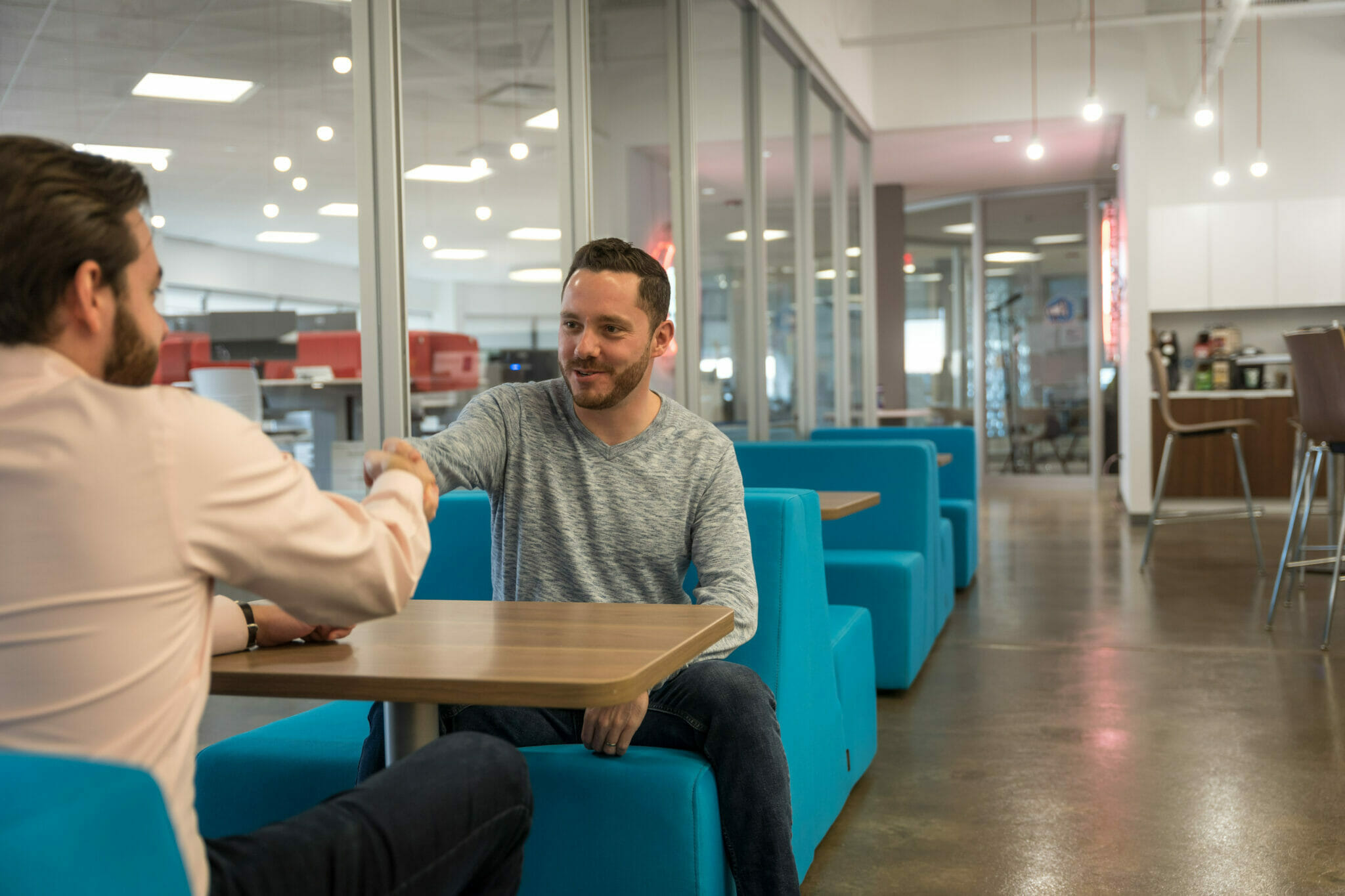 How The Predictive Index helps companies hire top performing graphic designer
Small business or megacorp, full-time or freelance, anyone with a product or service to sell needs graphic design services.
Let's face it, competition isn't cooling down. In fact, as long as the labor market is defined by a shortage of candidates, things will continue heating up! In a rush, we tend to trust our gut—a gamble that could lead to a costly loss.
The Predictive Index combines cutting-edge recruiting software with 60+ years of behavioral science to put the power in your hands, and the odds in your favor.
Use the insights you gain from PI to hire the right graphic designer, and help them hit the ground running.
FAQ
Why hire a graphic designer?
Considering a large business pivot or company rebrand? Eye-catching print and digital materials can help you build excitement and momentum for the new direction.
No need to reinvent the wheel when you have a product or service that works. A talented graphic designer can create new designs and product packaging to keep your offerings fresh in the marketplace.
As a business in the digital age you rarely get a second chance at a first impression. And as your business grows, more and more people will find you organically via social media or your website. An experienced graphic designer can help ensure your brand identity stays consistent. Above all, they can create a first impression sparks intrigue and investment.