Ever FaceTimed? Sent a Snap or tuned in on Instagram Live? What about that group text to people in different states?
If you're using any of this tech to "show up" digitally, you're already living a hybrid life.
And most likely, so are your employees. Yet, over the past couple years, the pandemic has caused those experiences to transcend home and work life, with companies implementing hybrid work models to varying degrees, with varied effects.
Migrating an entire organization to a flexible work model comes with inevitable growing pains, even if you've had a head start.
In the 2022 State of Talent Optimization Report, we asked executives to describe their current remote work policy. At the time, 51% of them offered remote or hybrid work options. That figure only figures to climb further as workers continue to resist a return to pre-pandemic commutes and congestion.
This shift in the workforce (and the world) leaves business leaders with a pivotal decision to make: Embrace the cultural transition toward hybrid work (using the tools and data at your disposal to adapt as the world evolves)… or cling to the mandatory on-site past and risk ending up like Blockbuster.
What is a hybrid work model?
At its core, a hybrid work model is a flexible approach that supports and encourages both in-person and remote employment.
As the name implies, hybrid work encompasses a wide middle ground between "fully remote" and "physical office or bust." Where in that middle you land will vary depending on the needs of your business, as well as the preferences of your people.
Embracing this work policy could mean setting schedules and in-office hour requirements. Or, it could mean every employee has the freedom to choose where and when they work. Each organization needs to arrive independently on the options best suited for its own workforce.
The best hybrid models maintain a welcoming office environment, and grant employees the flexibility to use it when they see fit. Healthy hybrid work nurtures a work-life balance without sacrificing productivity.
How do you find your organizational balance? Read on to learn more.
Why is hybrid work so popular?
The COVID fallout
You've heard it a million times, but Elon Musk missed the memo, so we'll say it again: COVID-19 forever changed the way we work. When the pandemic struck in 2020, about one-third of the U.S. workforce went remote. Many companies experienced growth and success during that stretch, which led to permanent adoption of hybrid or fully remote models. But as the pandemic has subsided, a few industries have attempted to go back in time, forcing their 2022 employees back into their 2019 lives. The return-to-office movement has sustained momentum of its own, and the friction it creates with some employees is clear. For many, it's a matter of public safety and security. And that no longer just means social distancing.
Advancements in remote-friendly technology
Most full-time office-based work can be completed with a laptop, a monitor or two, and reliable Wi-Fi access. Companies that use the hybrid work model also rely on quick, secure shipping, so they can get employees the equipment they need to succeed. Some of the more traditional industries, such as the legal and finance sectors, accelerated the use of technology. Adopting video conferencing and virtual collaboration tools was key to stay growth-oriented in the COVID era.
Flexibility
For employees: Those who are local and want the in-office vibe can still have it. People who want to be remote can do so without intense negotiations or debates.
For employers: A hybrid model allows them to still secure top local talent, while also opening up new recruiting avenues across the globe.
Join 10,000 companies solving the most complex people problems with PI.
Hire the right people, inspire their best work, design dream teams, and sustain engagement for the long haul.
Benefits of hybrid work
1. Increased productivity and efficiency
With their home, co-working spaces, or office as options, hybrid workers have the flexibility to work freely, wherever they're most productive. A little bit of autonomy can go a long way—happier employees are more engaged, and more engaged employees drive greater business outcomes.
2. Reduced operational costs
With less staff on-site at any given time, many companies find that they're paying for more space than they need. Optimizing your workplace strategy may include downsizing your physical real estate. According to a recent McKinsey study, some organizations have cut their real estate costs by as much as 30%. If you're one of those organizations, the cash you save can be re-invested in high-impact areas. Those locked into long-term leases may benefit from renting their unused space to other companies, or reimagining their layouts in creative new ways.
3. Improved work-life balance
Each employee—no matter how dedicated they are to their career—is much more than their title and job description. We all have things we're responsible for outside of work—things we manage, and things that require our energy, effort, and attention. With flexible work and a flexible workplace, employees have a bit more autonomy over the "whens" and "wheres" of their non-work lives. With that autonomy, hybrid workers can begin to optimize their lives, both on and off the clock.
4. Expanded talent pools
Mandatory commutes make a major difference when it comes to securing available talent. You've got to ask yourself as an employer: How far are people willing to drive to work here? How many candidates will turn down our offer for a more remote-friendly option? How many great candidates are we missing out on? On-site companies have access to the best candidates in their area. Hybrid companies have access to the best candidates in the world.
5. Minimized exposure to illness
Embracing a hybrid workforce leads to fewer people in the office space on many days. This makes it less likely that an ill employee infects others at work. The pandemic, while hopefully behind us, made this an important consideration for all businesses moving forward. With the option of remote work regularly available, people feel more comfortable staying home when under the weather.
The challenges of being part of a hybrid team
1. Limited interpersonal relationships
Through shared spaces and routine walks to the kitchen or meeting rooms, relationship building is often an organic part of the onsite work experience. Building those same relationships requires purposeful effort when teams are made up of people with varying schedules, personalities, and time zones. Successful hybrid work models prioritize strategies that foster stronger employee relationships, even if that means putting in more intentional effort than before.
2. Overworking and burnout
What starts as a great move toward work-life balance can become a nonstop nightmare when overworking creeps in. Employees who have 24/7 access to their workspace can quickly catch work life encroaching on their personal life, leading to what is essentially no life at all. Establishing healthy boundaries can help hybrid workers avoid burnout, but managers and leadership need to set the tone by modeling balanced behavior (i.e., by taking time off, or refraining from sending messages outside of typical working hours).
3. Misalignment and poor communication
Many teams struggle to master communication styles even when everyone's face-to-face. The risk for miscommunication only goes up when an in-person conversation isn't an option. That's all the more reason to gain a deeper understanding of what makes your employees tick. Your team success may depend on it.
4. Heightened cybersecurity risks
Collaboration tools, video conferencing, and hybrid team-building events are all common in the hybrid workplace. If you want hybrid workers and remote workers to do their best work, shared drives and documents are just the start. You also need a thoughtful plan for protecting data and sensitive information across different time zones and networks. Without a strong tech team, mismanagement of remote access could leave your network and your company vulnerable.
5. Screen overload
This goes for fully remote employees, for in-person employees, for individual contributors, for managers—for everybody involved. Finding a way to stay connected often involves heavy investment in Zoom, Microsoft Teams, and Slack, all of which can bloat a person's required screen time.
But keeping the team connected and in sync is the biggest challenge of all. Business leaders must account for different people, from different cultures, with different skill sets and different personalities—some fully remote, some commuting to the office daily, and the rest falling somewhere in between.
Team alignment is directly tied to team success, and physical distance can make that alignment tough. Keeping teams aligned requires constant effort even when everyone's in-office. Add the reality of multiple office locations (and potentially multiple time zones), and subsequent hiccups are no surprise.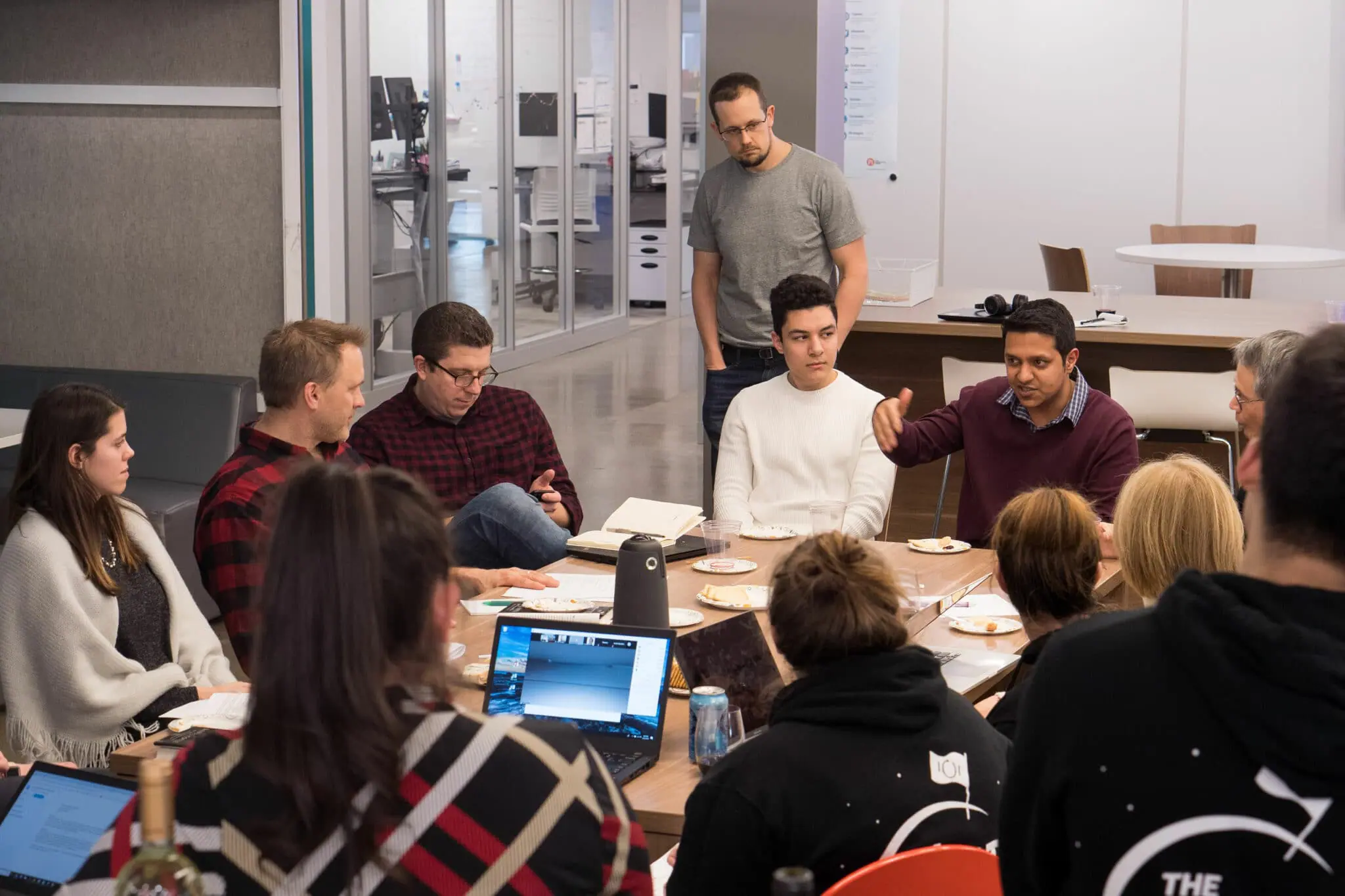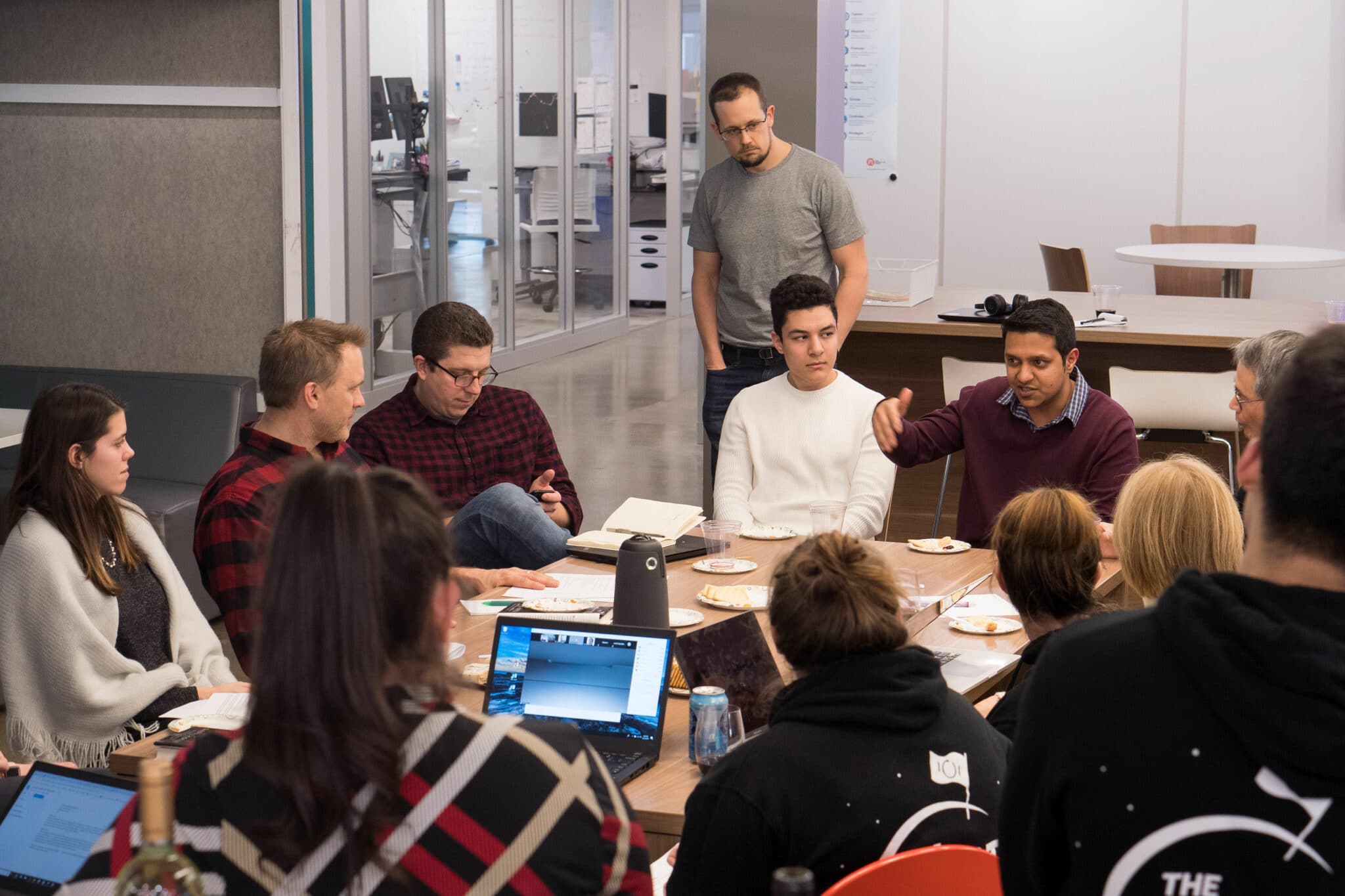 Managing a hybrid team
Whether on-site, remote, or somewhere in the middle, maintaining cohesion is a must if you want your team to succeed.
Use these tips to nurture effective communication and collaboration on your hybrid team.
Help the team remember their collective "why."
Employees need to maintain awareness of how their work contributes to the company's mission, or broader goals. But clearly defining "success" helps individual contributors stay connected to the whole, no matter where they are when they log in.
Never stop building trust; never stop building relationships.
The best teams support each other, encourage each other and also hold each other accountable. All of these actions require trust, and we know trust isn't built overnight. Proactively creating opportunities for employees to connect (both in-person and from afar) can help hybrid teams function well when the pressure's on.
Anticipate and handle tech issues with grace.
Offering flexible work options generally comes with new equipment needs, and inevitably, a slow trickle of tech issues. As you lean on collaborative tools and software to connect people, dots, and goals, assume a learning curve. Be sure your IT team has the behavioral traits needed to troubleshoot with grace. Qualities like diligence, patience, and precision can help ease the adoption of new devices and procedures.
Recognize excellence, and celebrate success.
In the past, you might've done this with high-fives in the hallway, or catered meals in the break room. But embracing hybrid work means sometimes taking celebrations digital. You expect employees to do great work while upholding company culture in the process, so when they're successful, be sure to let them know. Whether it's through dedicated Slack channels, custom Zoom filters, or small gestures like e-gift cards, thoughtful acknowledgment can have a major impact on your retention efforts.
Set and clarify expectations often.
Setting shared expectations for your team allows each member to work autonomously toward a common goal. These expectations should encompass everything from how you organize your meetings, to naming conventions for collaborative files. As your team changes in size and responsibility, regular clarification can help the group adjust and re-align.
Is a hybrid work environment the future?
The future of work is, by nature, always in flux.
While none of us can predict the future with certainty, what we can do is prepare ourselves, our teams, and our organizations. We should continually observe, assess, and adapt.
Creating the perfect work environment is a little like trying to hit a moving target—or relying on deer for dinner.
You might have the perfect hunting spot, the bucks and doe bountiful when the season starts.
Do you go the stubborn (and likely starving) route—attempting to bend nature and time to your will?
Or do you observe the change, adapt your strategy, and improve your odds at success?
The world shifts, workers respond, and organizations must follow suit. The many iterations and adaptations of the hybrid work model are a clear example of this. There are some tasks, some teams, and some organizations that may require an in-person touch. That said, we're trending toward a world where hybrid environments are the norm, one in which on-site-only organizations struggle to attract and retain talent.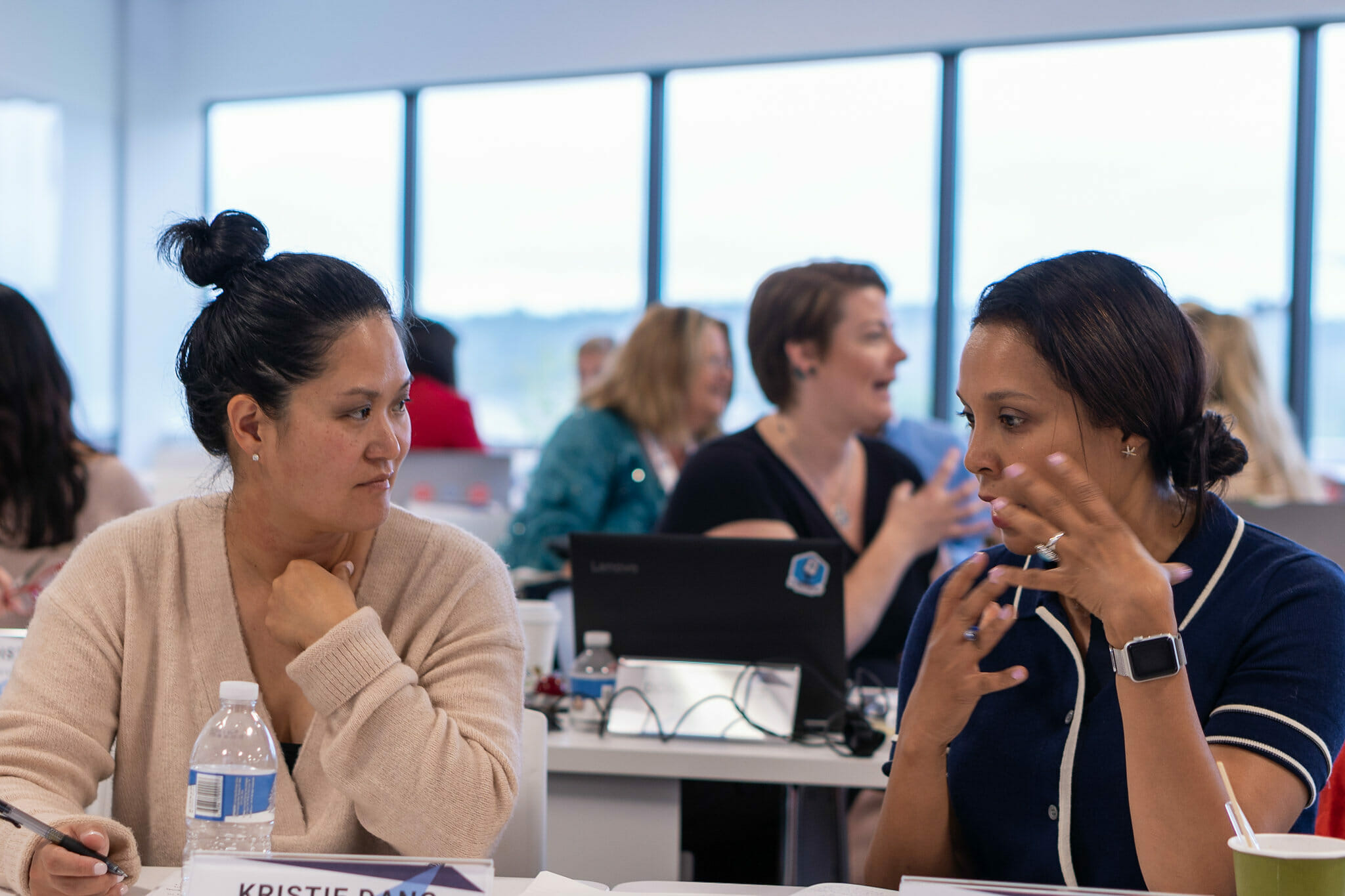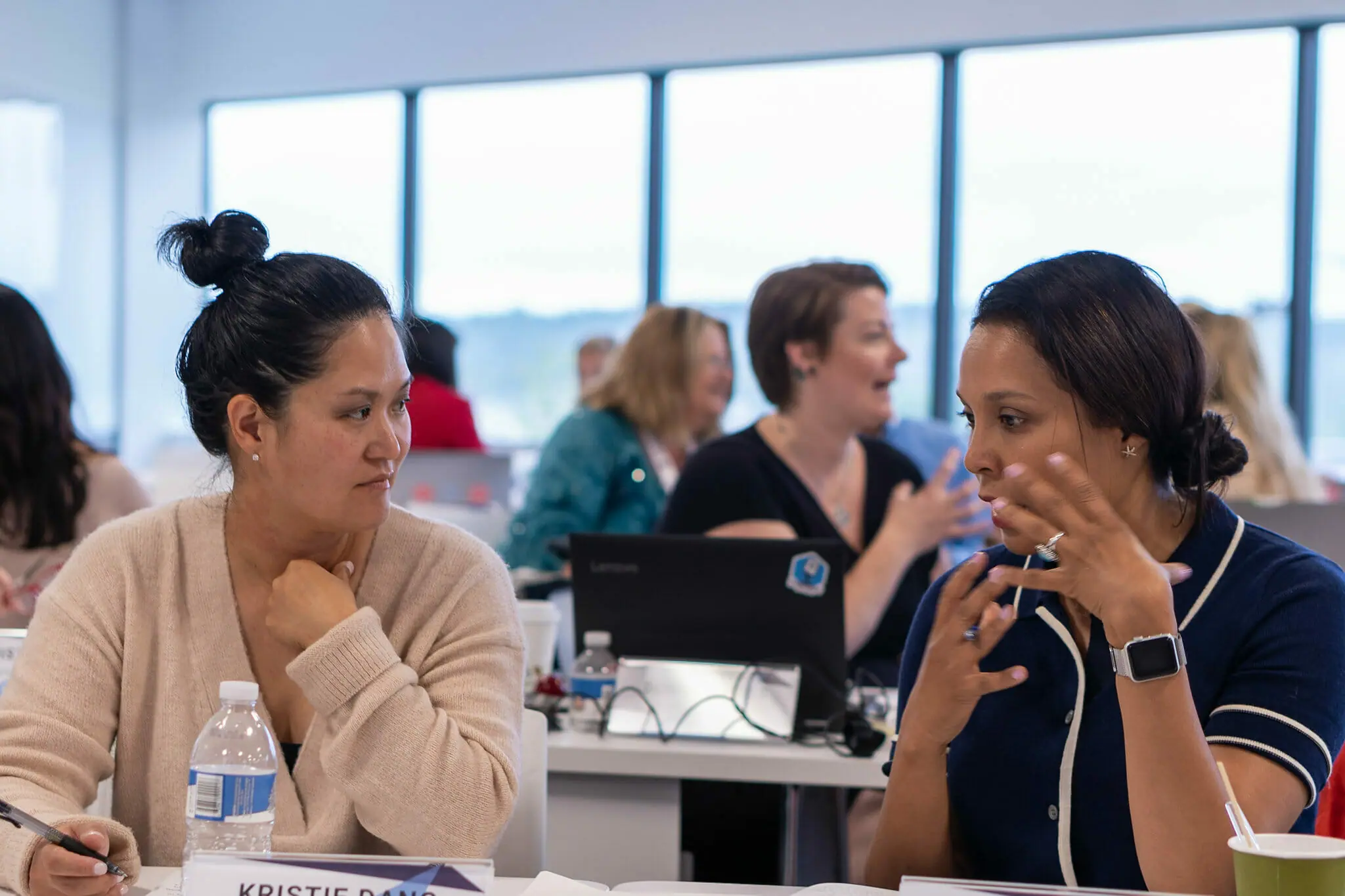 How are organizations adopting a hybrid work environment?
While some companies employed remote workers before 2020, the COVID-19 pandemic forced many to confront an uncomfortable truth: Their work model needed to change. A couple years later, the results are in: Remote work is not a temporary adjustment. The third edition of McKinsey's American Opportunity Survey reported that when people get the chance to opt for some form of flexible work, 87% of them do it. Yes. You read that right: 87%!
Flexibility has essentially become a requirement for companies hoping to snag top talent in certain industries. Organizations like Lyft, Grammarly, Adobe, and Coinbase, to name a few, have steadily unveiled their respective hybrid work models. And there's an emphasis on the fludiity of those models, as the world of work continues to change.
Here at PI, we began offering three core employee work options in 2021- Field, Flow, and Studio—relying on a steady diet of trial, error, and talent optimization to find success.
Our leadership team has leaned into the evolving hybrid workplace, and we've adapted everything from our communications guidelines to our company events in an effort to keep our culture intact. It's a challenge for us, just like any other organization, one that has to be met with intentionality and a willingness to pivot proactively.
Equipped with creativity, open-mindedness, and behavioral data, we can adapt to new work realities and continue to produce our best work.
Hybrid work vs. remote work
There's a tendency to focus on the remote aspects of hybrid models when building them out. But put too much emphasis on accommodating your off-site people, and you might do your on-site folks a disservice. Hybrid work should be looked at holistically.
The key difference here is that remote work is just that. Remote. The other side of the on-site-or-nothing coin. A hybrid model allows employees to work wherever they're most comfortable and productive. It also enables an equitable experience, no matter where people are on a given day.
Hybrid work is food truck day at the office and Uber Eats gift cards for remote team members. It's new-hire onboarding with both remote and on-site employees in mind. It's the consideration for, and consistent effort invested in the employee experience, no matter where those employees work.
But this isn't a binary, one's-better-than-the-other debate. The choice will be different for each organization, based on their different goals, different personnel, and the different services they provide. The best option is based on the nature of the problem a business aims to solve, and the desires of the people equipped to solve it. The one universal advantage hybrid work offers is the ability to flex one way or the other, as needed, without abrupt interruptions in process or productivity. In an ever-changing world, that flexibility could be invaluable.
Join 10,000 companies solving the most complex people problems with PI.
Hire the right people, inspire their best work, design dream teams, and sustain engagement for the long haul.
How PI can help and support hybrid work
Although work models have always evolved—and continue to do so—the core elements of a high-performing team generally remain the same: Trust, accountability, camaraderie, and balance are always critical. All these qualities are needed for teams to accomplish their goals, no matter where those team members work.
That said, managing a strong hybrid team is a unique challenge. There is a science, a magic, and a synergy created when each individual brings their talents, perspectives, and personalities to the table. Creating that elusive essence in a hybrid workplace requires flexibility, openness, and intelligent design. It requires managers and team leaders with high emotional intelligence, and inherent empathy. On a day-to-day basis, that might mean recognizing when one team member is off their game, or encouraging someone to opt out of a late-day meeting so they can pick up their kids. In those instances, the best hybrid teams are versatile units, picking each other up by way of meeting notes and call recordings.
Gaining a deeper understanding of yourself and your team allows you to anticipate these needs, overcoming skill gaps and potential roadblocks en route to hybrid success.
Some will struggle with meeting overload; others will love every minute on Zoom. Some will head to the meeting room for the in-office potluck, and some will show up on the screen with their lunch in hand. And some will instinctively read the Zoom chat aloud, naturally bridging the gap between the two groups.
The power of people science gives organizations the info and tools they need to create dream (hybrid) teams by design.
With data backed by 65 years of science, PI tools help better understand your people. And that understanding supports—and helps forge—a more flexible, successful, hybrid future.