We're in the thick of the second quarter, nearing the halfway mark of an already grueling 2023. Recession stink lingers in the air. The financial industry continues to teeter. And return-to-office mandates are too often falling flat.
Given that backdrop, it might not seem like the best time to focus on team building.
But that's never been PI's approach. In my three-plus years here, our People Ops and leadership teams have always put employees first. Morale never takes a backseat. And no company event better embodies that mentality than the Office Olympics.
A couple years ago, as the pandemic raged on, I had the pleasure of participating remotely in our first-ever hybrid games. The experience exceeded my every expectation.
This year, I made the pilgrimage to PI HQ in suburban Boston, along with dozens of other Field Pioneers (aka fully remote employees). It was telling that few of us approached this "return to office" request with a sense of drudgery or obligation. We were here to connect with colleagues, sure, but also to compete.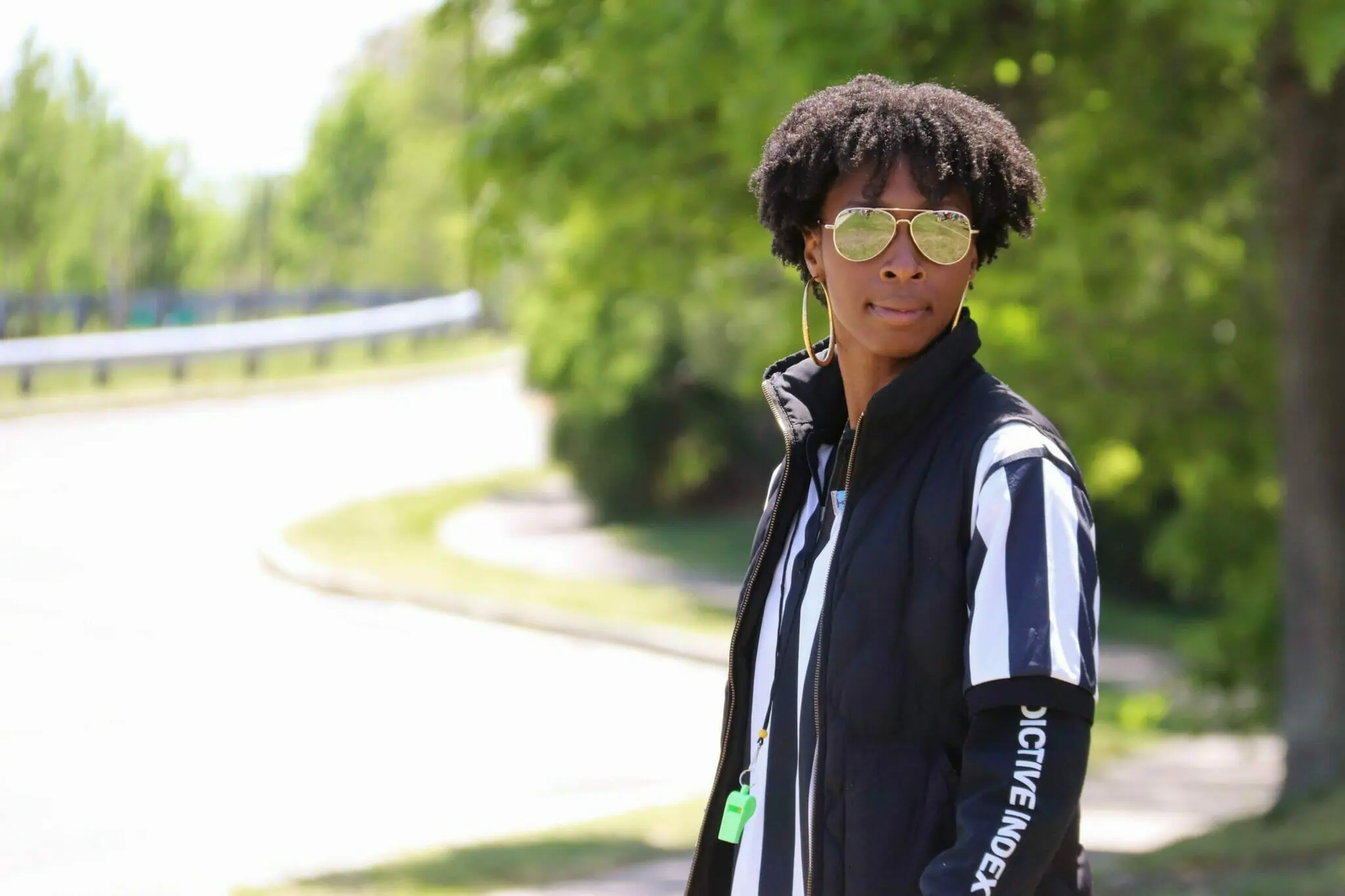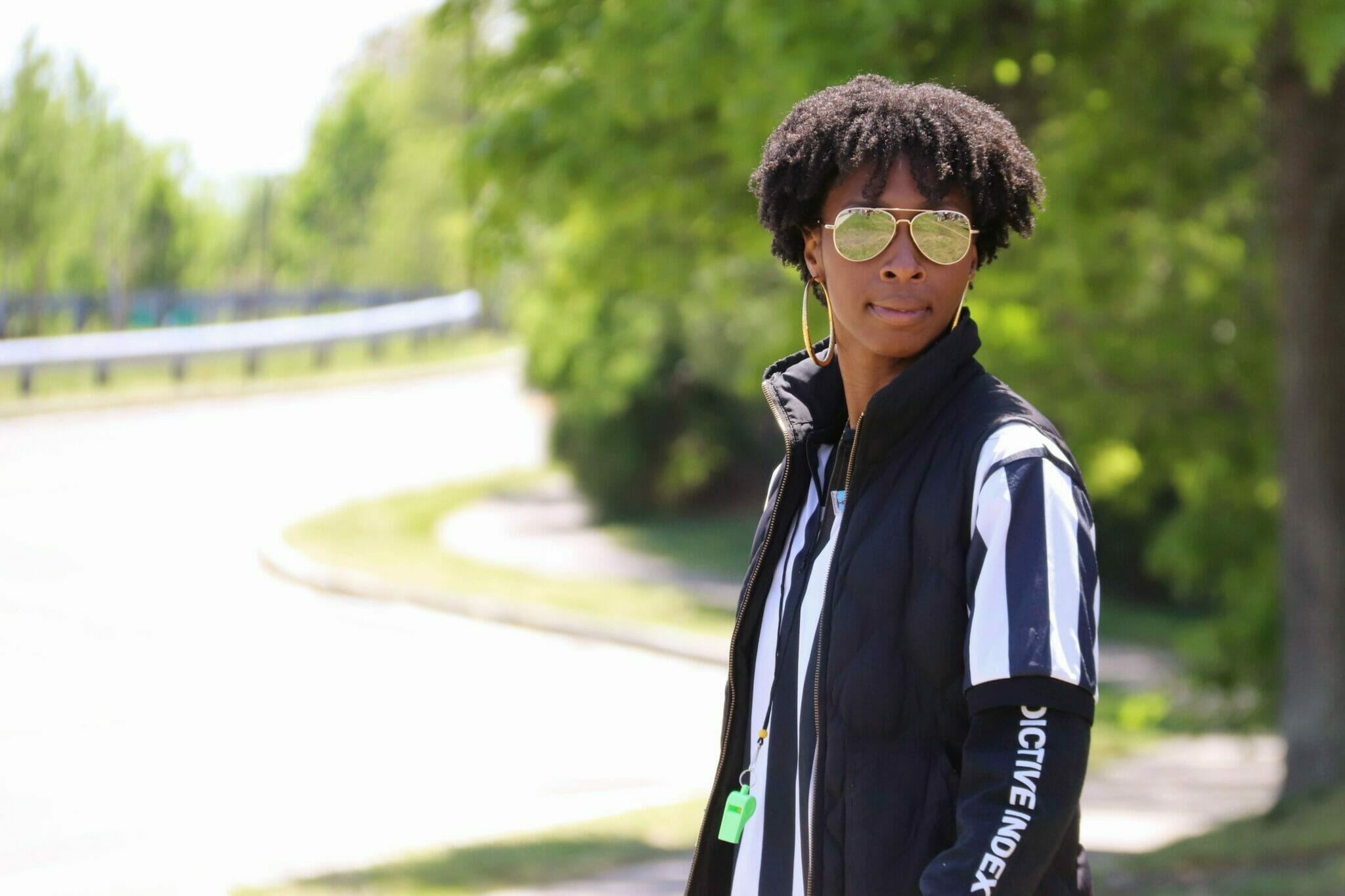 Gathering our green
Having been on vacation the week before Olympics, I've missed most of the event sign-ups and have little idea what I'm walking into Thursday morning. But my Team Green compatriots have it covered.
Around 9:00 AM, we assemble by the Direct Sales team's labyrinth of standing desks, as organized by our fearless captain, Courtney. Everyone is wearing some shade of green (good start). People are handing out Ziploc bags full of vegetables. My guy Derek is donning a homemade leaf-vest (shout out to our remote teammate Jamie Whited, who not only hand-crafted, but overnighted this makeshift costume), while holding two cans of creamed corn.
"These are the keys right here," he assures me—a statement that proves prescient.
Those of us still catching up stand around listening in, tying bandanas around our heads, like, "alright, yup, regular Thursday stuff." We come up with an opening ceremony walk-out routine in no more than 10 minutes. Clear eyes, full hearts, hands full of green beans, we head for the parking lot.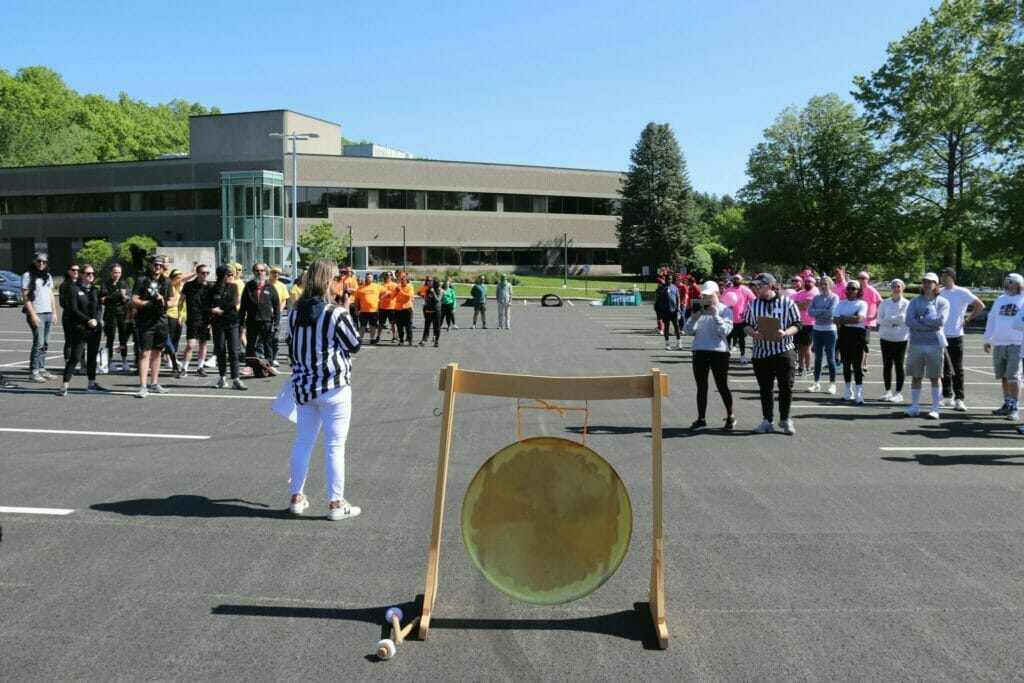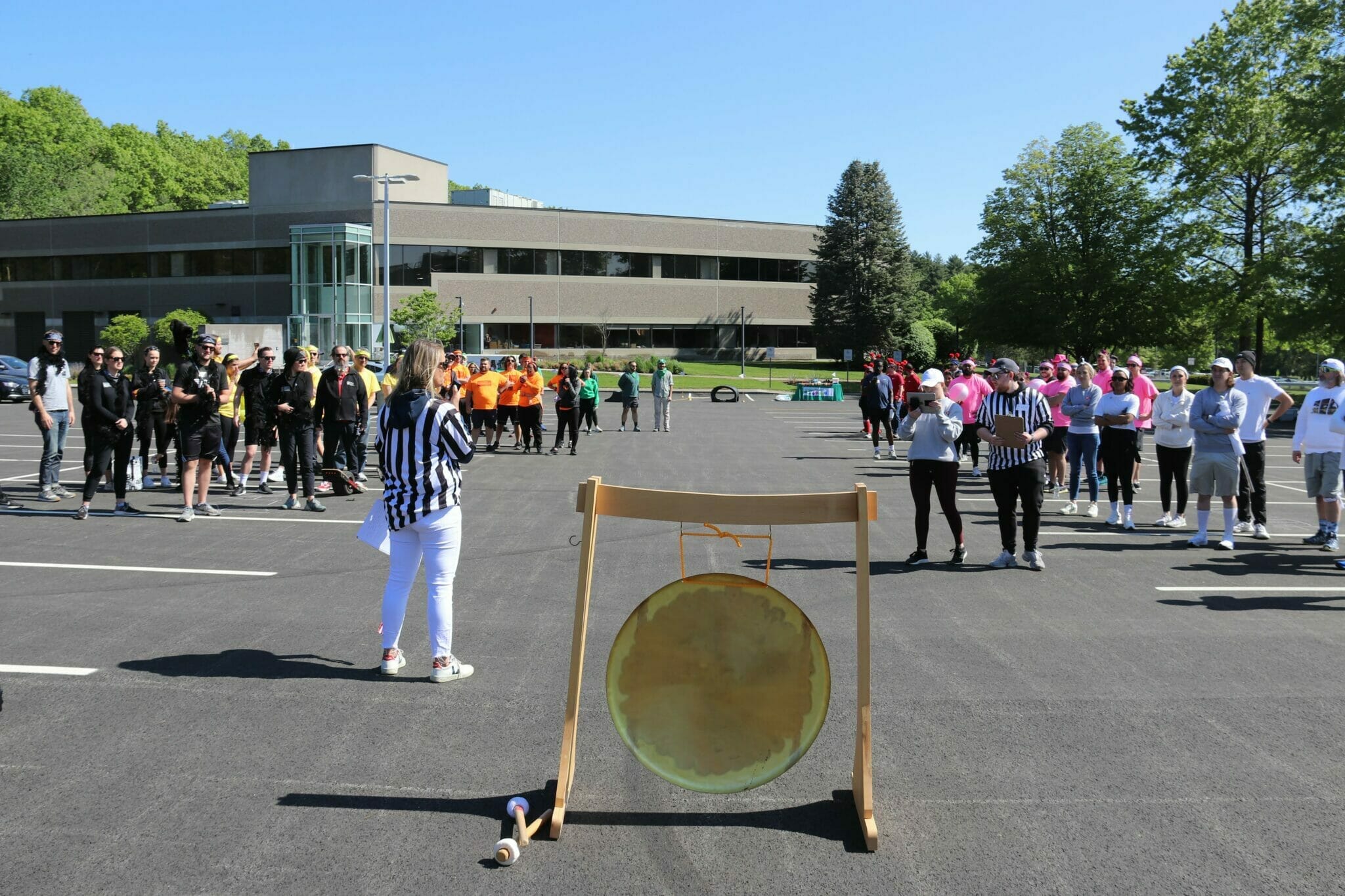 Let the games begin
Jackie, our Chief People Officer, welcomes all the competitors comprising our eight ROYGBIV-spanning teams. She's got a phalanx of serious-looking zebras around her, a sure sign that People Ops will suffer no fools today. Bribing, chiding, or in any way disrespecting the refs is the most foolproof way to lose in the Office Olympics. But scoring subtle points with the officials is possible. Team Green knows this, and we'll use it to our advantage shortly.
Team Orange's Charisse gives us a casually killer rendition of the Star-Spangled Banner, and then Intros are underway, highlighted by: Team Red doing a "reindeer run" while wearing pom-pom headbands (apparently their antlers didn't arrive in time); Orange's impressive lip-synch/Britney-belting mashup; and Pink's amusing-if-confusing whack-a-Pink Panther role play. Mixed metaphors abound.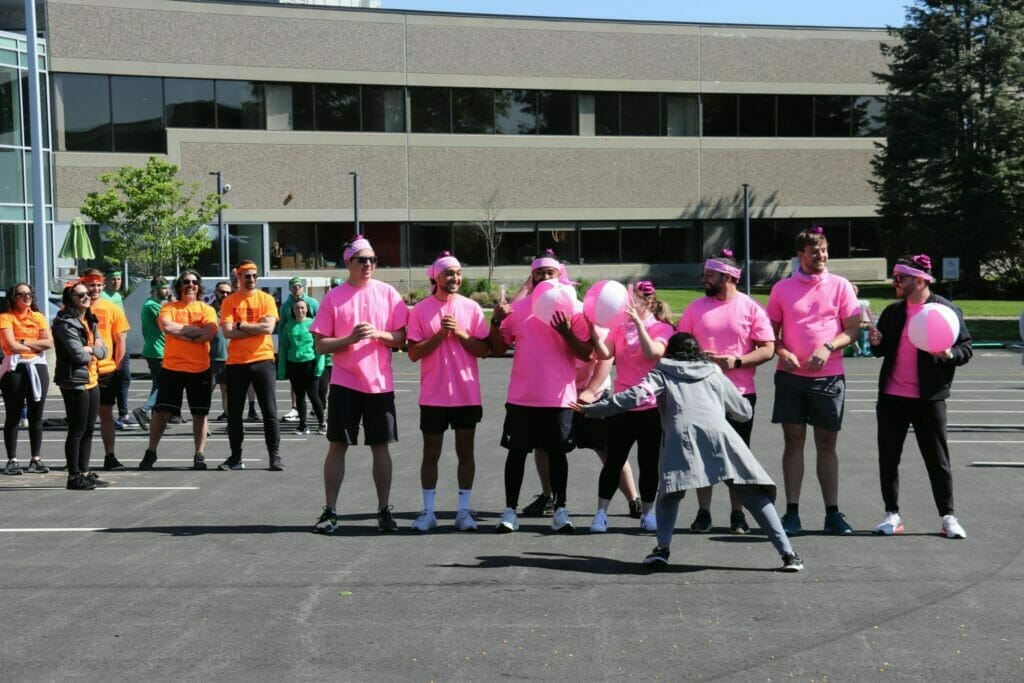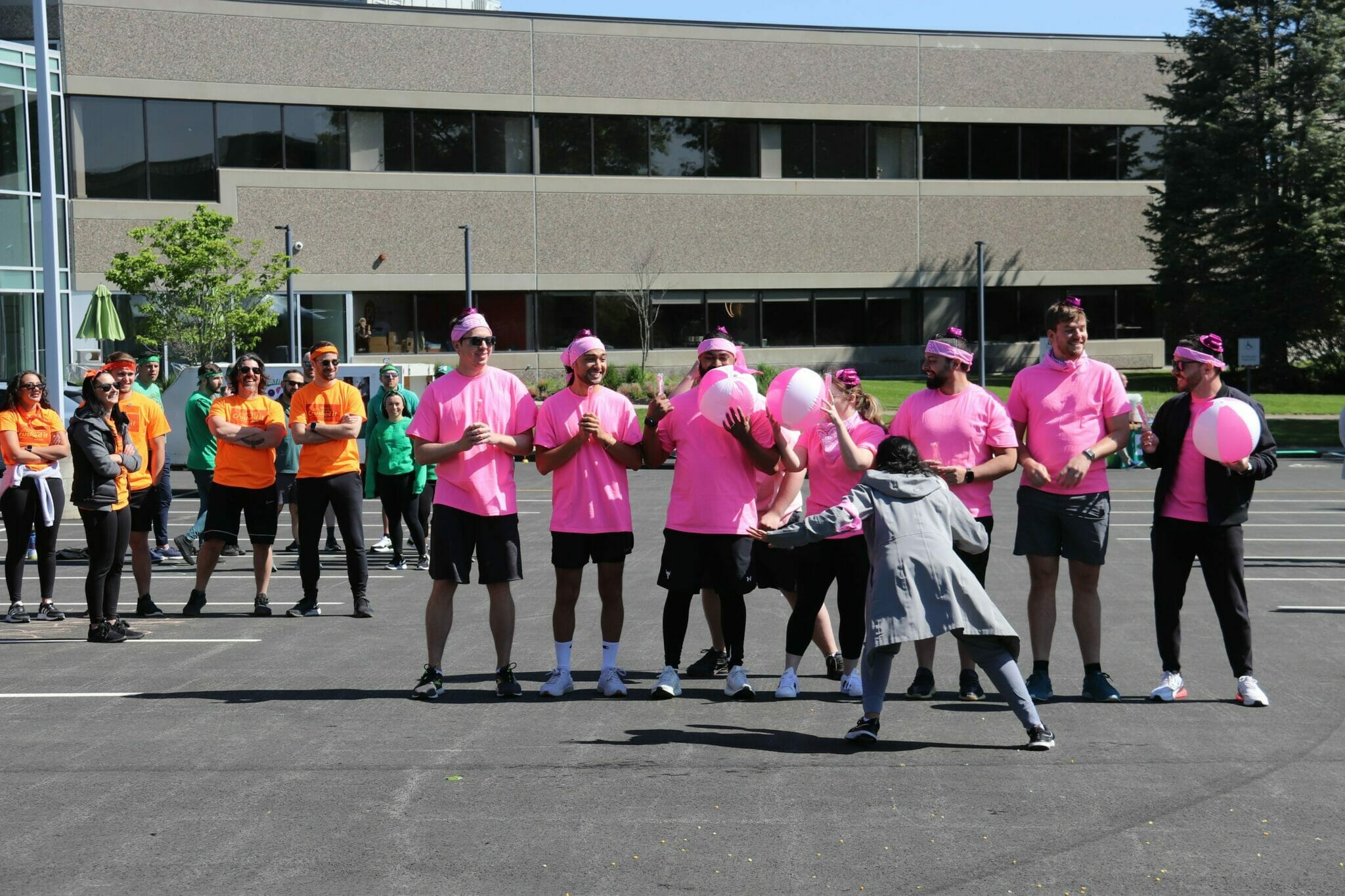 Team Black does an elaborate crow routine, replete with boas and squawking—the sort of exhibition that straddles the line between par-for-the-Olympics-course and straight-up odd. In a key oversight, they neglect the feathers they've left strewn about the parking lot. (People Ops said they wouldn't tolerate a mess.) Team Green takes notice.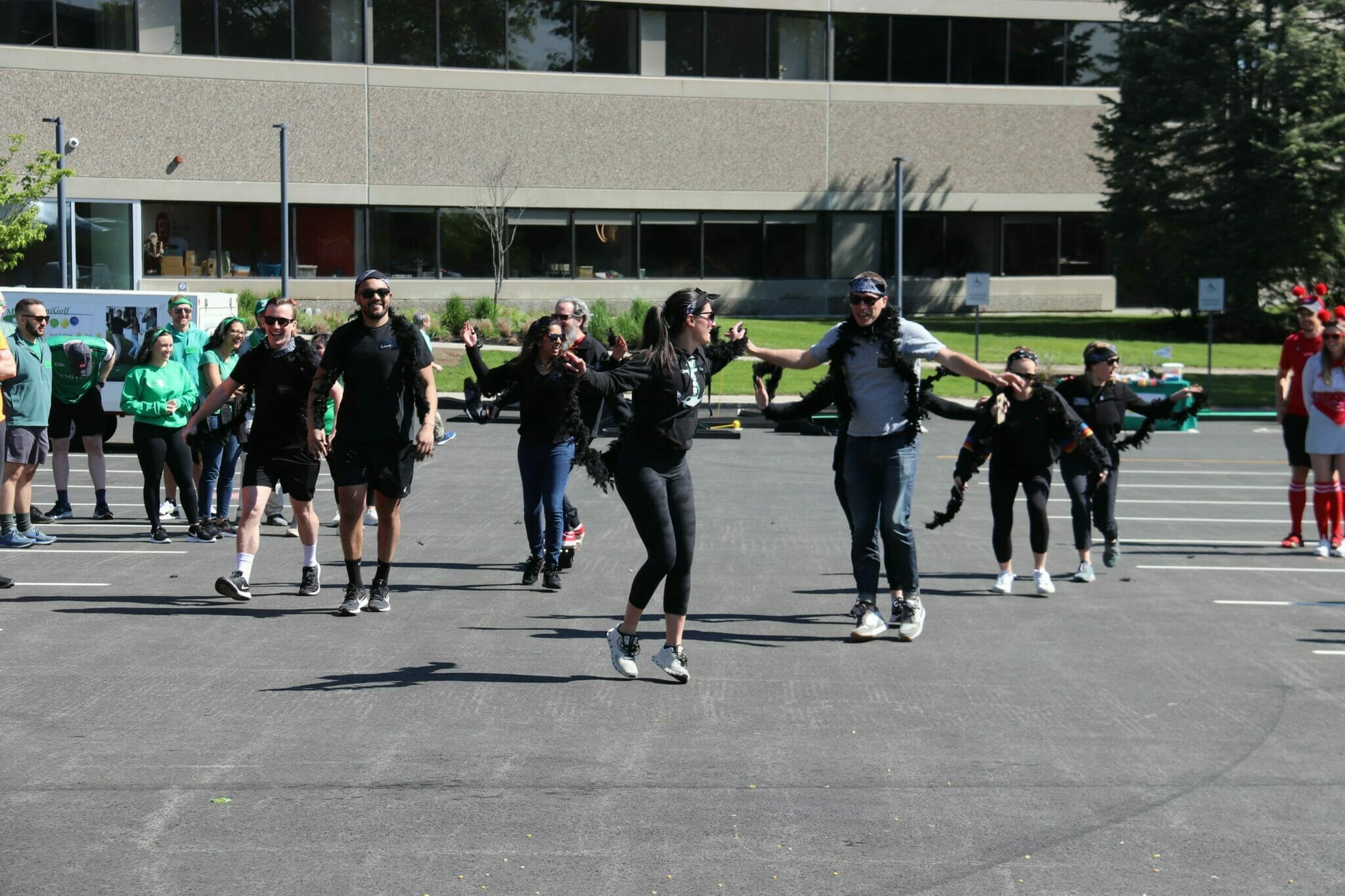 Now it's our turn. We align in Flying-V formation, as if in ode to Charlie Conway, and proceed by strategically throwing string beans in alternating directions (some go out, some go in, everyone stays in lockstep). It's an immaculately synchronized effort considering we just came up with it 10 minutes ago.
Then for the finale: We all stop, assuming statuesque poses and maintaining our V, while allowing Derek, Maya, and Joe to come to the forefront. Derek climbs aboard their backs, then opens his two cans of corn and GOES FOR IT.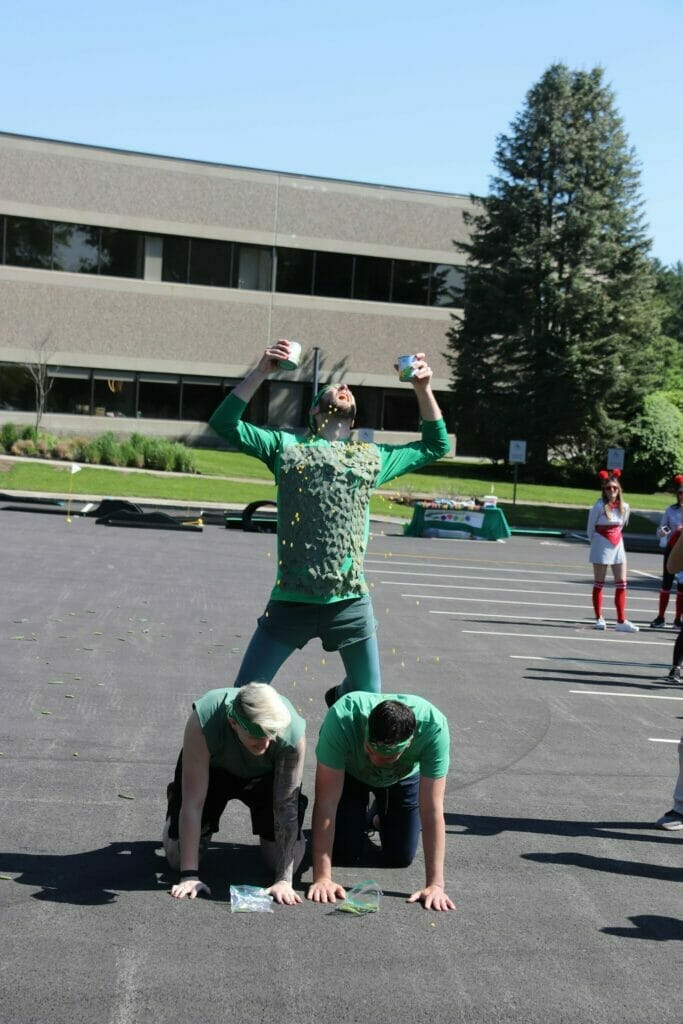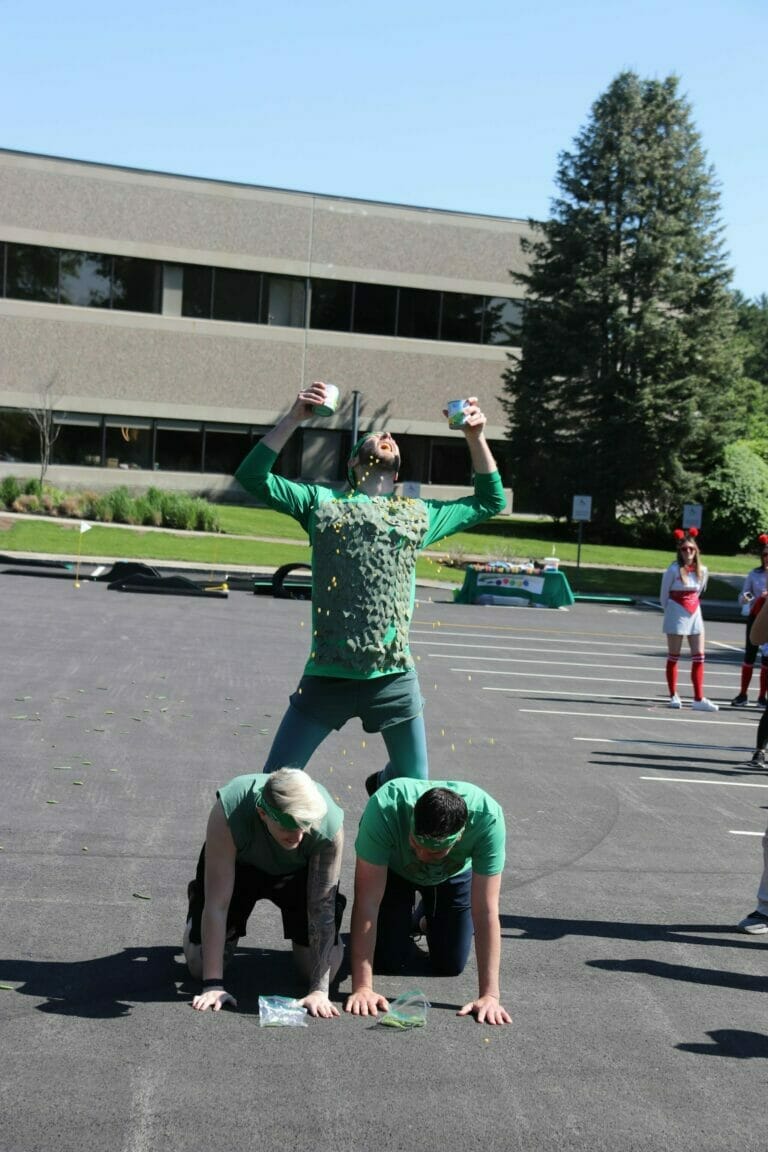 Maya and Joe take considerable corn shrapnel in the process, a sign of the selflessness that will mark this team's effort all day. Derek makes rather disgusting dents in both cans—"Corn for breakfast!"—while the Green Giant jingle plays over the parking lot sound system.
A weird scene, for sure.
Team Green lets the grand finale sink in, hoping the refs get our dated veggie references, before Derek and Matt clear the course of corn and beans. The refs take note.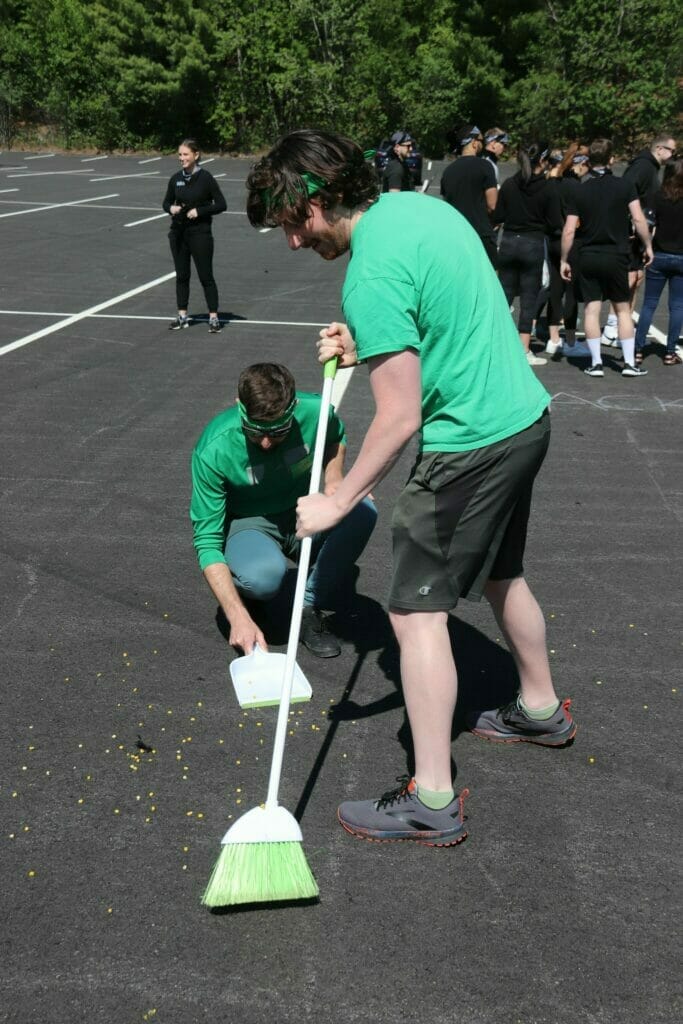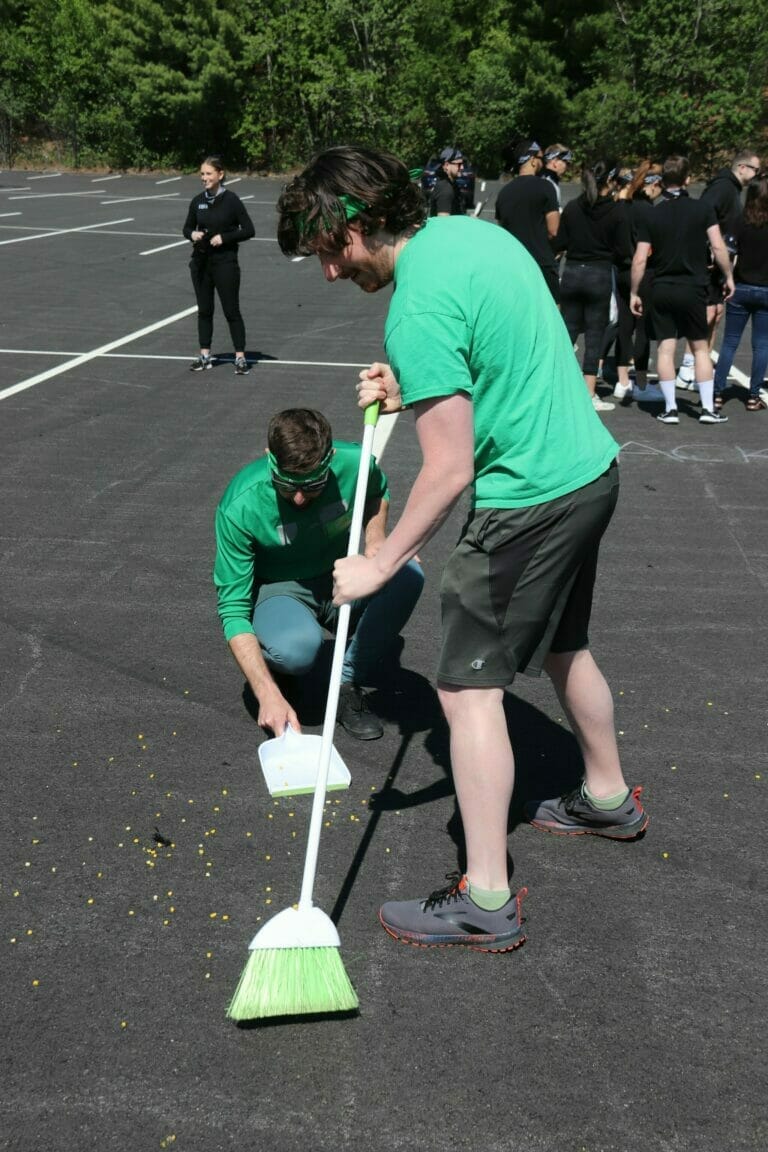 Charades
Teams are sent out into the hallway one at a time, leaving everyone else to wonder whether the "oohs" and "ahs" coming from outside are signs of success or excruciation. Oz has proved himself on this stage before, so he's an easy nominee to be our first pantomimer.
His presence as an actor is once again uncanny, as he seamlessly segues from "slam dunk" to "gardening" to "Lion King." When Derek immediately recognizes his Simba anointment pose, Team Green knows we've got a good thing goin'.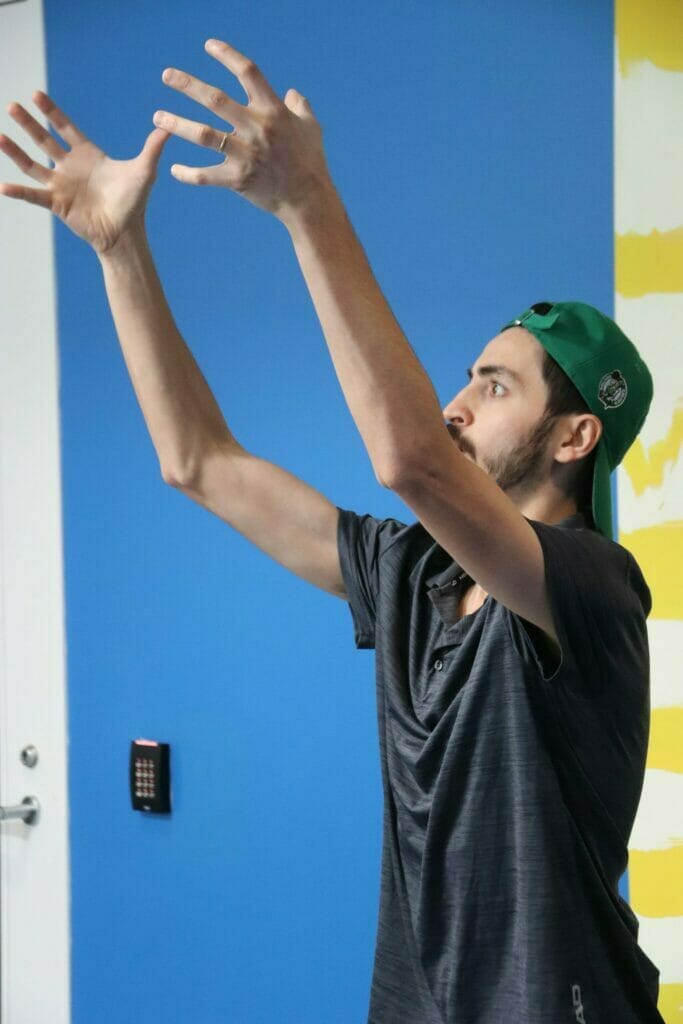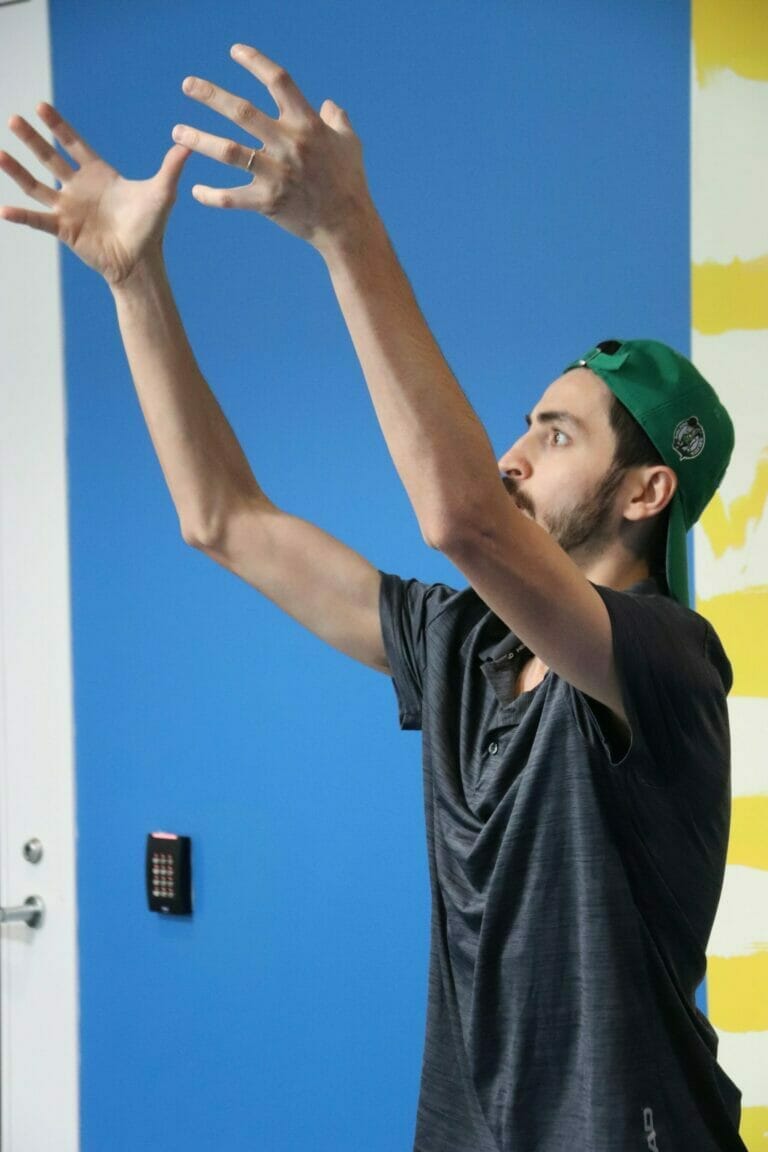 Ref Ryan is keeping things lock-and-key. We don't know how many right answers we got, let alone how that number compares to other teams'. But we suspect we did well, and that suspicion is confirmed when we end up in a charade-off tiebreaker with Black.
I miss the tiebreaker round entirely because I'm on the phone with Delta Airlines out of acute dad guilt—our five-year-old was sent home from kindergarten with strep throat the day I arrived at PI HQ, naturally—so we'll have to let the pictures of Derek (an early favorite for Olympics MVP) and others fill in the gaps here: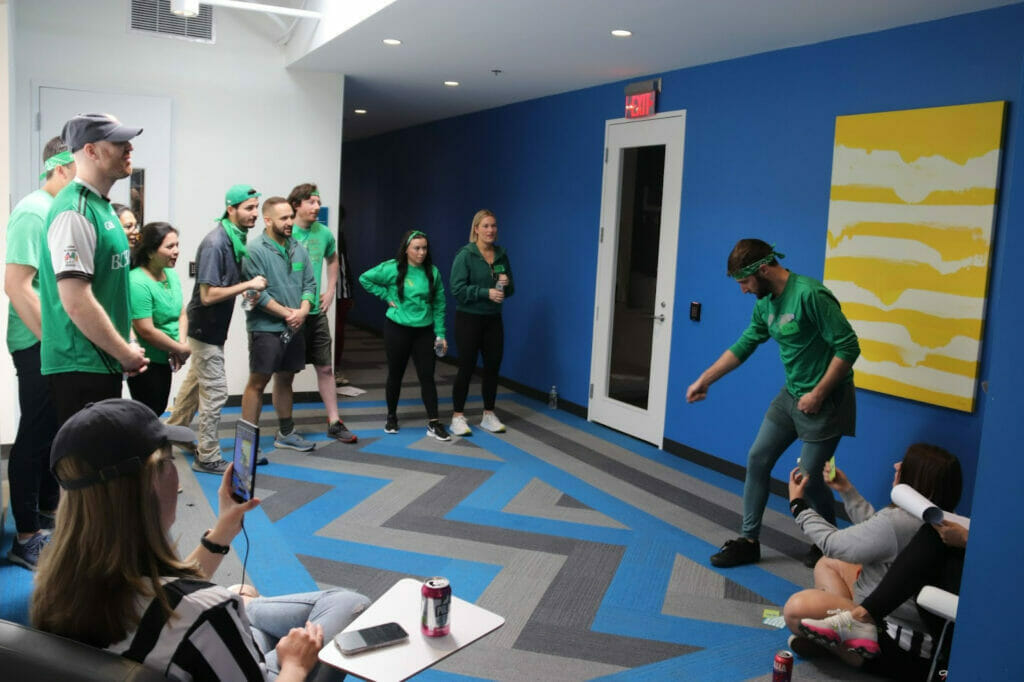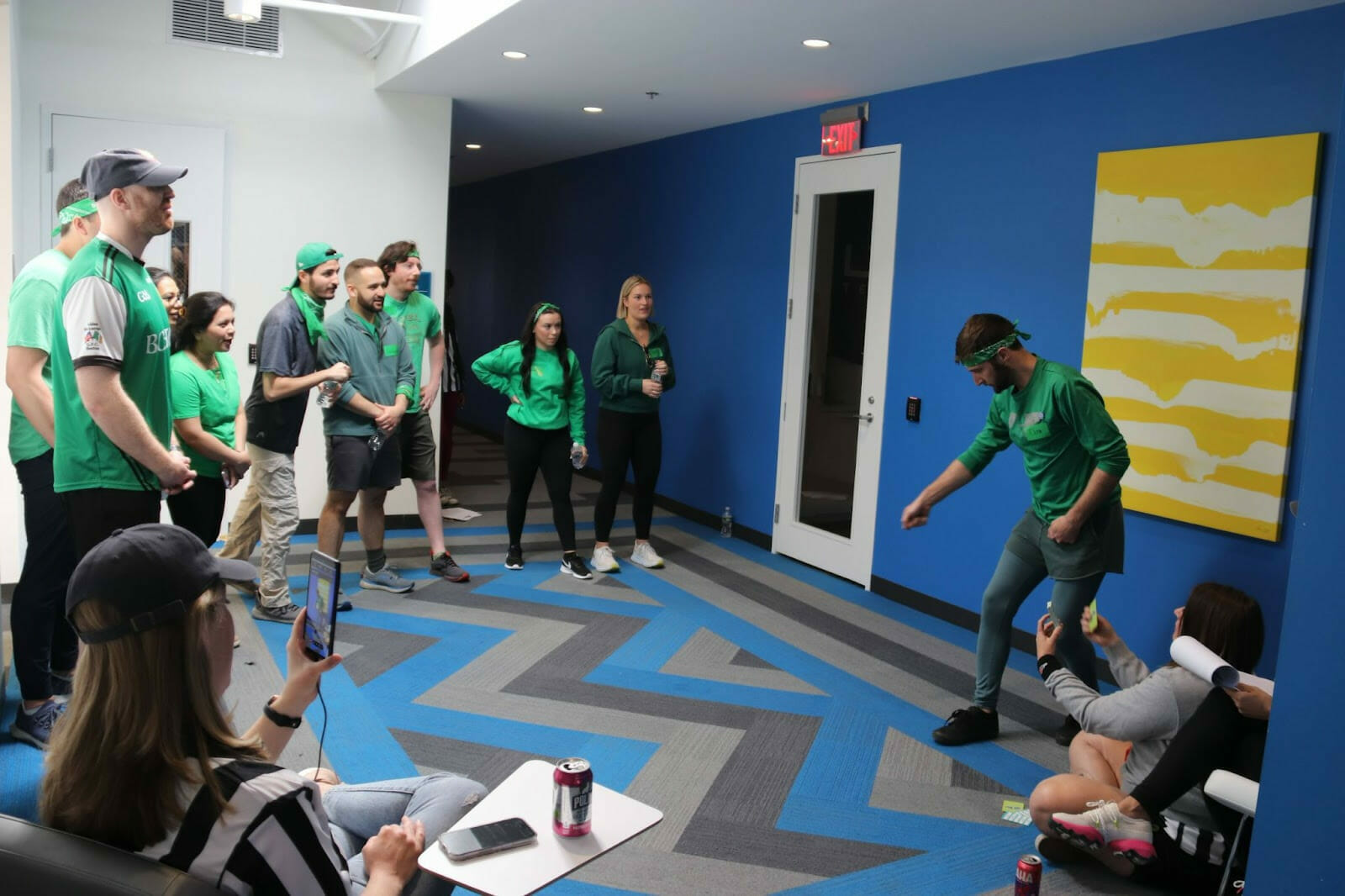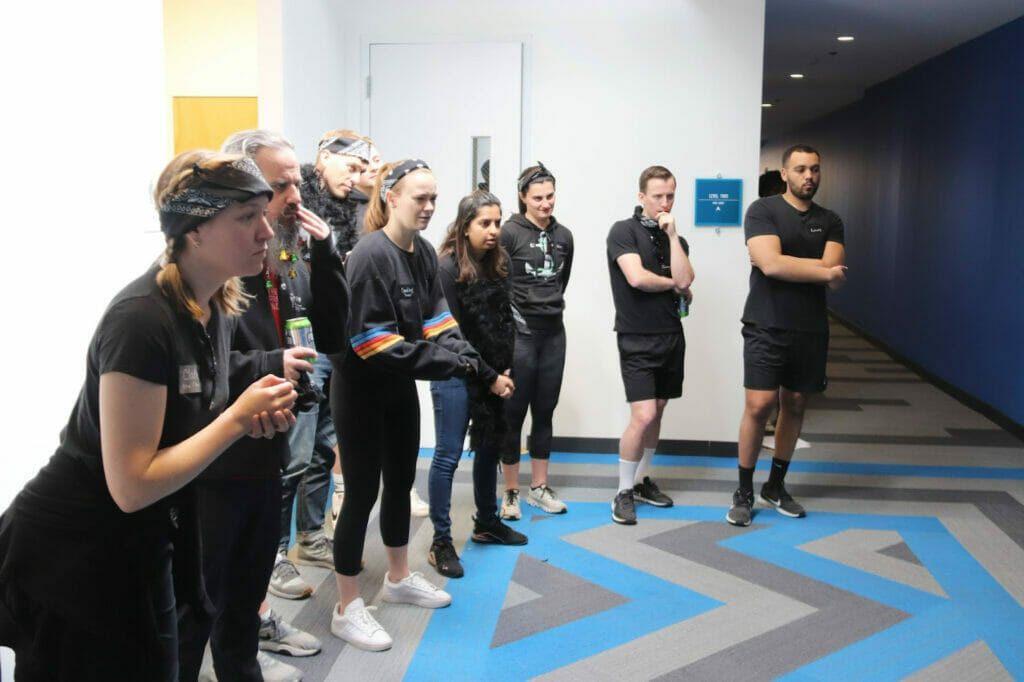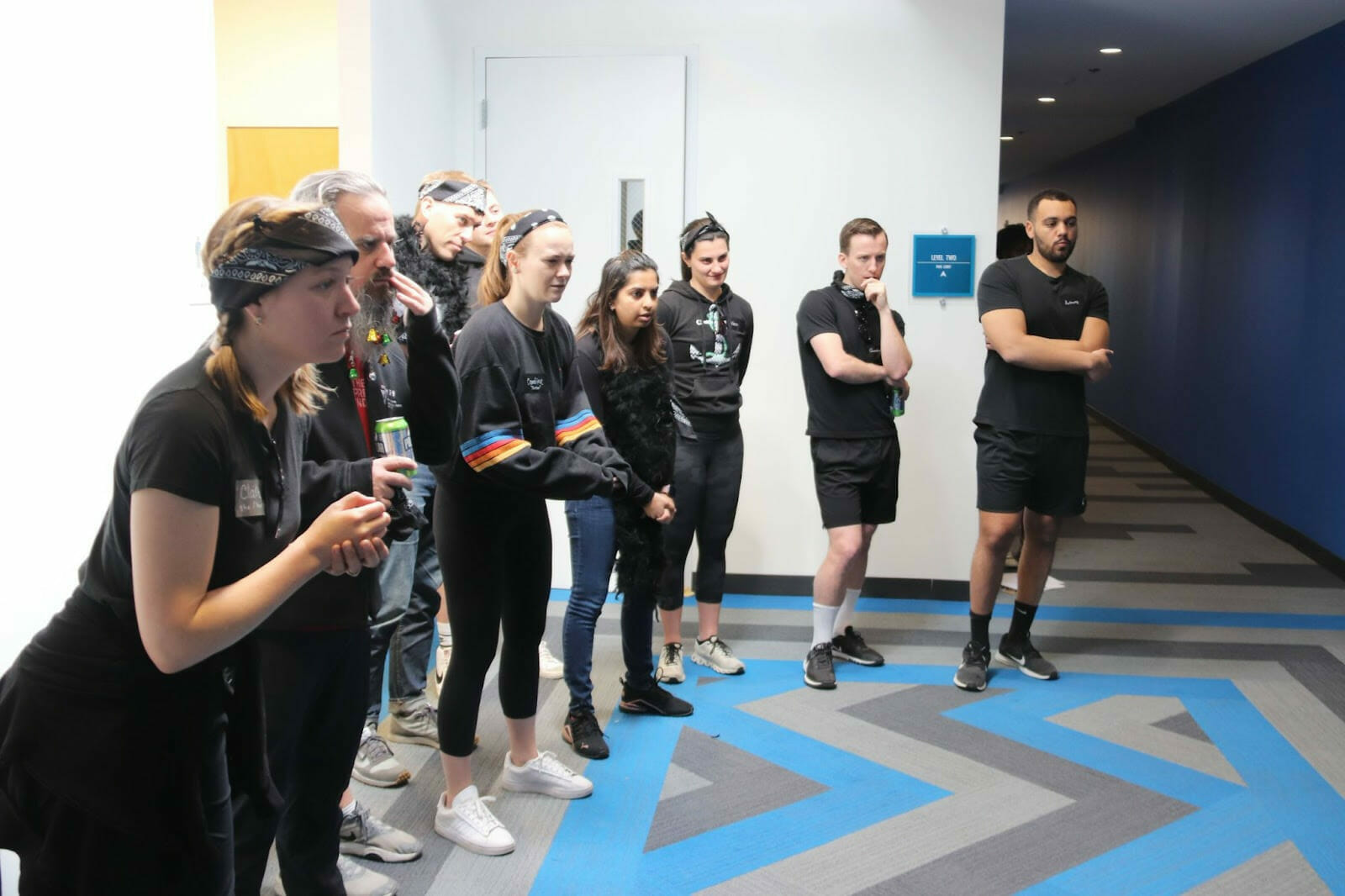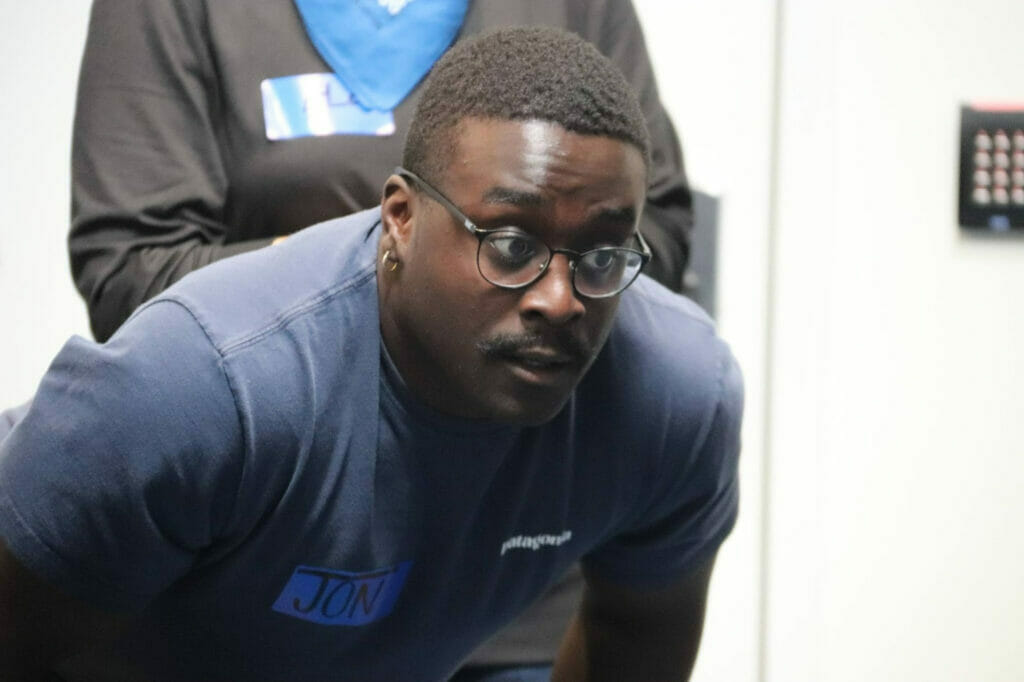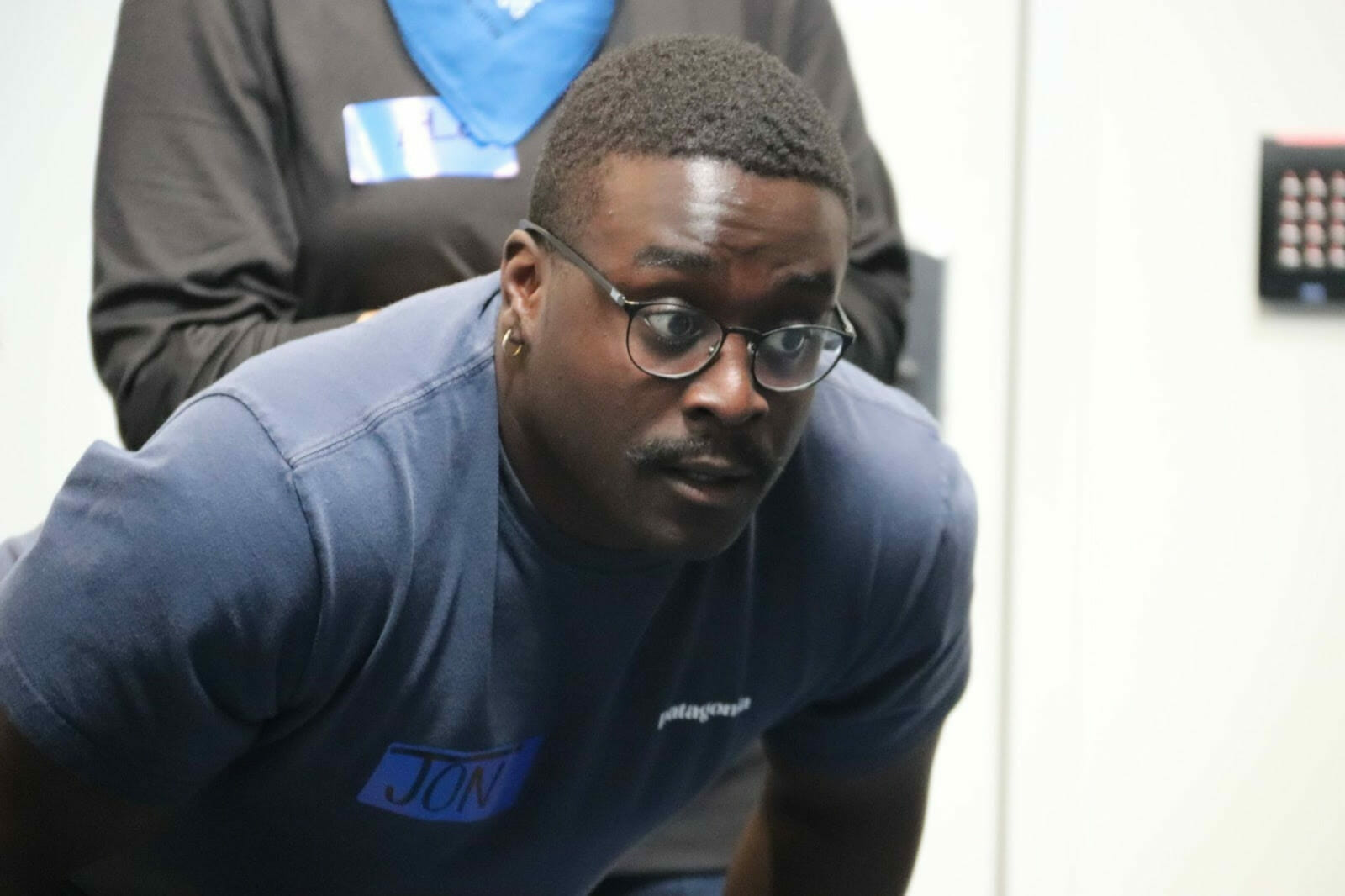 Putt, putt… run, rib, chug!
Mini golf and the day's most gutwrenching event—the "Run, Rib & Chug"—take place at the same time. It makes for an especially awkward transition if you're signed up for both (like I am). Three terrible holes in, Courtney, Sarah, and I pause putt-putt so I can begrudgingly join Joe, Stefano, Matt, and Derek in a foolish display of… machismo? Barbarism? However you wanna call it, this is as bad as I feared.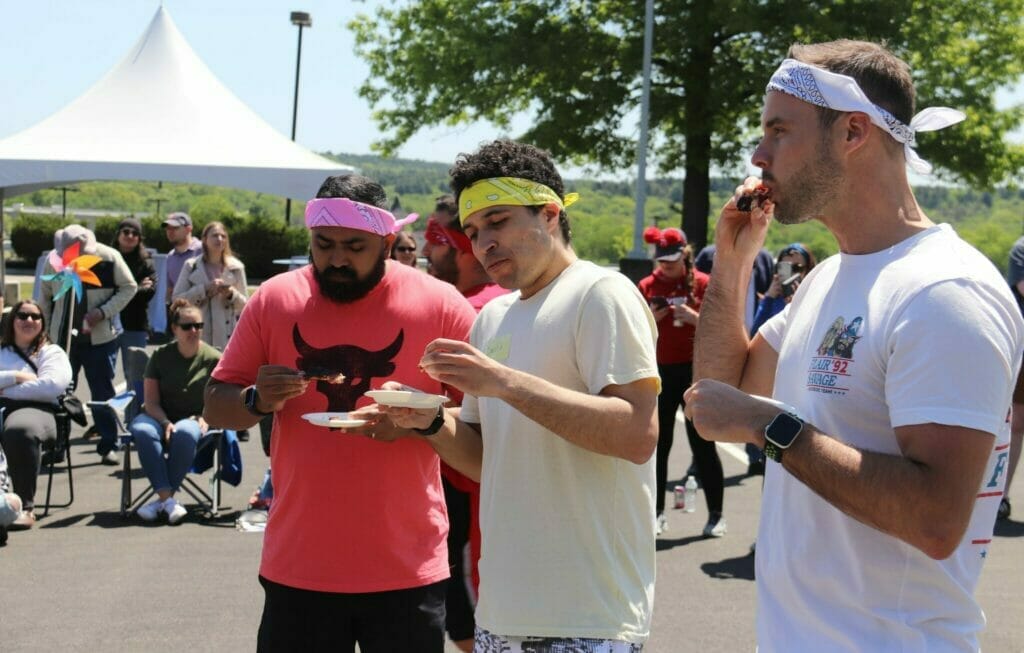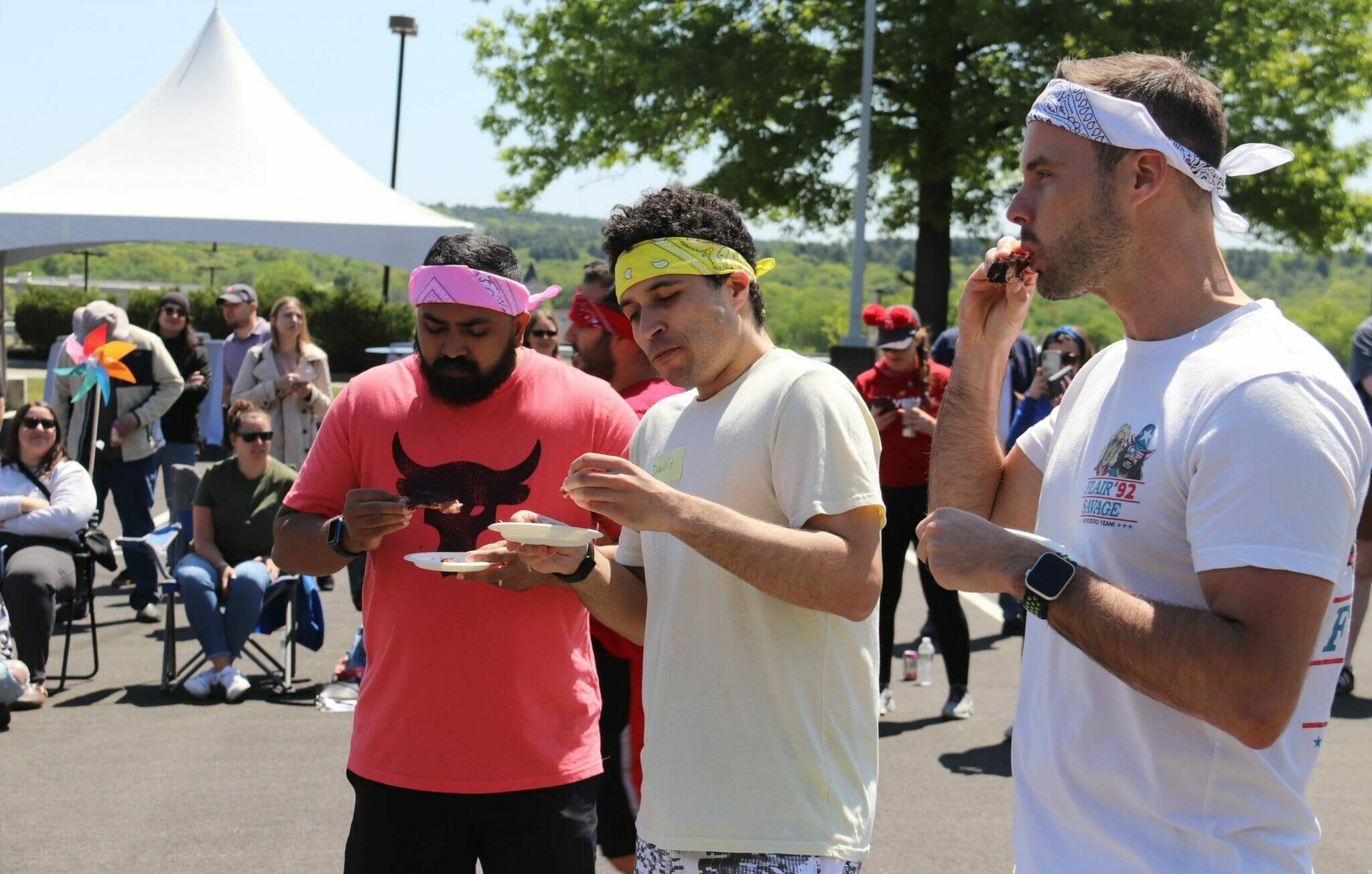 The venerable Mark Reinke of Team Red (more on him in a minute) taught me last year, when I was happy to spectate, that the key to not choking or puking is to not be a hero.
"If you're mouth-breathing during the run, you're in trouble."
Mark's words echo through my mind as I get the tag from Joe and follow the second heat. We're already way behind, but I'll be damned if I defy Mark's advice and sprint around these light posts just to get to that dry-as-hell rib faster. I stay in steady jog-mode, stomach the slimiest, softest rib I see on the table, and prioritize not embarrassing myself or disgusting others. Pretty sure Ref Katie took it easy on the inspection of my bone, which is supposed to be bare, and I appreciate that.
The beer that follows is shockingly refreshing. I've cost us enough time with my leisurely pace, so I channel my inner meathead, slam that Bud Light (you see that, Kid Rock?!), and tag Stefano. True to form, Mark comes from three spots behind to win it for Team Red. Between my three-putting and this reluctant run/rib effort, I'm not pulling my weight around here. But Team Green is picking up the slack, and then some.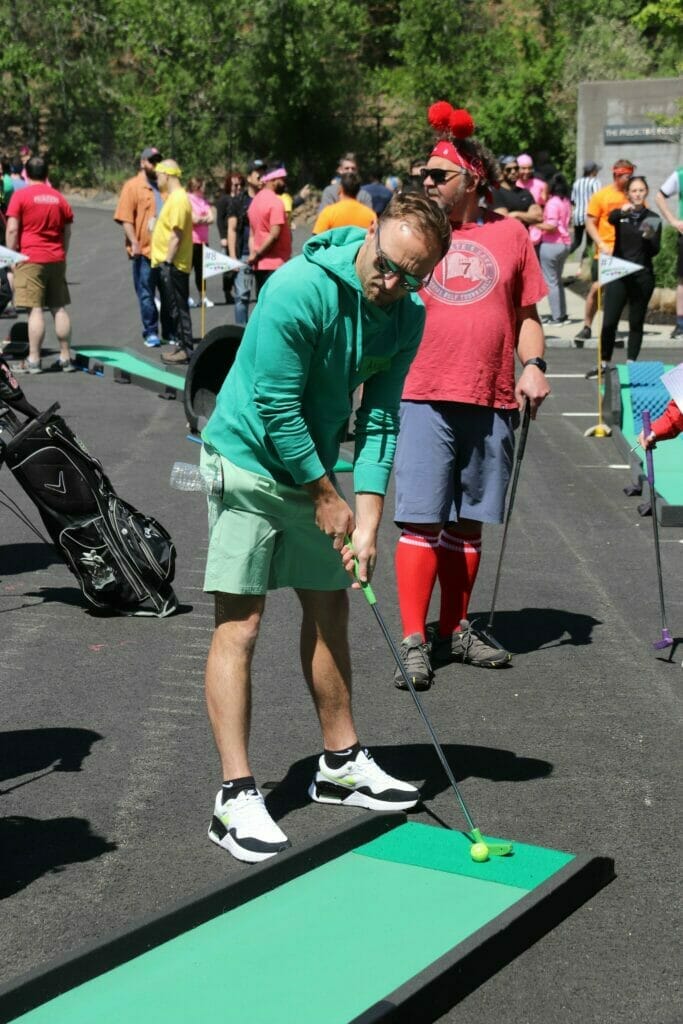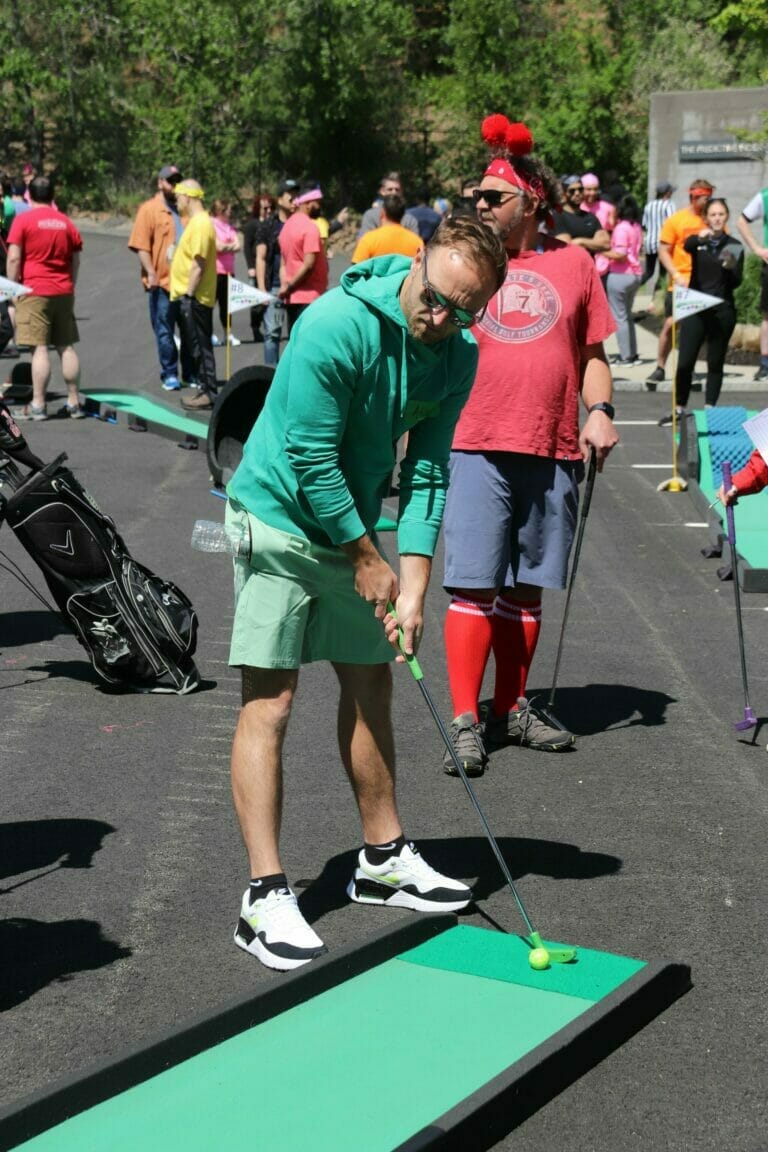 Egg & Spoon and Tug of War
Oz, Jamie, and Asmita are carrying us through the day's most complex event: the Egg & Spoon Race. It's all about finesse and communication here, as Jamie (remotely, over FaceTime) and Asmita deftly help Oz maneuver through a maze of cones while balancing—you guessed it—an egg on a spoon.
It's a master class in team cohesion, as Oz carefully high-steps his way to victory, barely beating out speedier teams thanks to physical precision and the detailed direction of our teammates.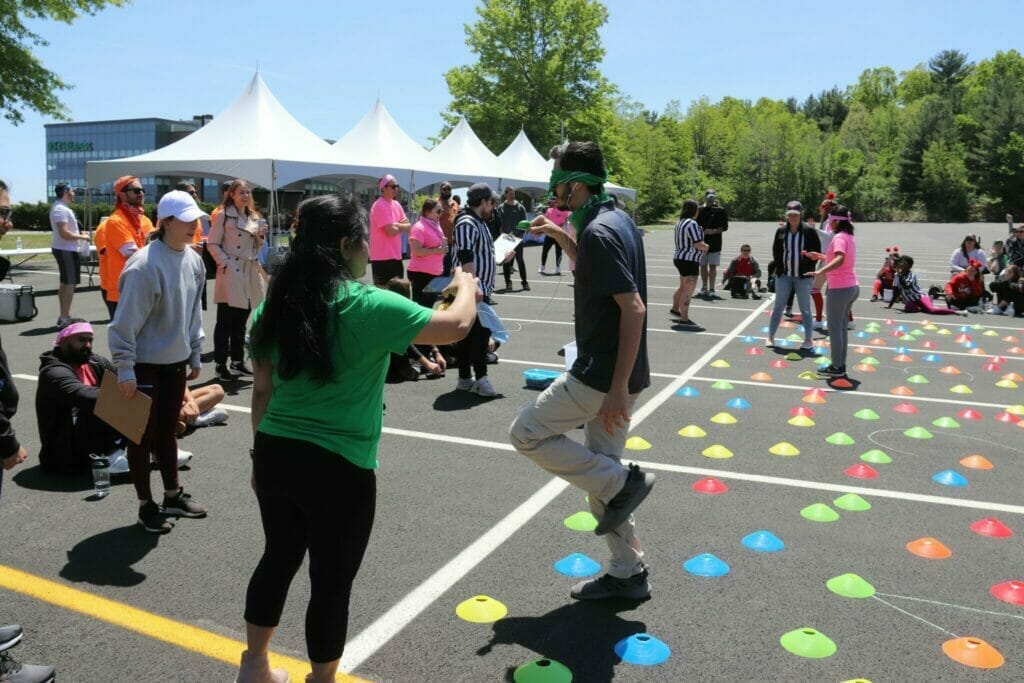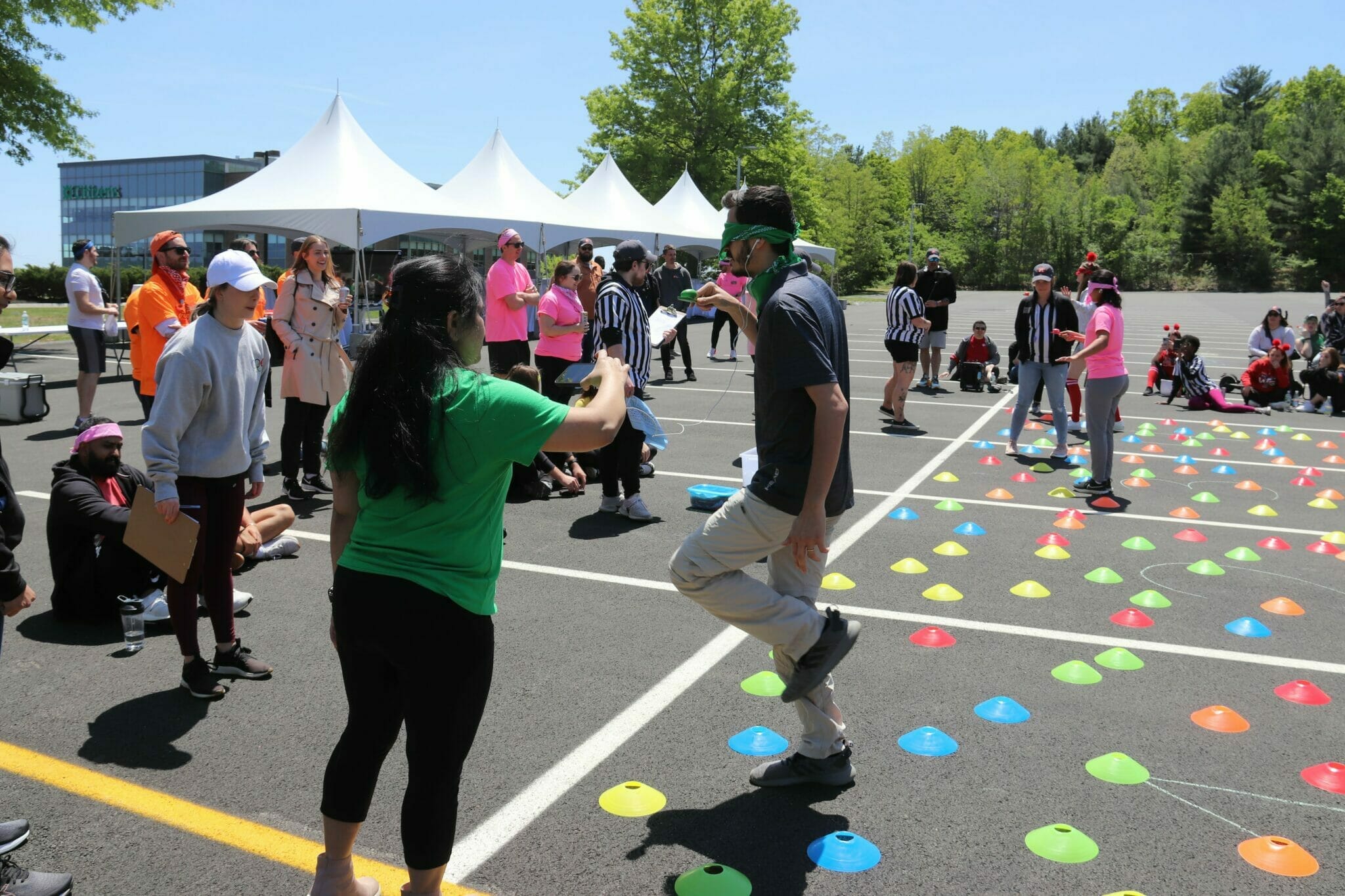 The first-place finish has us right back in contention entering the final, most anticipated event of the day: Tug of War.
It's not for the faint of heart. As we head to the hill, refs Jackie and Charkie are laying down strict ground rules. No wrapping the rope around your wrists (someone broke a damn wrist a few years back). No more than seven participants, equally spaced. No cleats. Footwear will prove pivotal here.
Each game begins with one member of each team sent to choose their side by way of a Rock, Paper, Scissors battle. In a stunning power move, Team Orange's Dan goes 3-0 in RPS through a dumbfounding strategy: He tells his opponent, each time, "I'm going Rock."
Then he goes Rock. And wins. Each time.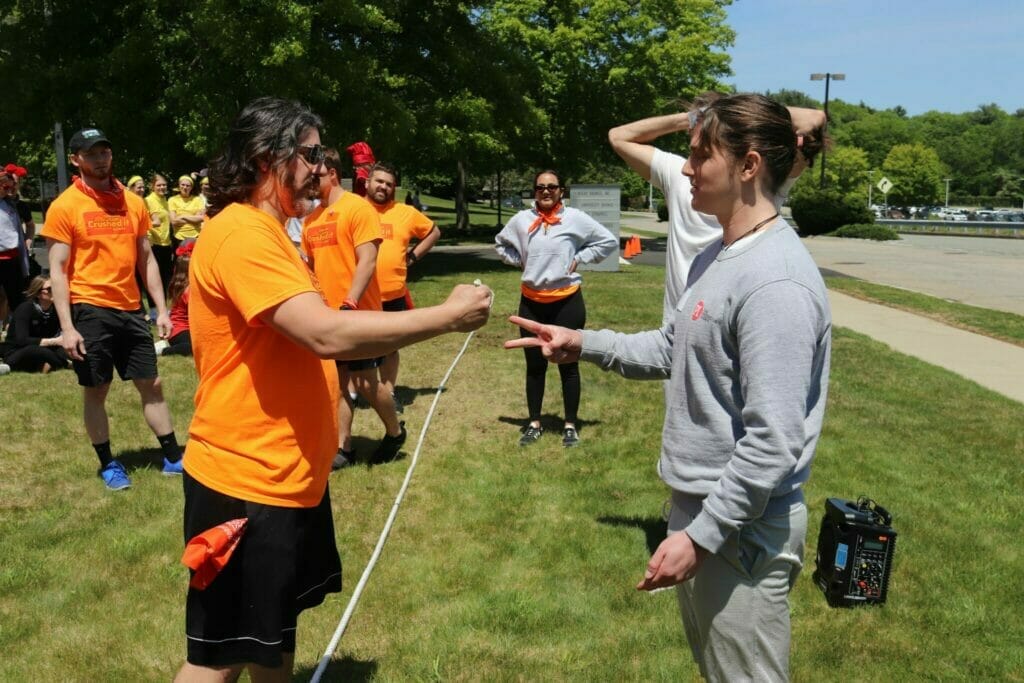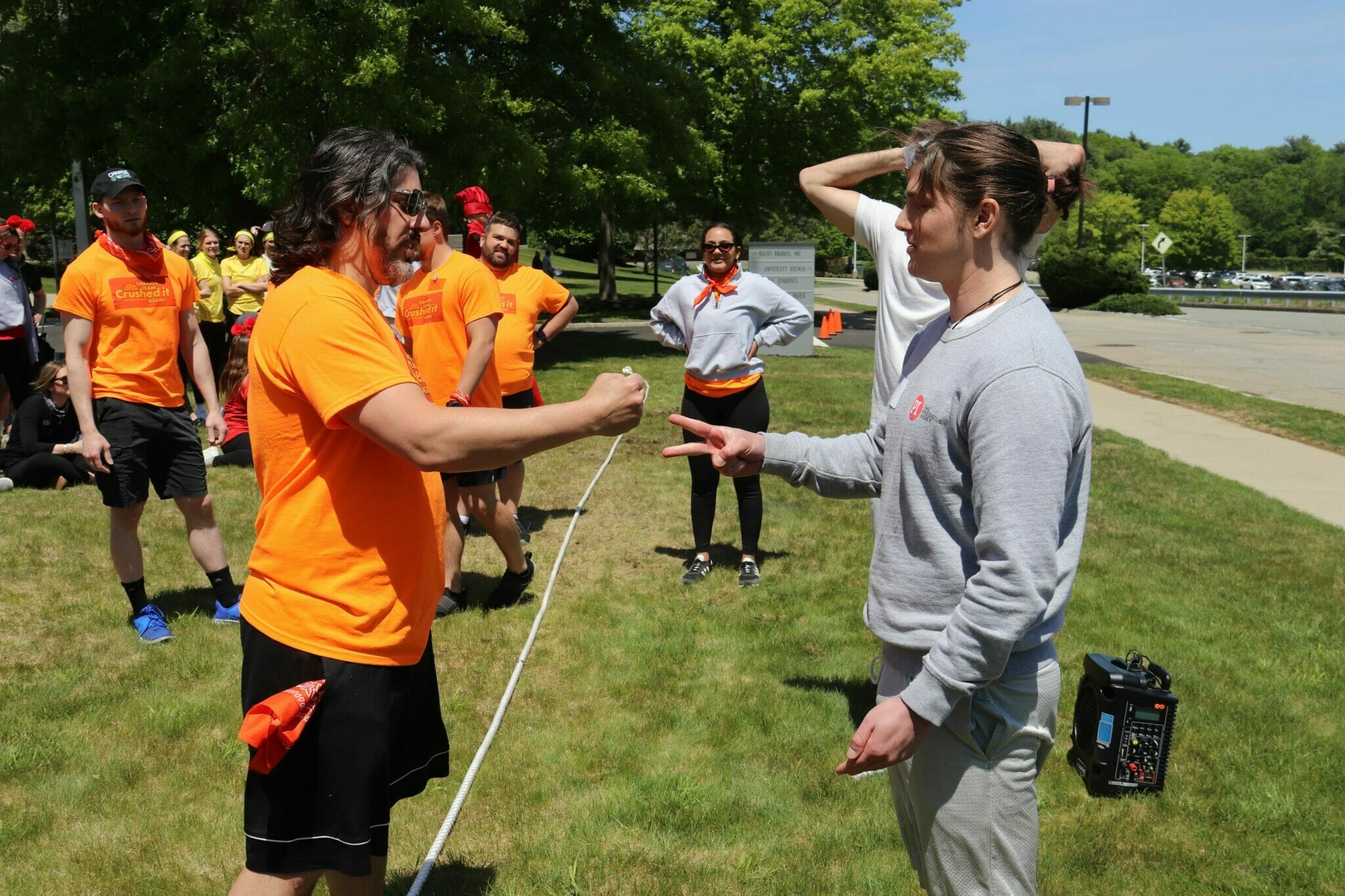 Team Red and Team White look formidable at a glance. Lots of big bodies; years of experience. But it's not all about size and strength. Team Green may not impose fear, but we've got intangibles on our side.
Clayton, Sarah, Harika, Asmita, and I aren't signed up for this one, so it's on us to serve as communicators and motivators. Sarah not so subtly tells me it's "time to step up." And it's easy to get behind this crew. Green takes down Yellow in round one, then Orange in round two, and watches as favorites White and Blue are eliminated.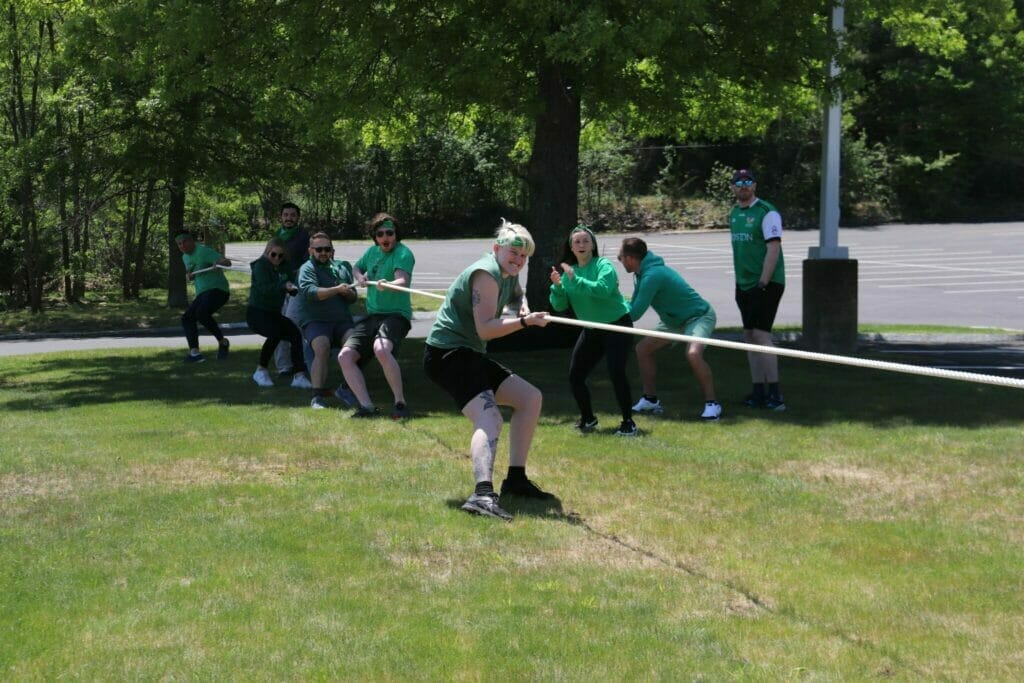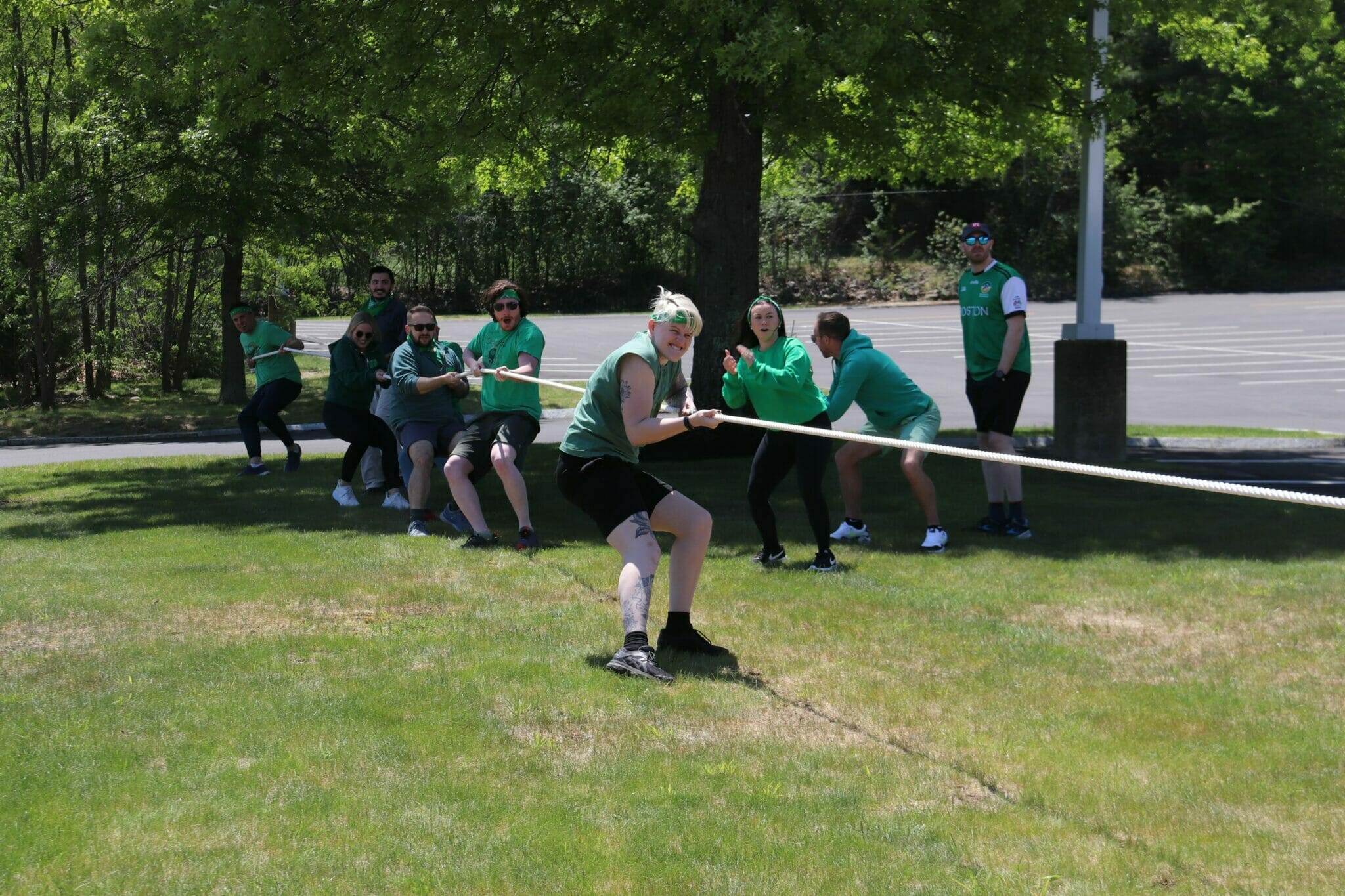 The final features Green versus Red, who's anchored by none other than Mr. Reinke, an Office Olympics legend if ever there was one. Mark and Team Red are putting up a valiant fight, but Team Green, critically, has found its footing.
While Maya, Matt, Stefano, Courtney, Oz, Derek, and Joe stay low and chop their feet, Mark, in his trademark Chacos, slips. The fallout is dramatic. Seeing Mark lose his footing, our sideline crew starts to shout furiously: "Pulllllllllll!"
Our Team Green tuggers, exhausted in now their third round, are like, "thanks for that." But they capitalize. Mark's slip was subtle, and he recovers quickly, but it's too late. Within a minute, Team Green has pulled Red over the line, and Mark is left to linger in what could have been, back on the grass, single toe in the air.
Team Green is in a frenzy, high-fiving, hugging, yelling. I never got this hype in a college baseball dugout, but something about this team has brought out the best in all of us. Other teams have even come to our side for the final, cheering us on, dubbing us the "people's champs" and "the underdogs of the decade." It's exhilarating.
Except on the other side, where we see Mark embodying the agony of da feet: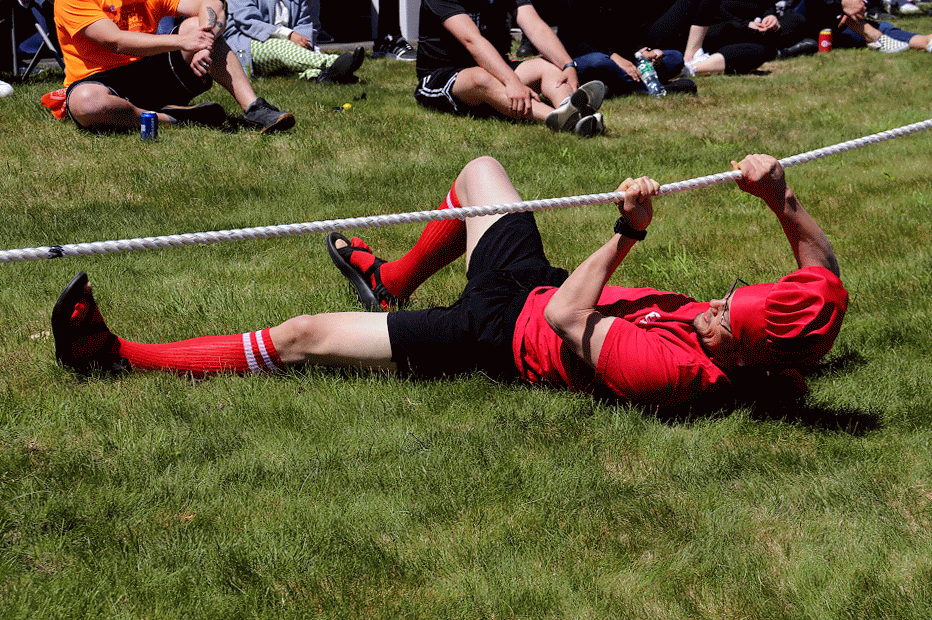 And with that, we're pretty sure we've earned enough points for the title. With first-place finishes in Charades, Egg & Spoon, Tug of War, and as we soon find out, the Intros, it's Team Green in a runaway.
Jackie leads the medal ceremony, but not before one more intense RPS match between White and Blue to determine… something.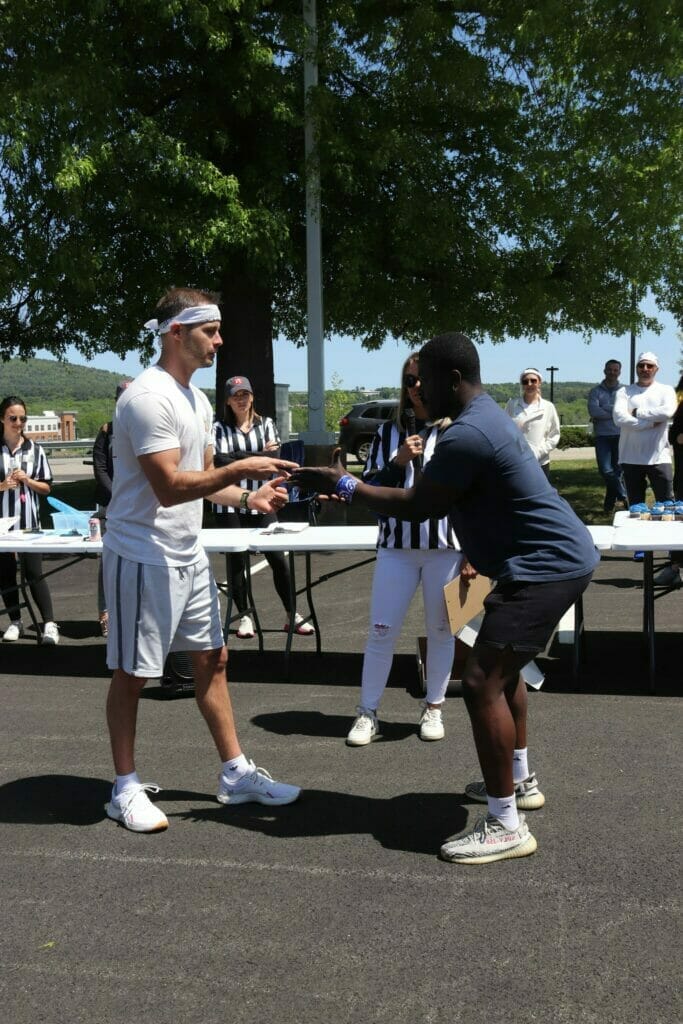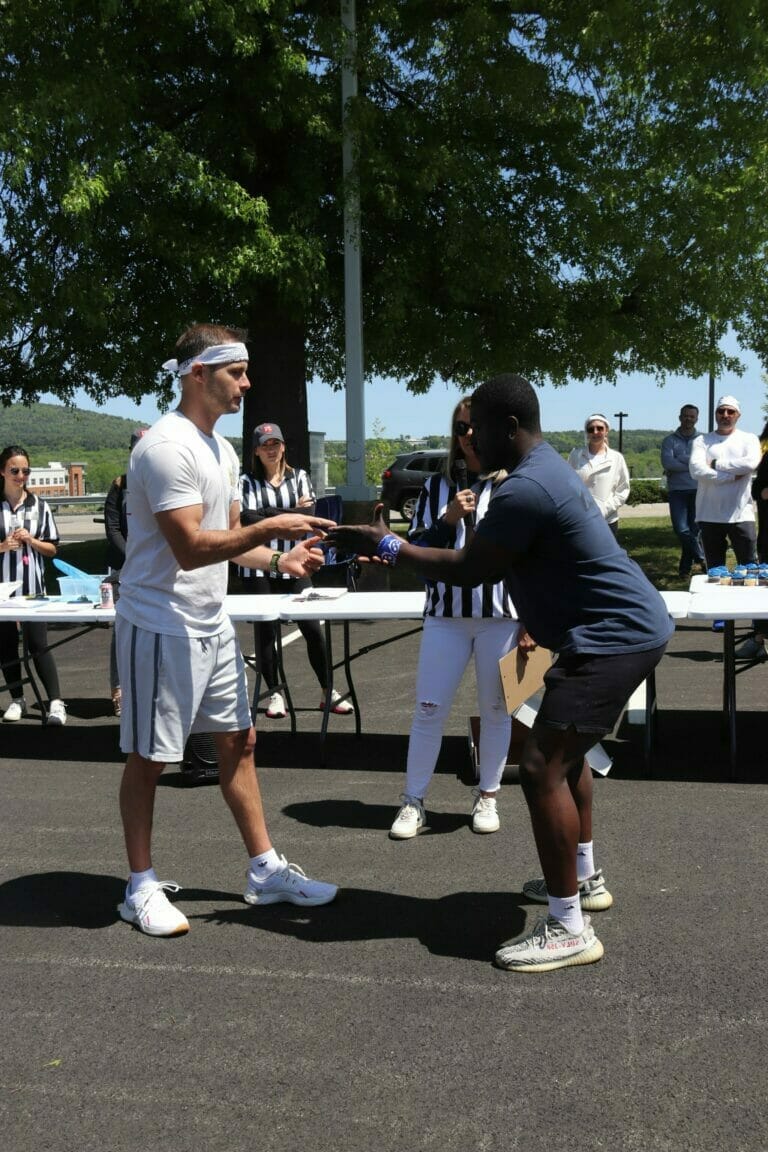 Pink is awarded Bronze, and Red takes Silver. Then we take our place on the Gold pedestal. It's a sweet moment, the 12 of us now forever bonded through a shared sense of effort, accomplishment, and some string beans lingering in our pockets.
Someone calls it "the most unlikely Office Olympics win of all time." The record books are updated, and the Green Dream is complete.
And with that, the 2023 games are a wrap. But notably, most of the competitors stick around to hang, help clean up, and generally just revel in each other's presence.
This is a uniquely PI event, no doubt, and all the credit goes to Catherine, Katie, Zack, Charkie, Jackie, and the rest of the People Ops/Ref crew for organizing, arbitrating, and tolerating all sorts of shenanigans throughout what was a wonderful week.
Here's to talent optimized team building—never forced, always fun. That's the essence of Better Work, Better World.
Til next year, when the Green Machine (including Jamie, below, our Most Clutch, Crafty Player) returns to defend its 'chip… ✌️