Is lack of appreciation destroying employee motivation?
Social scientist Dan Ariely noted in his book "Payoff: The Hidden Logic That Shapes Our Motivations" that when employees aren't acknowledged for the work they do, they lose much of their motivation.
As a manager, you have a lot on your plate—not the least of which is employee appreciation and recognition.
But these efforts don't have to be yours alone. Sometimes it's just as good—if not better—to get that recognition from peers.
Here are six different ways to build peer recognition into your company culture:
1. Make employee recognition programs peer-voted.
While top-down recognition is nice, knowing your peers notice and value your hard work can be a huge compliment. Employees also have the opportunity to see their colleagues hard at work every day—something not every senior leader gets the chance to do. By asking your employees to recognize their peers for great work, you decrease the chances of only acknowledging your highest-performing employees.
One way to do this is by offering a reward at all-company or team meetings. Here at PI, we have a THREADS award (THREADS is the acronym for our core values as an organization). Employees nominate their peers to receive the reward—a $50 Amazon gift card. We then circulate all the nominations—even if they didn't receive the reward—in an all-company email.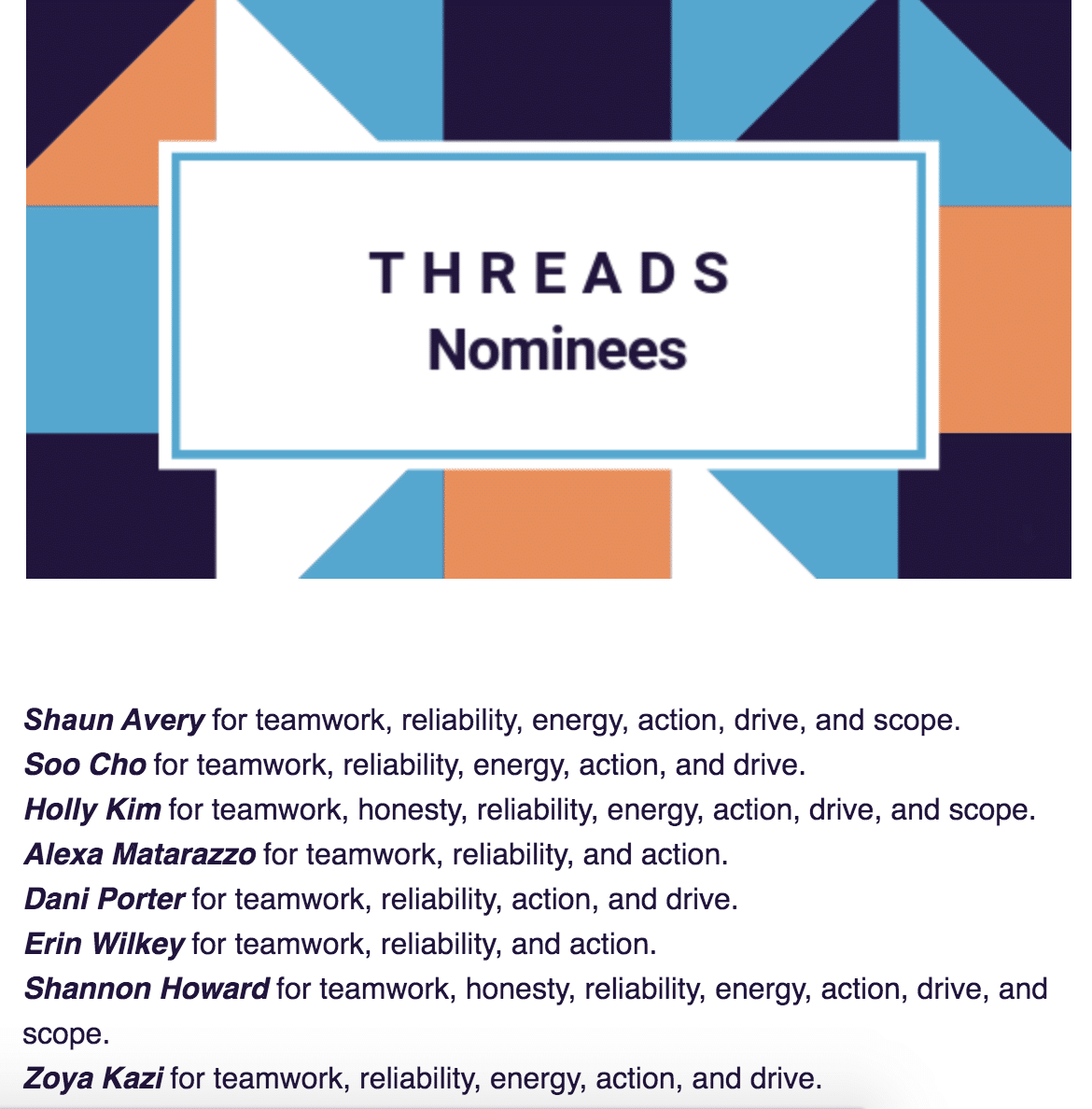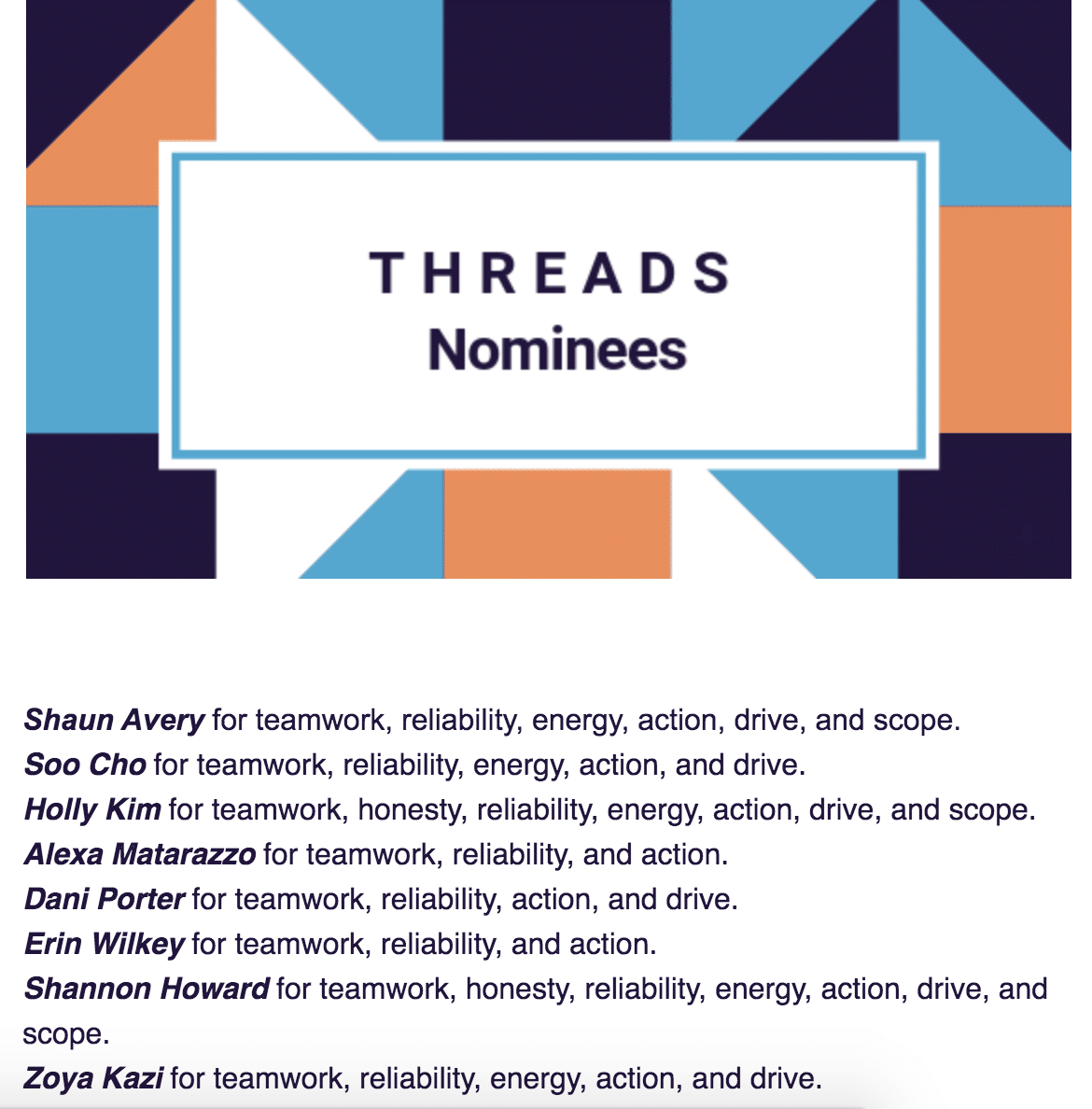 2. Encourage employees to shout out their peers.
Foster a culture of recognition by giving employees the freedom to recognize their peers anytime, anywhere. This type of culture can be implemented in various ways, whether it's through a daily standup, a team meeting, or on Slack. At PI, we have a dedicated Slack channel for shout-outs, where we congratulate team members and people across the company for exhibiting our core values.

3. Leave appreciation notes on a colleague's desk.
It doesn't take much for an employee to feel seen and valued for their contribution. Give your employees a stack of Post-It notes or cards and have them write a small note for one of their colleagues once a week—or once a day, if you're feeling ambitious!
4. Go the extra mile—or just a few extra feet.
There are different forms of recognition. Words of appreciation are just one! Another simple way to recognize employees and make them feel special is by lending a helping hand.
This can be as significant as supporting a project, or as small as offering to grab water, coffee, or something else from the company kitchen.
5. Help employees foster friendships.
While we typically think of the workplace as a professional environment—and it is—that doesn't mean employees don't bring their whole selves to work. Employees bring their beliefs, ideas, and feelings to work every day.
This is why it's critical to encourage employees to foster friendships with their colleagues. The trust and rapport they build can make a huge difference in how employees feel about coming to work.
Help employees cultivate these relationships by allowing them to use company time to grab a coffee or lunch and chat. (If you use Slack, there's a great app called "Donut" you can use to randomly pair employees in your organization to get together.)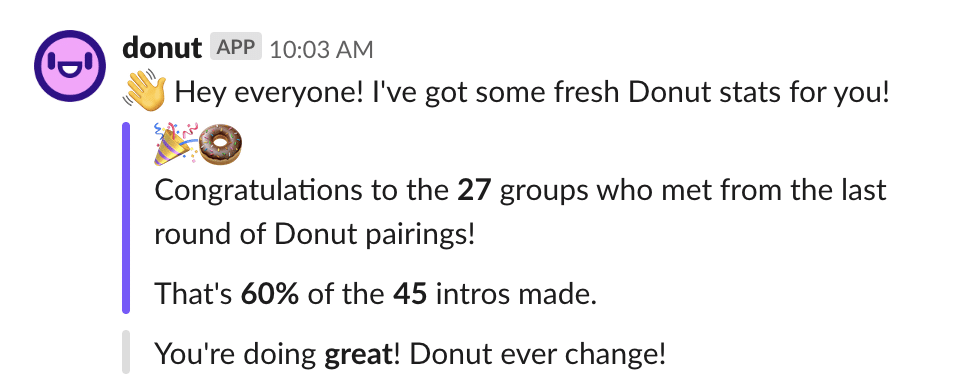 6. Make regular positive feedback the norm.
Have you ever had a conversation with someone about how great another person is? It happens all the time—yet most of the individuals we talk about don't ever receive that feedback. So while their colleagues are talking them up, they're left thinking, "Does the work I do really matter?"
Whenever you hear a colleague speaking positively about another colleague, make it a point to share that positive feedback. When you notice a job well done or a way someone went above and beyond, let them know. Every word of encouragement counts!
Establish peer recognition throughout the organization.
It's important that employees feel valued, recognized, and appreciated—and it's unreasonable to think the organization and managers alone can provide that recognition. Encouraging peer recognition throughout your organization can foster healthy work relationships, increase employee engagement, and improve employee retention.
Join 10,000 companies solving the most complex people problems with PI.
Hire the right people, inspire their best work, design dream teams, and sustain engagement for the long haul.