By Drew Fortin
A look back at HR Tech and what we've learned
Last week, thousands of HR professionals and Human Capital Management companies met in Chicago for the biggest technology event of the year – The 19th Annual HR Technology Conference & Exposition.
Having attended as an attendee last year, running a booth this year with The Predictive Index, and speaking to attendees and exhibitors alike, the general sentiment is that the show is more about the expo than the sessions. I'm not sure if any official attendee numbers have been released, but traffic definitely felt lighter than the 2,000+ touted and less than the 2015 event in Las Vegas.
Before the show, I had the opportunity to attend InfluenceHR, a conference offering an in-depth look at the HR tech market from a solutions provider perspective that is put on by HCM-focused agency, The Starr Conspiracy. Between InfluenceHR and the main HR Tech event, here are some of my general observations.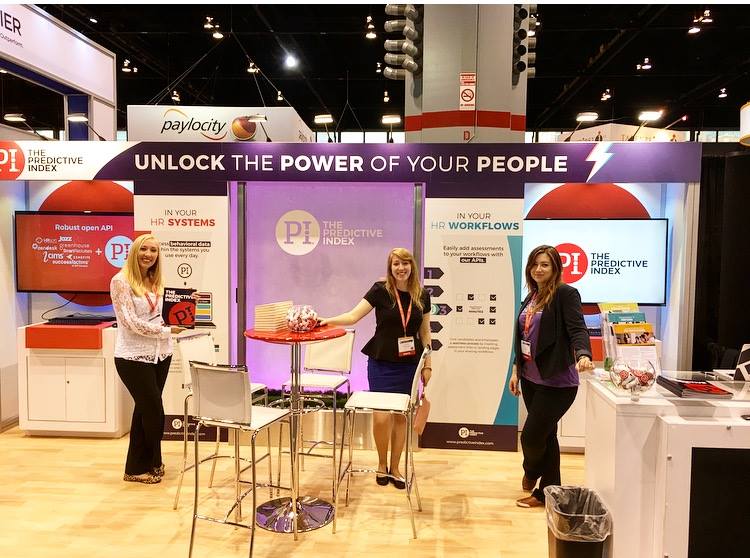 (Above: The PI team at HR Tech Conference.)
All-in-one HCM platforms dominate, offer breadth but little depth
Despite all of the market-entrant and start-up activity in the HR space, all-in-one HCM platforms and providers like SAP, Oracle, ADP, Cornerstone , etc. dominated real estate on the expo floor. Most of these players seek to advance an agenda supporting primitive management processes and administrative tasks through decades-old system architecture. Others are newer entrants touting robust platforms capable of being all things to everyone (hiring, selection, onboarding, performance management, benefits, payroll, etc.). Whether old or new, these providers appeal mainly to enterprise organizations with workforces large enough to warrant the significant investment in money, time, and human resources needed to handle their complexity.
"Employee Engagement" tools and apps show room for development
Just like "big data" and all the awesome predicting, planning, and optimizing enterprises can do with it was the buzz at HR Tech 2015, "employee engagement" was by far the most popular topic this year. Josh Bersin has been on top of this trend in predicting that "people management" and people-centric platforms are the path towards reinventing HR Tech. Regardless of the prediction and buzz, one thing's for certain – most employee engagement innovations are still in their infancy. The HCM space as a whole is early in this category. And, although I heard about all the hallmarks of employee engagement —rewards, loyalty, performance, retention, wellness, etc. — how to present engagement as a meaningful metric remains vague. The category is so broad and variations in its definition, proposed measurement, and interpretation leave a lot to be desired.
Join 10,000 companies solving the most complex people problems with PI.
Hire the right people, inspire their best work, design dream teams, and sustain engagement for the long haul.
(Above: Drew Fortin spoke with HR technologists at the 2016 HR Technology Conference about supercharging cultures through workforce assessments.)
Recruitment marketing is mission-critical
The top of the HCM funnel is getting a ton of startup action from recruitment marketing platforms and services that promise to automate a myriad of recruitment processes like job posting, collecting reviews, amplifying your presence, showing off your culture, applicant tracking, etc. Companies like SmartRecruiters, SmashFly, and Kununu are a few that made a splash at the expo. With the war for talent raging, anything businesses can do to let people see what it would be like to work at their company, experience their workplace culture, and apply quickly on any device is obviously a necessity.
Is HR Tech ahead of the market it's serving?
HBR released an article last year provoking readers that "It's Time to 'Blow Up' HR." No doubt – there is a large gap between HR, its business department counterparts, and any true connection to business strategy. And, you can't knock HR tech providers for lack of trying. That said, I've spent a lot of time talking with business leaders and managers from businesses of all sizes, and it's clear that the gap is not closing despite the billions of dollars of investment and rapid application development in the HR tech sector. Even though people-problems continue to rank in top problems of CEOs, the amount of technology seems to be far too advanced and complex to help them make the connection to desired business outcomes.
So how can there be all this technological advancement in HR, but still such a big disconnect? If the lack of client-side professionals and business leaders attending the 2016 HR Tech Conference has anything to do about it, then perhaps it's the case of too much group-think and too little research being done to truly innovate and adapt to the needs of businesses.
Despite all the progress in HR Technology over the last few years, there is still a big disconnect between the C-Suite and Human Capital Management
For true HCM innovation to occur, the C-Suite must get involved. This will only happen if HR technologists pave a super-clear path to connecting and leveraging HCM solutions to optimize business strategies.
Did you attend the HR Technology Conference or have differing opinions about my analysis? Tell us about it and comment below!