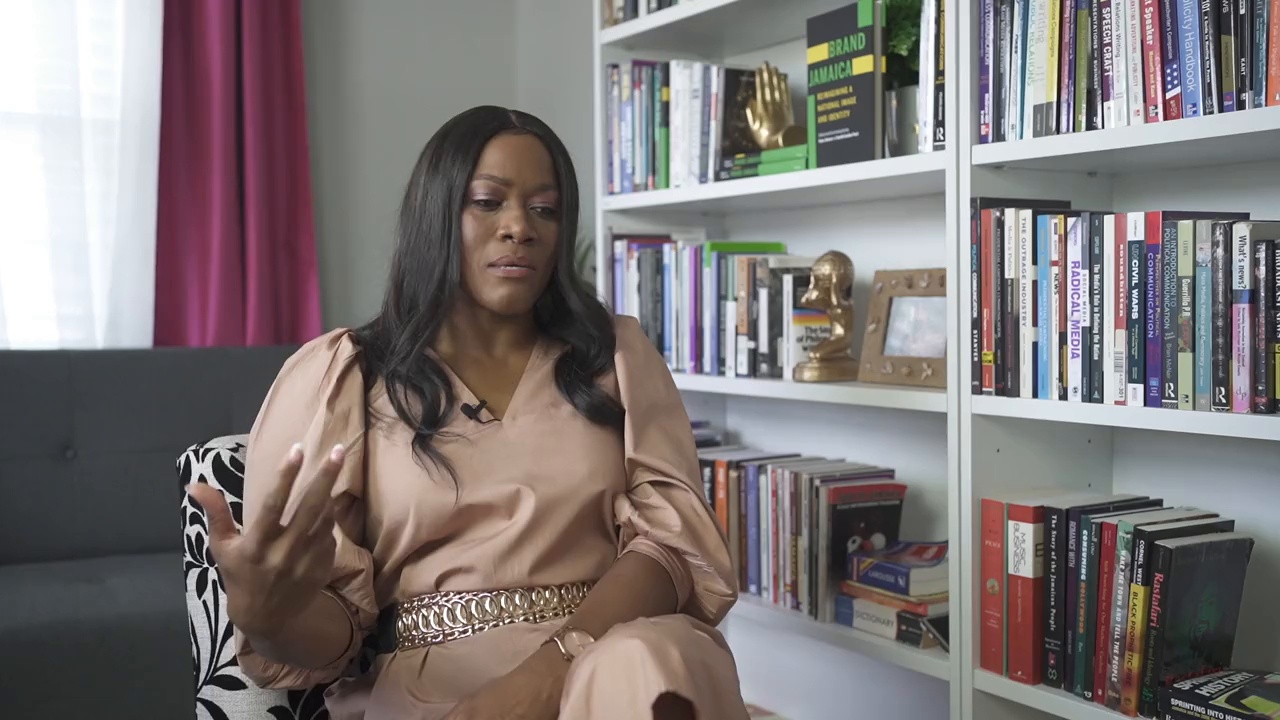 Dr. Hume Johnson opens her October interview with a laugh. "I'm a Black woman from Jamaica. Come on, it's cold!" She sits in her Rhode Island home, flanked by shelves packed with books and bronze sculptures.
As the questions for our documentary begin in earnest, she becomes calm, confident, and expressive—halfway through the interview, she has to readjust her mic because her hand gestures keep bumping against it. In her younger days, Dr. Johnson was a journalist, a television presenter, and a political speech writer, and it shows in the way she carries herself.
"It's interesting we're having this conversation because I only spent two years after college in a full-time nine-to-five job," she says as she explains her shift from traditional work to freelancing. "I wanted flexibility. I wanted more pay. I wanted agency. I wanted autonomy. I wanted to direct my own career."
Finding a job where you belong
Dr. Johnson, an executive leadership coach and associate professor of communications at Roger Williams University, cares deeply about work and the meaning we derive from it. "I was literally a hustler, but I never felt happier in my job," she says about her days as a freelancer. "I never felt more free, free to choose my calling, free to choose what my next direction was going to be."
That's what she wants for everyone: Jobs where people feel like they belong.
That sense of belonging starts with accepting who you are, instead of conforming to expectations. "People-centric means that the leader begins with you," she says. "You lead with your personal brand." Dr. Johnson believes there's no universal set of leadership traits. Instead, leaders are strongest when they follow their intuition—even if it's off the beaten path. "I want you to lead from here," she says. "Who are you?"
To Dr. Johnson, though, individual expression can only thrive when leadership supports it.
"Empathy was always necessary for workplaces to succeed," she says. In her reckoning, empathy was displaced by the bureaucratic system. "We were meant to have a singular identity, and that identity was 'laborer.' It was 'worker.'" She punctuates the words with finger quotes. "But what they forgot is that people are central."
The research backs her premise. A recent McKinsey study shows that organizations often misunderstand the human concerns that drive workers to success—or a new job.
Generally speaking, there's misalignment in terms of what employers assume employees value most, and what's most important in reality:

Improving employer-employee alignment
The changes she'd like to see? First, more empathy.
"A lot of our working lives are spent with people who are not family," Dr. Johnson notes. "And because of that, when we show up for work, we don't have to be best friends, but we do want to have people who are friendly and warm, and we want to feel a sense of belonging."
Second, more individualization. "I think when you become so mission-focused, the organization is obliged to have us do certain tasks. But how do you support the worker in getting that done? It means a different conversation."
"If you're mission-centric and your team is not working to the extent that it's supporting the mission, the [solution] isn't to drive them harder. It's to rethink, 'Are we putting people where they're most going to be productive? Are they doing the task that they most love to do?'"
In other words, employees excel when they can work according to their talents and behavioral traits.
Third, she says, employees crave flexibility. "We're not asking to not do any work and not come to the office, but we're saying, okay, can we come two days of the week? Can I work on a Saturday? I will come in on a Saturday because on Thursday I have to pick up my kid."
How organizations can act now
To Dr. Johnson, adopting these changes isn't just a matter of ethics. It's a matter of economics. "[Your workers] will give more to the mission if they feel supported," she says.
On the flip side, research indicates that disengaged employees are more likely to jump ship. To avoid these consequences, companies should implement strategies to improve the work environment.
No organization wants to be put on trial. But work as we know it is changing. The best way to avoid mass attrition, according to Dr. Hume Johnson? Make sure your employees don't have to ask, "Is this job worth my life?"