1

Lesson
10 minutes

completion time
What you'll learn:
This course will cover what a Team Type is, how PI defines the nine Team Types discovered, and how those Team Types are determined.
Introduction to Team Types
What is an Exploring Team?
What is a Bolstering Team?
What is a Cultivating Team?
What is an Anchoring Team?
What is a Stabilizing Team?
What is an Executing Team?
What is a Producing Team?
What is a Pathfinding Team?
What is an Adapting Team?
Introduction to Team Types
The perfect team for running a software start-up would likely be a terrible team for running a hospital. And vice-versa. But what determines how well a team is prepared to take on one challenge versus another? How can you truly assess a team and build the right one for the business strategy you have in place?
Here at The Predictive Index, a Team Type is a scientifically valid description of a team's collective working style. Powered by the aggregate behavioral data of individual team members, your Team Type gives you visibility into your team's superpowers—so you can lean into strengths and be aware of caution areas. Take a deeper look at how we determine Team Types with the Team Discovery™ tool in the video below.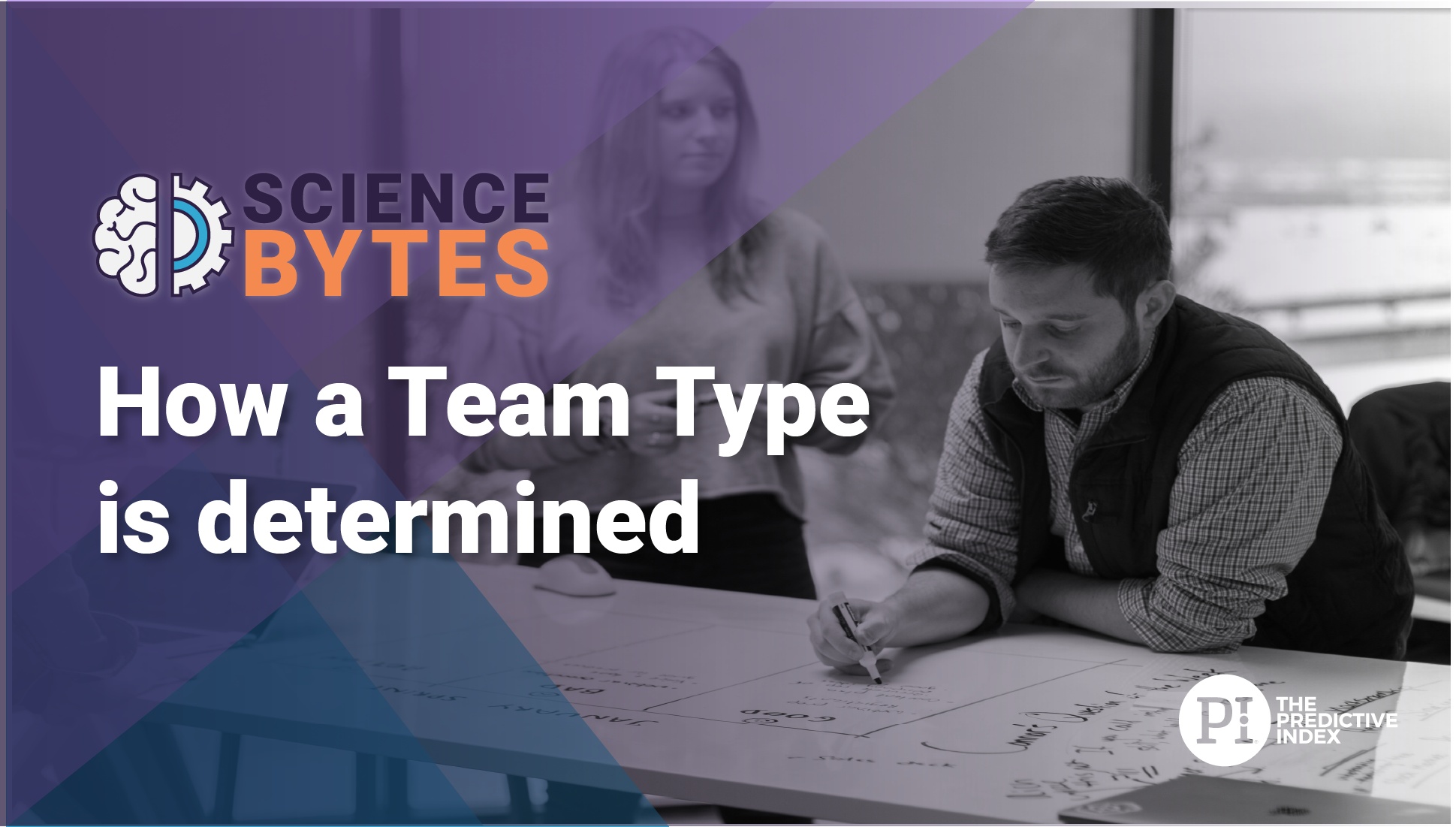 Why do Team Types matter?
So we've got a cool team name now, but why is any of this important? Well, there's actually a lot more to these Team Types. Think of how you need to understand yourself on a personal level to know how you'll approach or react to certain problems. The same can be said for your team. Can you accurately state where your team has gaps or where your strengths lie today? Perhaps in some areas, but how can you truly know without first assessing your team? Talent-optimized companies—those who have a talent and business strategy which are both aligned—understand the importance of team identities.
That 20 percent increase in the use of behavioral data for team building isn't just an interesting stat! According to the 2021 State of Talent Optimization Report, talent optimized companies following these practices found their teams working better together, preventing major losses, and reaching their goals. Your business is not something you want to leave up to chance. To ensure a well-oiled machine, you need to understand how it runs and how to tune it. That means considering the behavioral traits of each new team member and how their traits can complement or balance the team they're joining.
What Team Types are there?
To determine what Team Types exist, we conducted a large-scale study of 127,000 PI Behavioral Assessments™ across 22,000 teams. We found evidence of nine distinct Team Types. This helped us confirm that the behavioral make-up of individuals plays a clear role in the culture and work styles of a team. Use the interactive below to learn about each of the nine types.
That's just a quick overview of the types. The rest of this course will cover each Team Type in greater depth, and share how each can be influenced by your strategy.
Content Locked
Register to gain access to this lesson.